Whew! It's SO good to have you back!
In the process of rolling the existing blog into the brand-new website gayleharper.com , there were a few technological hiccups! For a period of weeks, my ability to communicate with you through this blog wasn't working! Then, there was that random re-send of an archived post from waaaayyyy back! Technology is SWEET when it works and hair-pullingly frustrating when it doesn't!
AND the good news is, the issues seem to be resolved and I'm told we are solidly reconnected!
If you've been able to follow the adventures of our little raindrop on facebook.com/GayleHarper.MississippiRiver or other social media (which I'll list at the bottom), you know that it's been a VERY exciting launch so far!
There have already been seven different Book Signing/Presentation Events, all of which were wonderful. Sharing these stories and hearing how hearts are touched is SO much fun, it sometimes feels like my heart just might explode with Joy.
On Saturday, Barnes & Noble said "Bring us more books! We are sold out and people are asking for them." I did – and on Sunday when I walked in to find they had made a display of Roadtrip with a Raindrop right up front at the Information Counter, it brought one of those crystallized moments of pure gratitude and humility. I feel like the luckiest person in the world to be involved in this amazing project!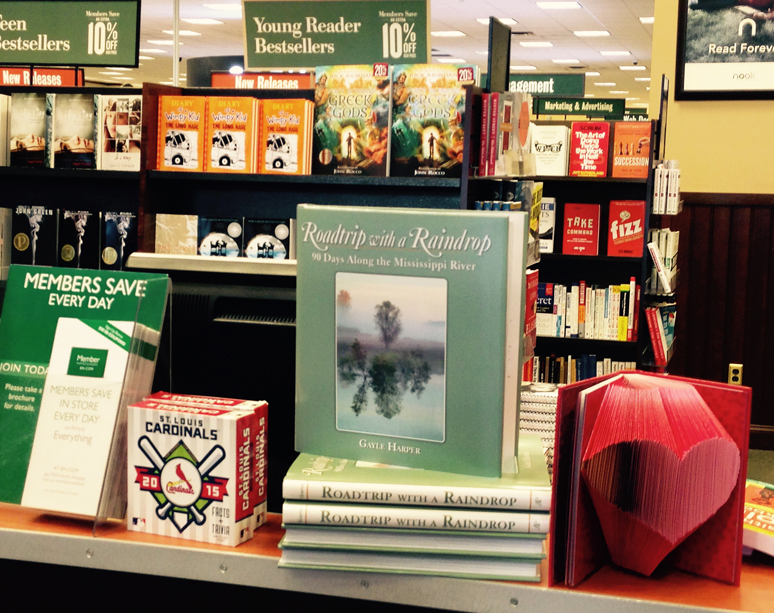 There's been lots of GREAT media coverage too (and it's from word of mouth as this is the "soft launch" and we haven't done News Releases yet). I'll update the "News" section of the website with links very soon.
Meanwhile, Roadtrip with a Raindrop is now available in these ways…
Signed and/or personalized copies are at gayleharper.com
Unsigned are at Amazon and Barnes & Noble online
In Stores –

at Barnes & Noble Stores (if your store doesn't have it yet, you can request it)
in St. Louis at Left Bank Bookstore
in Springfield, MO at Renaissance Books and at the MSU Bookstore
WHEREVER you choose to get yours, it would be a GREAT help if you would make a "Reader's Review" on Amazon and/or Barnes & Noble. It's easy and no purchase is required. Readers DO value your opinion greatly!  Thank you!
Thank you, my friends, for traveling with Serendipity and me! Know that, however noisy or quiet this Holiday Season may be for you, the same underlying Love and Peace is always present for all of us. May your heart be filled with that.
Love, Gayle
Twitter @riverroadwoman
Google+ https://plus.google.com/+GayleHarper