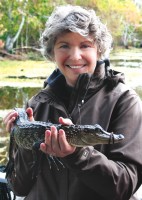 Gayle Harper has been a travel photographer and writer for more than two decades. She knows from experience that the world is made up of fascinating destinations and remarkable people.
When she turned her eyes, heart and camera toward the Mississippi River and her people, however, she was simply captivated.
It began with making time for little "River trips" in a crowded calendar of assignments with regional and national clients and publications and then, gradually, but inexorably, moved into making time for anything else.
Roadtrip With a Raindrop is Gayle's way of honoring America, her people and her greatest River. As both a photographer and a writer, she offers you your own experience of the stories discovered and the people encountered in this light-hearted adventure.
Gayle's home is wherever she is, but she is often at home in Springfield, Missouri, with her husband, Mike, and their cat, Louie.