I've visited this area of southeast Missouri known as "The Bootheel" before and made some friends I was happy to see again. Claudia and Randy Arington invited me to stay with them in the country outside of Charleston, MO. When they told me the hill south of Cape Girardeau was the last hill on this side of the river, they weren't kidding. The land now is flat and low as far as the eye can see.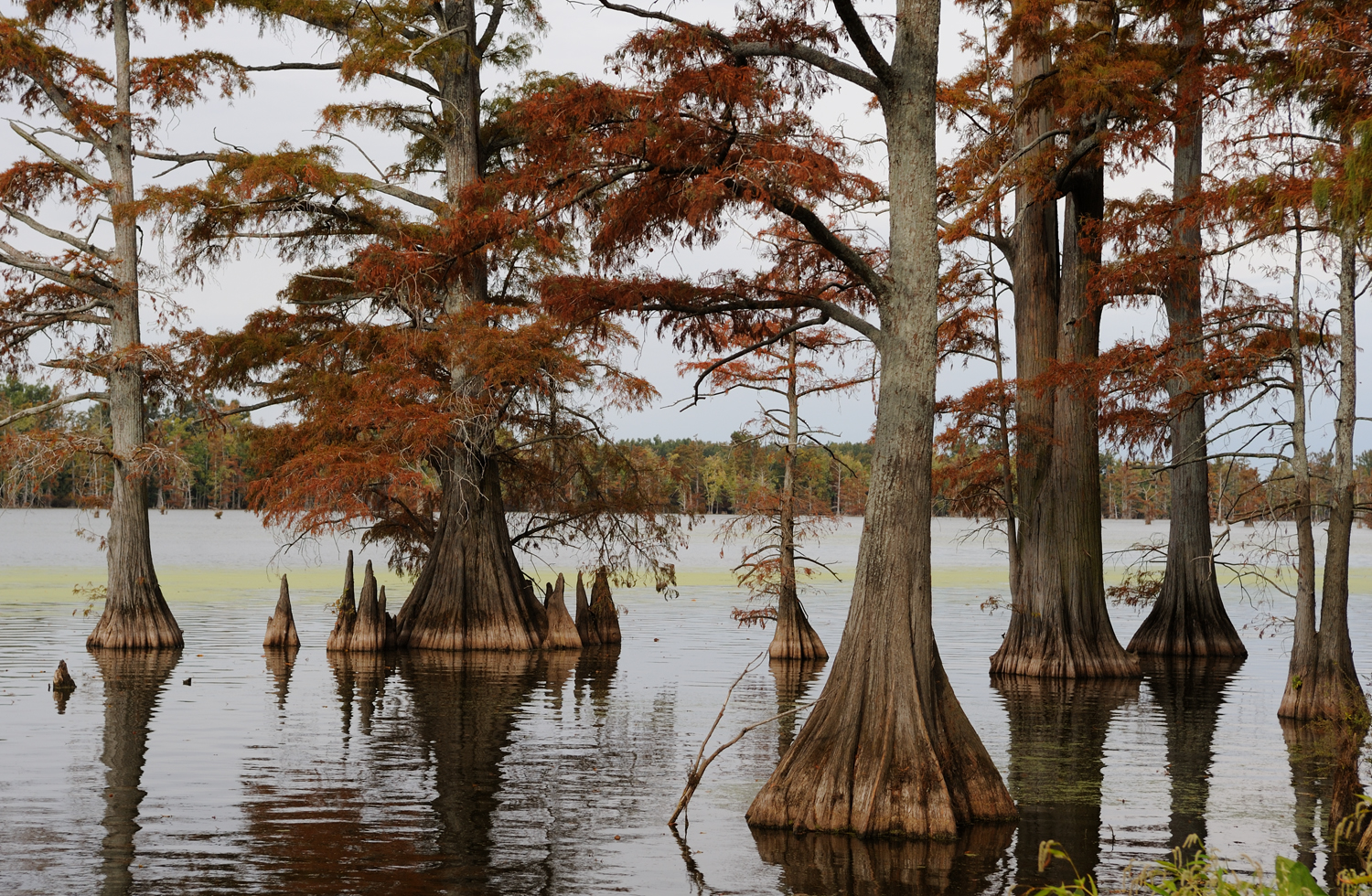 Before the Little River Drainage Project began in 1907, this was a vast swampland, thickly forested with Tupelo and Cypress trees (like these I shot across the river at Horseshoe Lake) and populated mostly by snakes, frogs, ducks, herons, egrets and a rich assortment of other wildlife. By 1927, the forests were cleared and the swamps almost completely gone, drained by nearly 1,000 miles of ditches and over 300 miles of levees.  What remains is some of the richest farmland in the country. Mile after mile of cultivated and irrigated land now produces soybeans, wheat and corn.
Farming is still a risky business, dependent on factors beyond human control. Remember all that rain I was in up north? Most farmers here say they haven't seen a good rain since June. A few weeks ago the Mississippi was swollen with that northern rain making its way to the Gulf, but the land alongside is parched. I expected to see vibrant fall colors, but have found crackly, brown leaves instead. Its harvest time and that means long hours in combines in the dusty fields, sometimes well after dark. Often it's hard to even see the tractor and equipment through the huge cloud of dust it raises. By afternoon, the air is hazy with it. It's hard to imagine this as a vast swamp less than a century ago.
Missouri's neighbor across the river now is Kentucky and there are no bridges between the two states. If you want to drive across, the only way is the Dorena-Hickman ferry, which is far more fun anyway!  Claudia and Randy had arranged for Tammi Hutcheson of the Mississippi County Port Authority to meet us at the ferry for its first run of the morning. The river was still misty as we drove aboard and the morning light soft and low.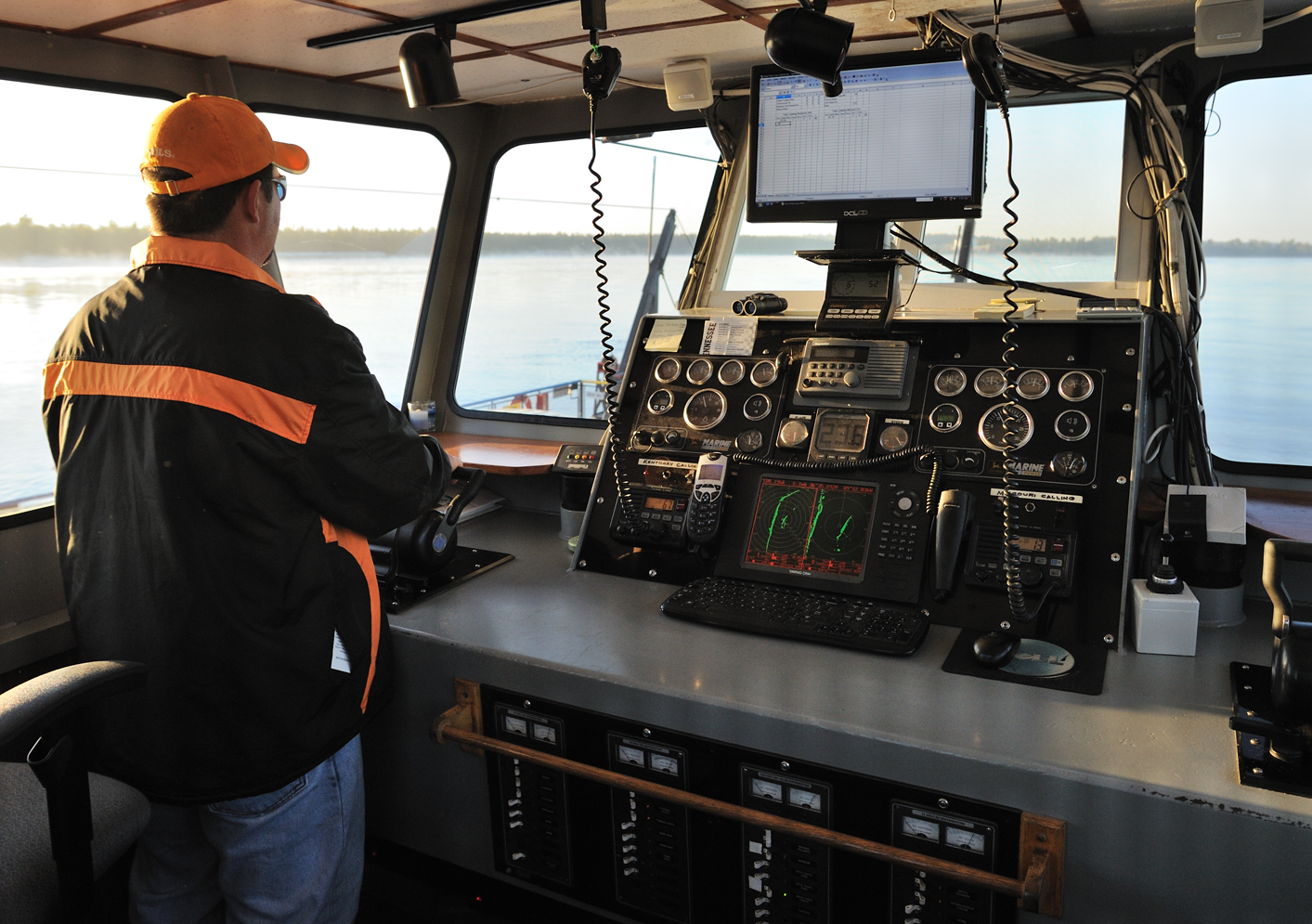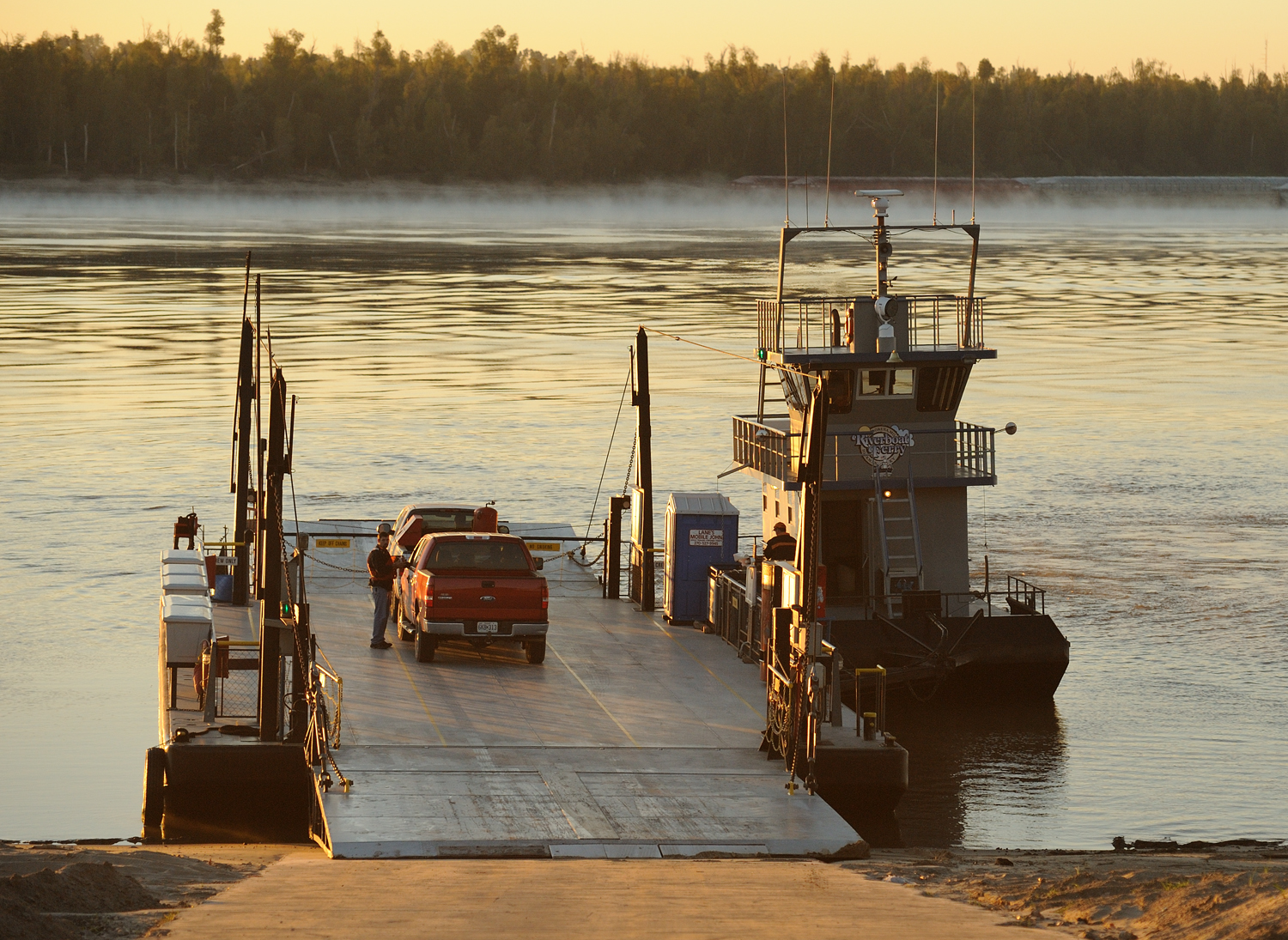 Captain Ed Floyd invited us to visit him up top and share his lofty view.  The barge, which can hold a dozen cars, is attached to the tugboat by an arm that pivots.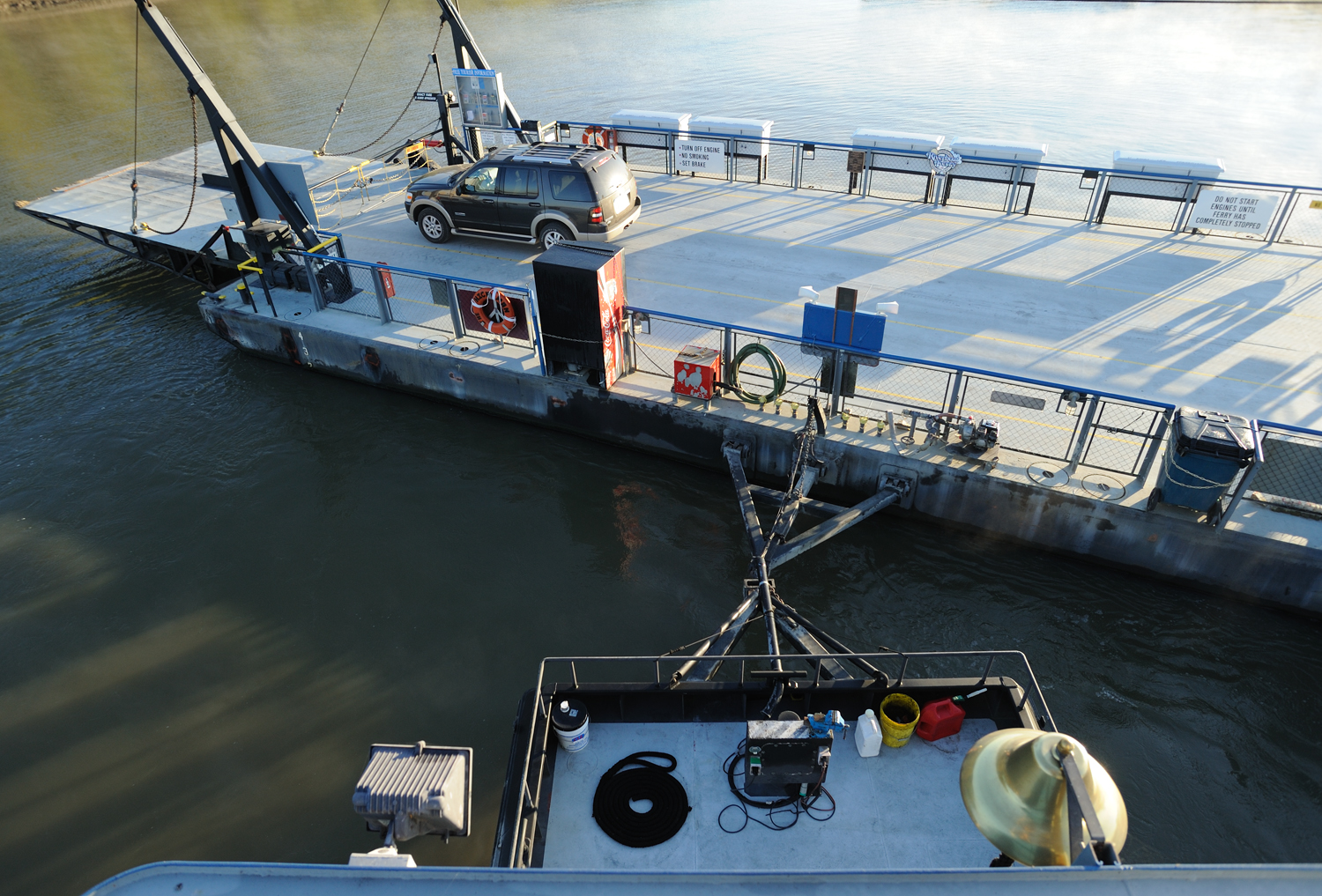 When it reaches the opposite shore, the Captain swings the boat around to face the opposite direction while the deckhand directs traffic off and on again. 
It's an efficient and valuable service for locals and for travelers, an inexpensive way to get out on the Mississippi.  The confluence with the Ohio River just north of here more than doubled the amount of water the Mississippi River is carrying and crossing it in this way allows an up-close experience of that immensity.  
Charleston is charming at any time, but it's downright magical in spring. My previous visit here was for the Dogwood-Azalea Festival which takes place every April when the town is a fairyland of white and pink blooms.  In the evening when the sidewalks are filled with people strolling and lined with paper-bag luminaries, it's like being painted into a Norman Rockwell scene. Click here if you'd like to see some of my shots of Charleston in bloom.
Charleston clearly identifies itself as a Southern town. People are addressed as Miss Claudia and Miss Molly. Most single-syllable words now have three and the standard refreshment is sweet tea (pronounced as one word).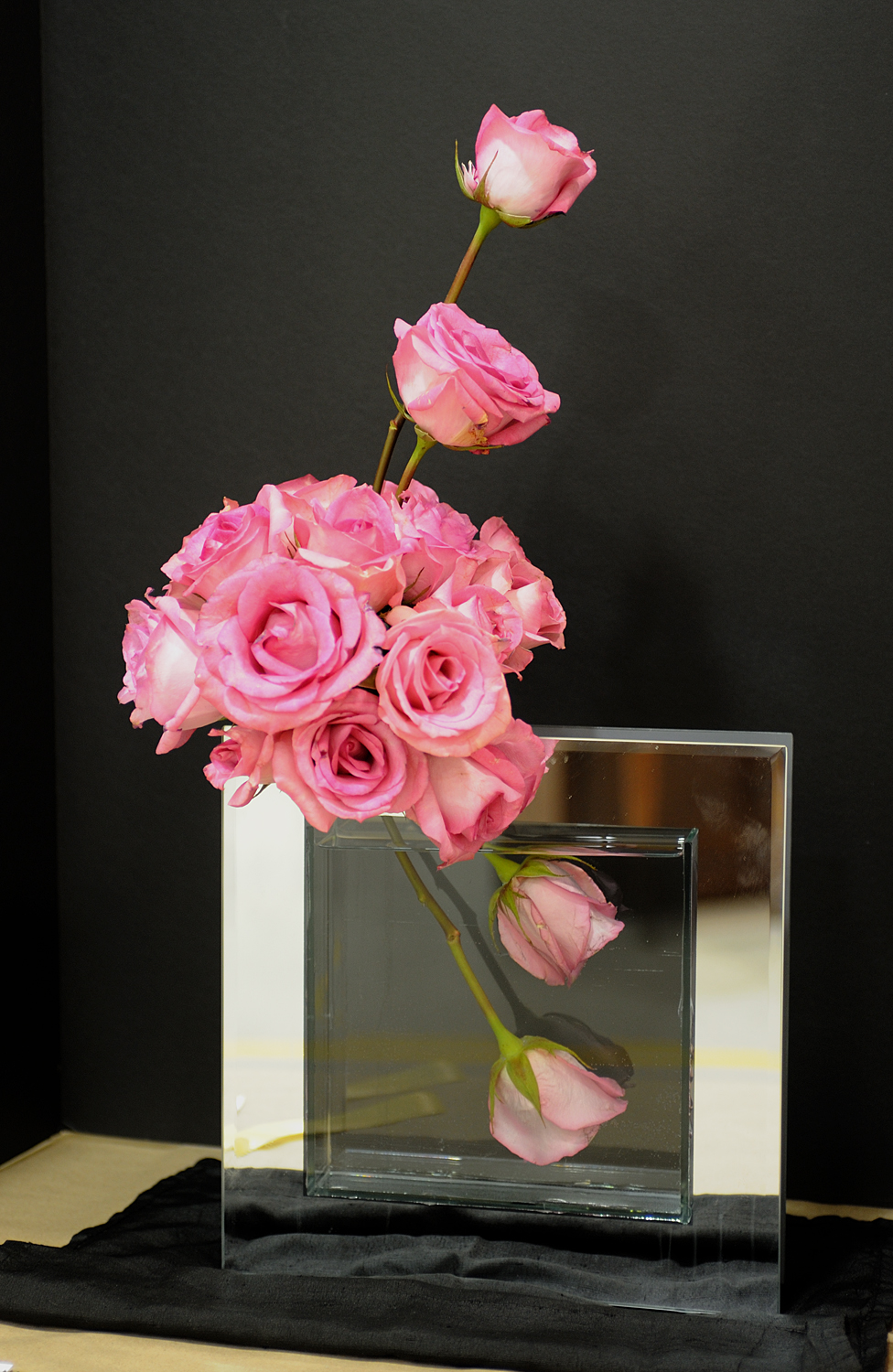 The social calendar also has a Southern touch, including the meeting of the Southeast District of the Federated Garden Clubs of Missouri, which the Charleston ladies in decorated straw hats, hosted.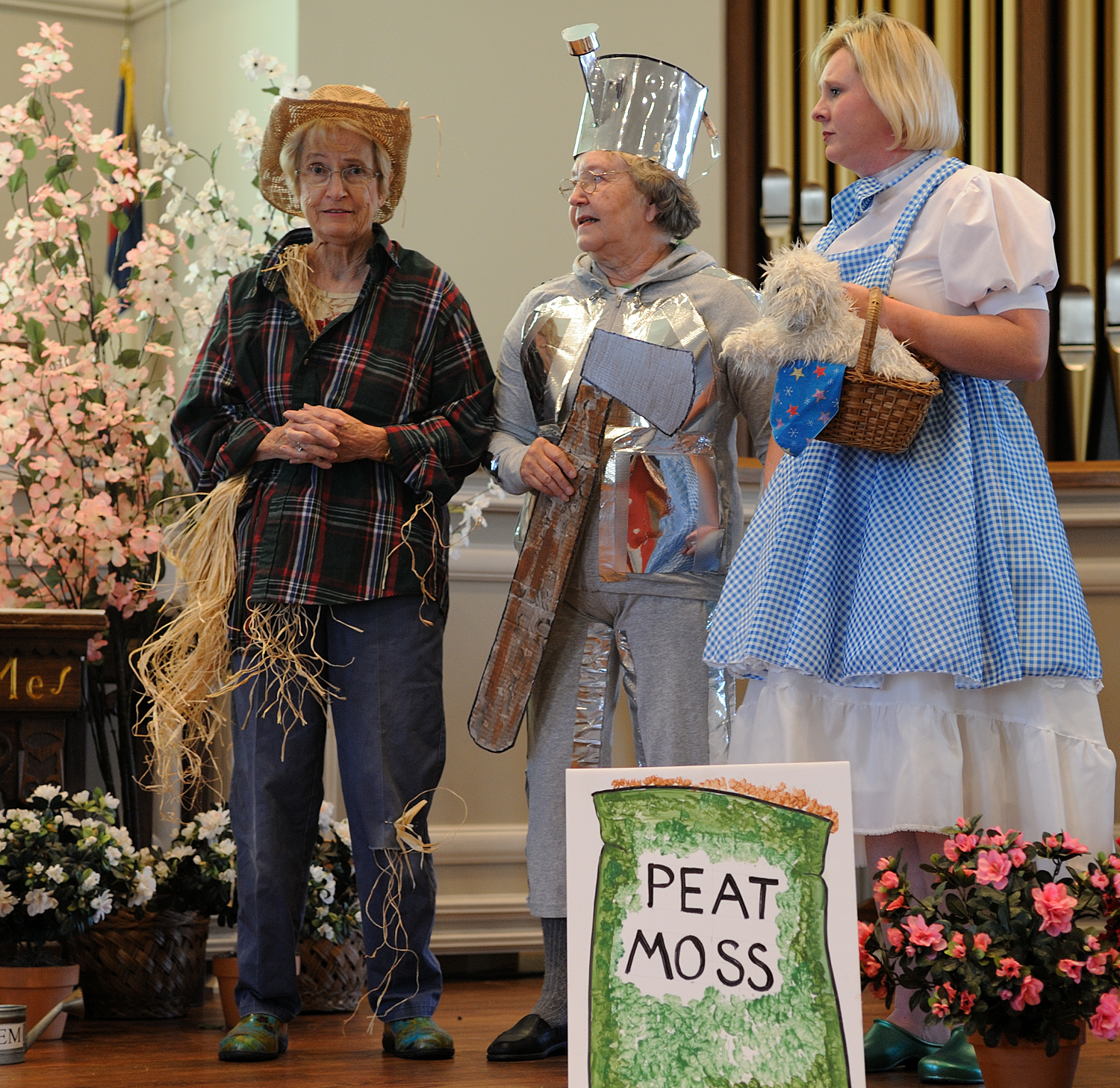 There was a flower show and competition and a spoof of Wizard of Oz for entertainment.
The audience swayed with the wind when instructed, laughed heartily and gave a standing ovation at the end.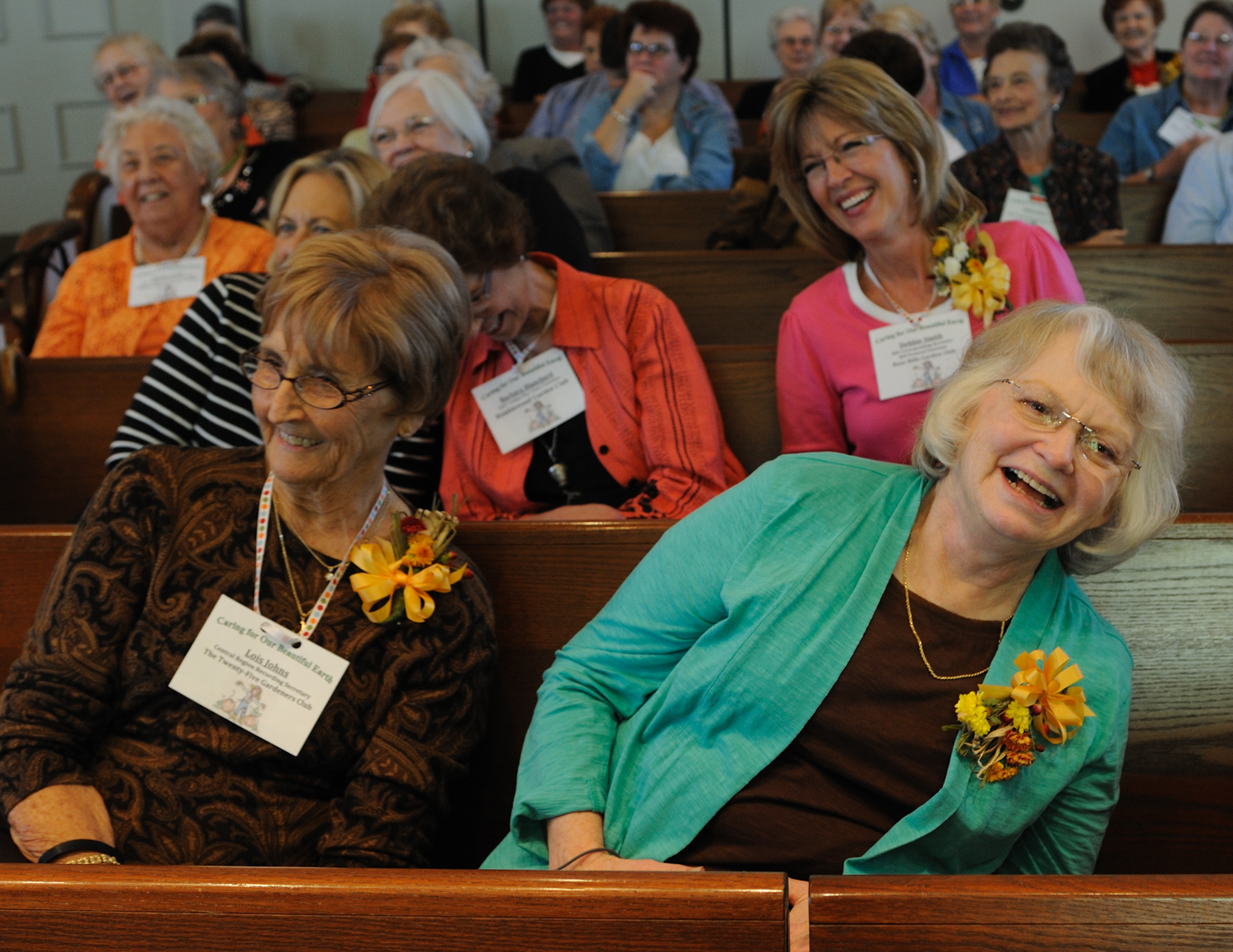 For the sunset, I met my other friend in the area, Silvey Barker, who took me to a very special place. The Towosahgy State Historic Site is a little-known prehistoric Indian Village near East Prairie, MO.  Between A.D. 1000 and 1400, several thousand people of the mound building Mississippian Culture lived here. What remains today are a large Temple Mound and several smaller mounds. There is really no vantage point to photograph it effectively, but in a way that only adds to its mystique.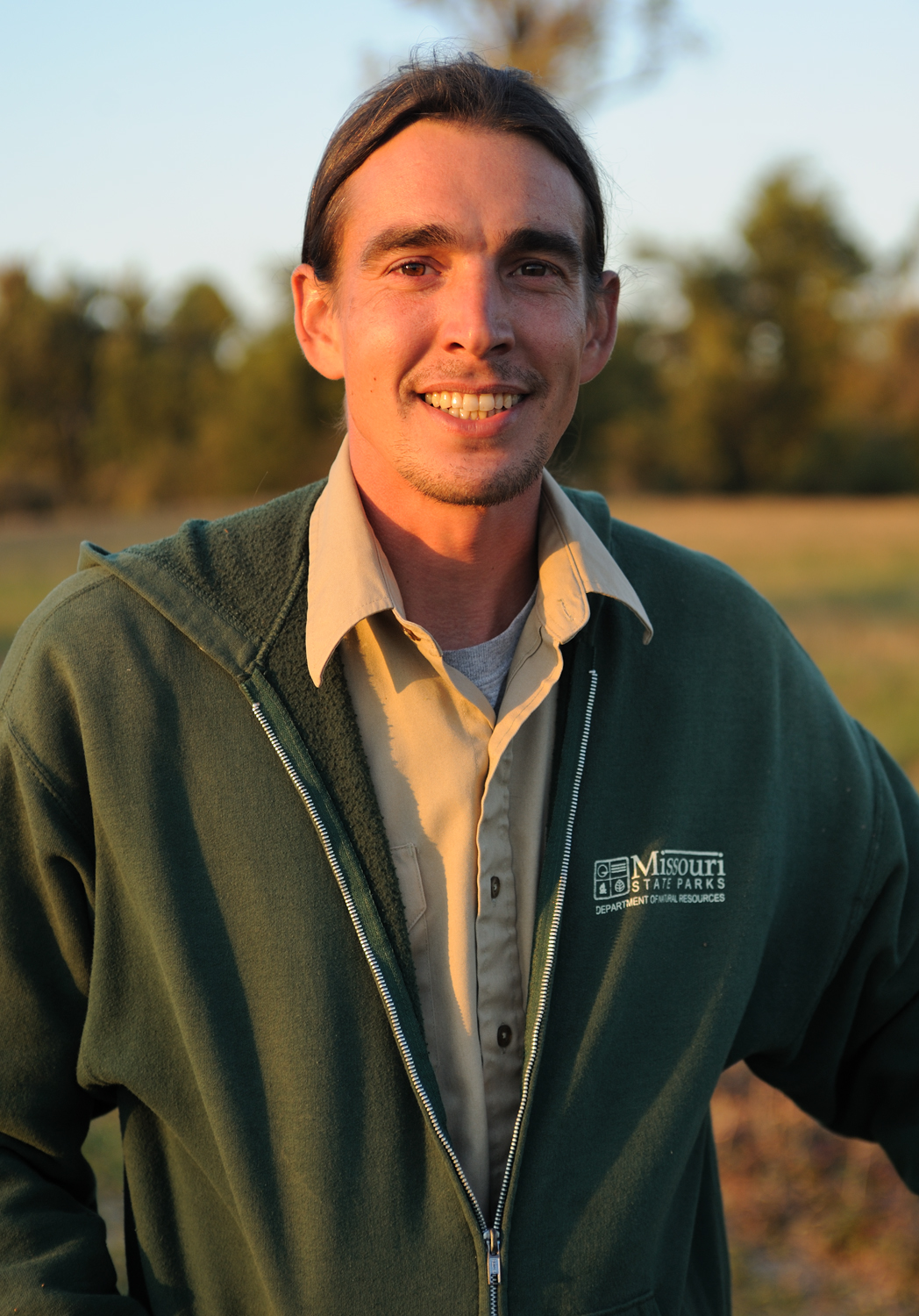 Chris Crabtree, the DNR guide at the site, gave us a tour and told us what is known about the people who lived here. As the sun started to set and the almost-full moon rose, Chris left but Silvey and I were allowed to stay as long as we liked. Silvey has been here many times; she and her husband farm the adjacent land. She said, "I'm going to walk back to the car. I think you should have some time here alone."
I sat on the broad, flat top of the Temple Mound and watched the gathering dusk, then closed my eyes and meditated. There was a very deep Stillness and a sensation of being anchored to the earth. I cannot say whether the clinking sound I heard was someone on a distant farm, a bird or insect I am unfamiliar with or the ankle bells of some ancient dancers. I cannot offer any explanation for the wall of cold air I walked into and out of again as I left. I can only say I am thankful that this ancient site is now protected and preserved, to honor those who lived here and to allow the rest of us to experience it, each in our own way.
Peace,     Gayle