For a LIMITED TIME only…
Just in time for Mother's Day, Father's Day, or for yourself (because you deserve it)… NOW, for a limited time, when you order your signed/personalized copy of the award-winning book Roadtrip with a Raindrop: 90 Days Along the Mississippi River, you will also receive this set of four elegant 4×6 notecards (a $12 value) for FREE!
Not sure? Watch the Book Trailer here www.gayleharper.com
Then click on "Order Signed Copies." During checkout, you can put in a name if you'd like the book inscription personalized, and your FREE set of notecards will be included. But don't wait…this is for a LIMITED TIME only! www.gayleharper.com
---
Cruising with the American Queen Steamboat…
Among the exciting things happening in 2016, there is this…I will do three 8-day cruises as Guest Artist/Presenter on the American Queen Steamboat on three different sections of the river.
She is the world's largest steamboat, with a capacity for 436 overnight guests and is pure elegance from bow to stern. The food is spectacular, the people you meet are the absolute BEST and there is no more relaxing or intimate way to experience America's greatest river.  I really hope some of you will be there with us!
Here's my dates…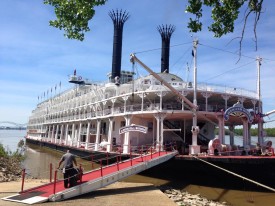 August 8th – 15th – cruising from Alton, IL to Red Wing, MN
September 5th – 12th – from New Orleans to Memphis
October 17th – 24th – from Alton, IL to Clarksville, TN
If you'd like to check it out, here's their site http://www.americanqueensteamboatcompany.com/
---
I Brought You a Souvenir…
To help prepare for another amazing year, I had a bit of R&R with my husband, Mike. We visited a dear friend in San Antonio and went to a Mariachi Mass at the Mission San Jose, where folks have been worshipping since 1768. AND…we spent one glorious morning roaming back roads in the Texas Hill Country, where the wildflowers were like nothing I've ever seen before! So…I brought this back for you!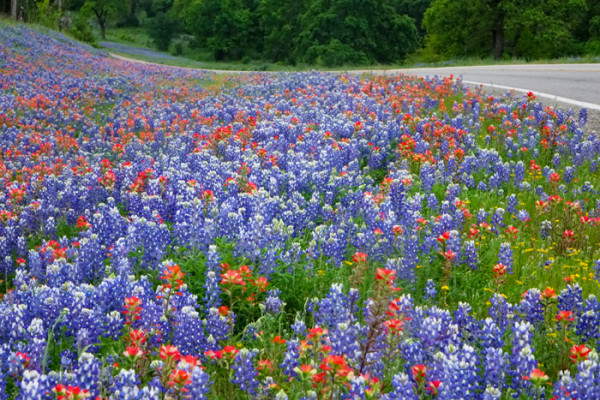 Happy Spring, my friends!
Xoxoxo, Gayle
Stay connected here…
Facebook www.facebook.com/GayleHarper.MississippiRiver
Twitter @riverroadwoman