I rolled into Cape Girardeau, MO, just in time for a Nemo birthday party!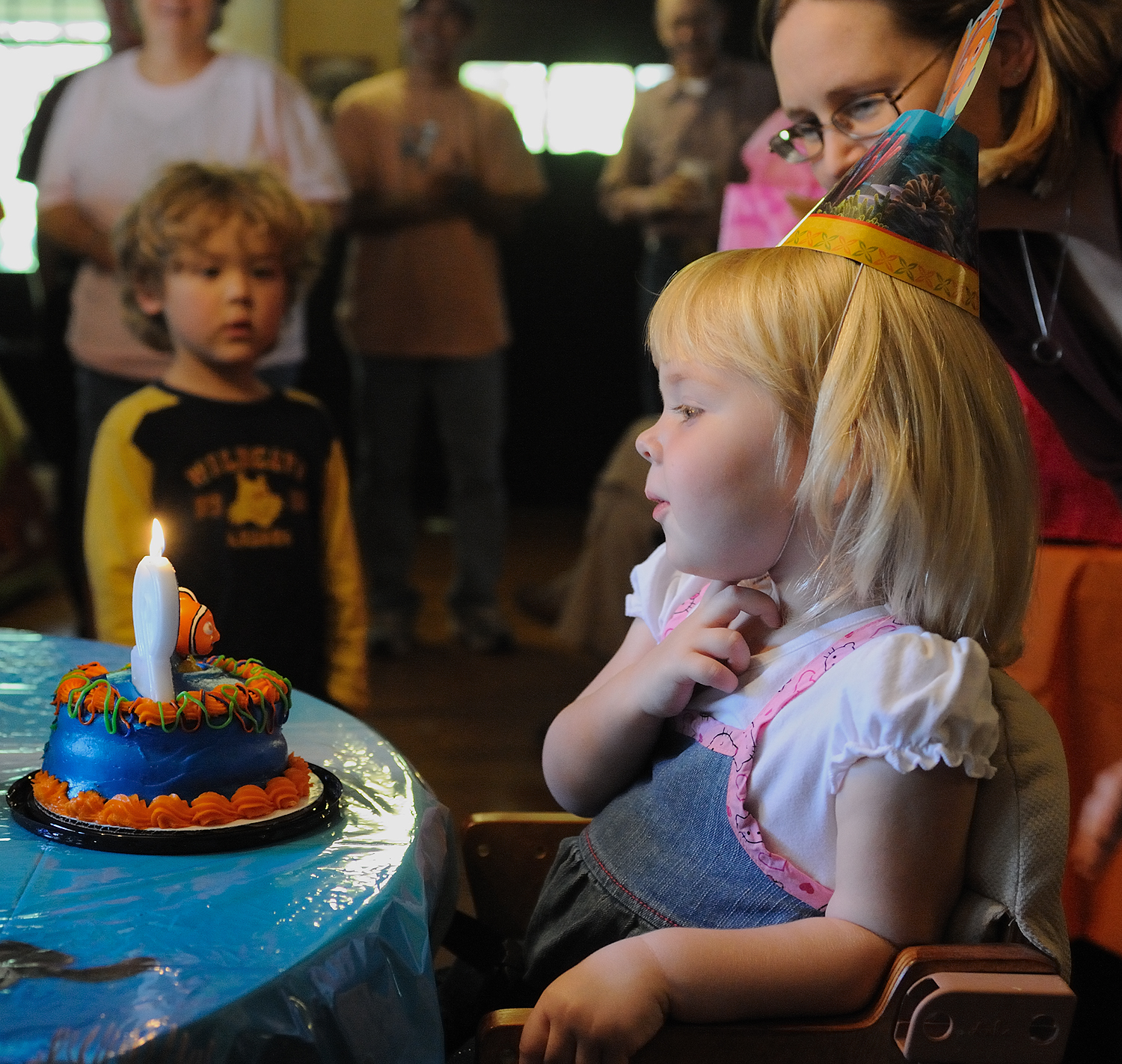 The Neumeyer's had invited me to stay at their B&B and their granddaughter, Erica, was celebrating her second birthday. She managed the candle blowing just fine and then, already knowing that the camera loves her, turned to give me this look of wide-open innocence.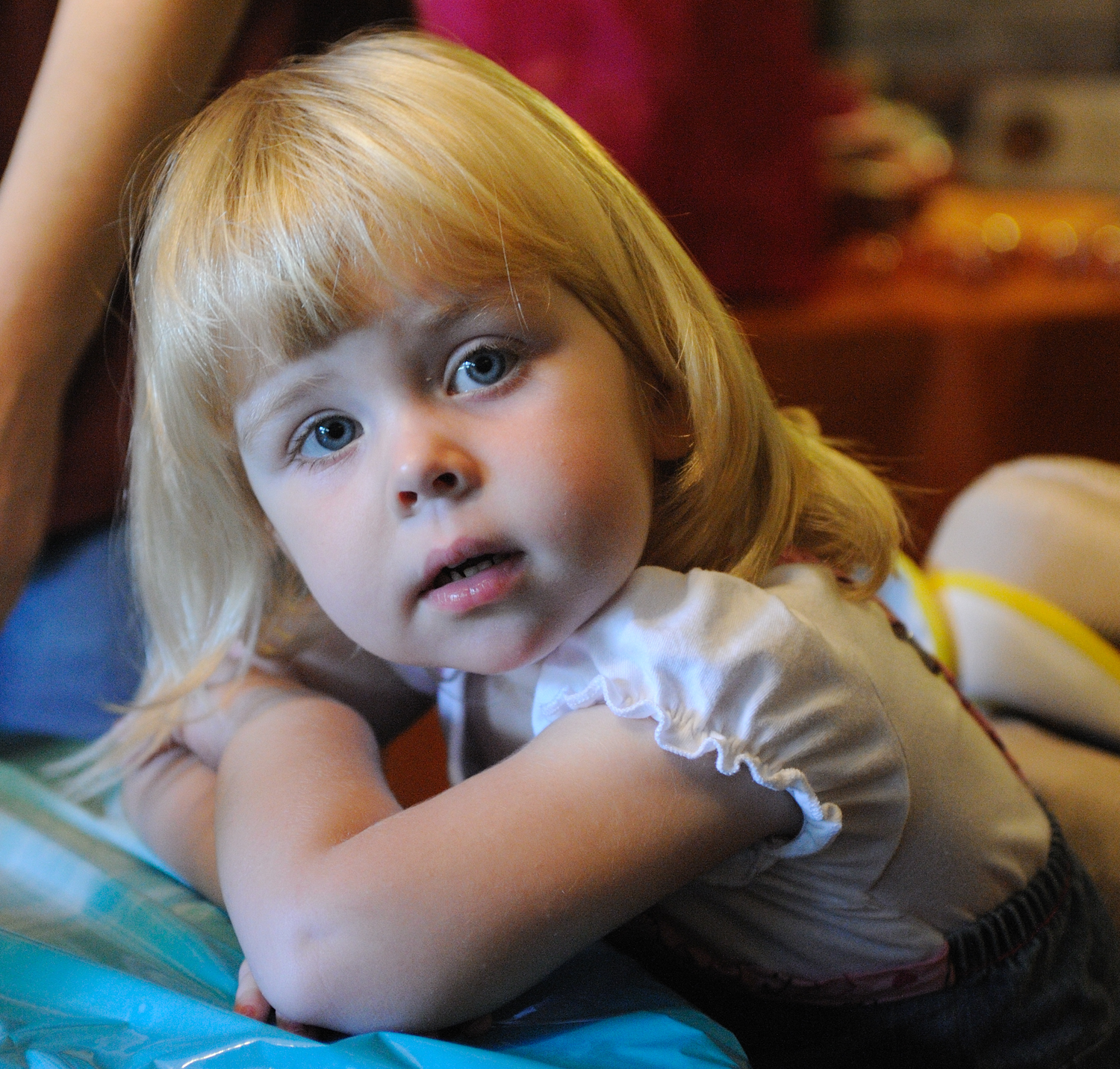 Tom Neumeyer is a photographer himself, and he kindly told me of the best spot to get an evening shot of the graceful Bill Emerson Bridge. I took a sandwich to the river and watched the evening magic happen.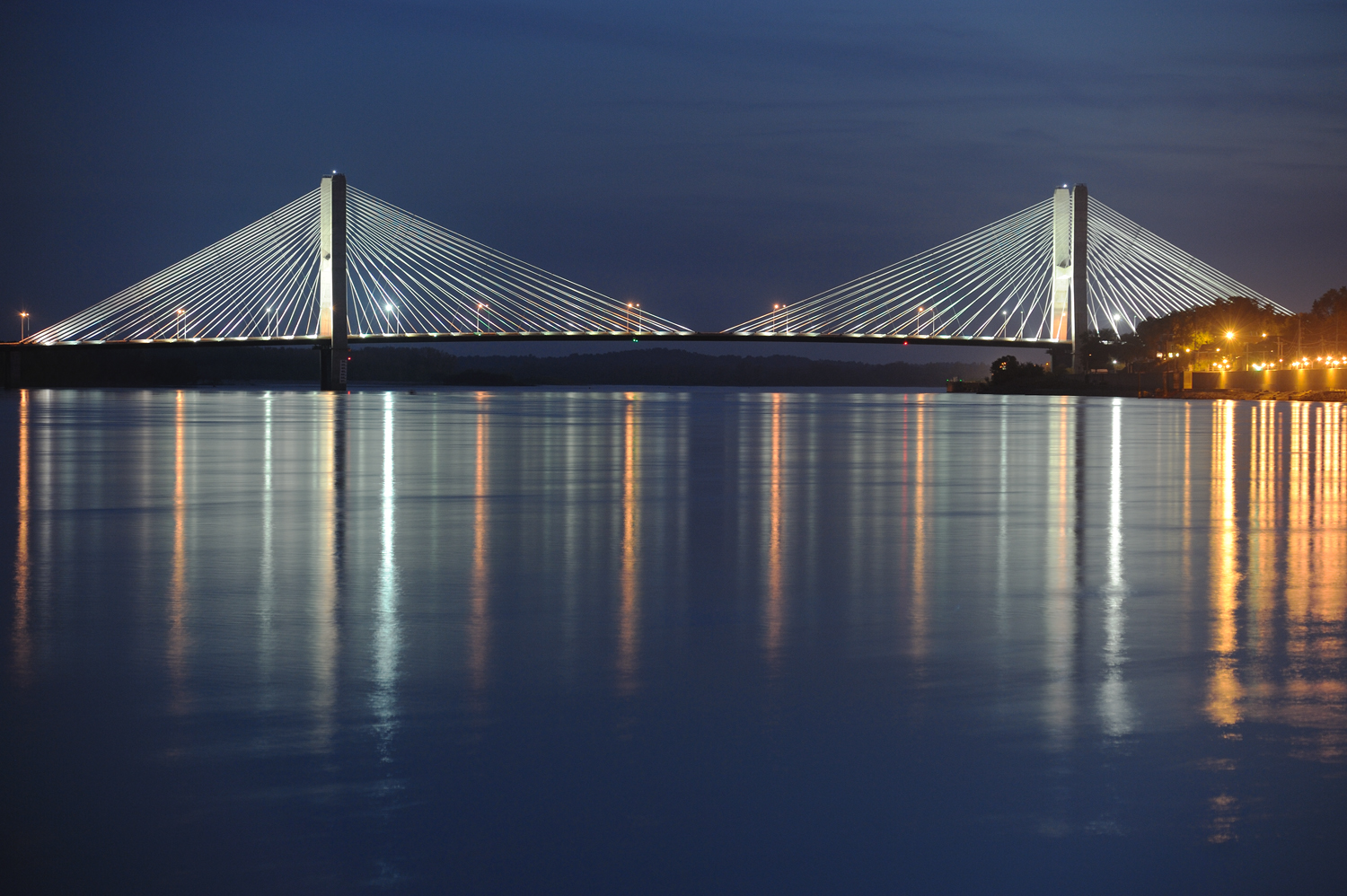 Cape Girardeau has handled the need for a floodwall at the riverfront by making it a place of art and education.  The "Mississippi River Tales Mural" is a series of 24 paintings on the wall that tell the story of living beside this great river from pre-history to the present.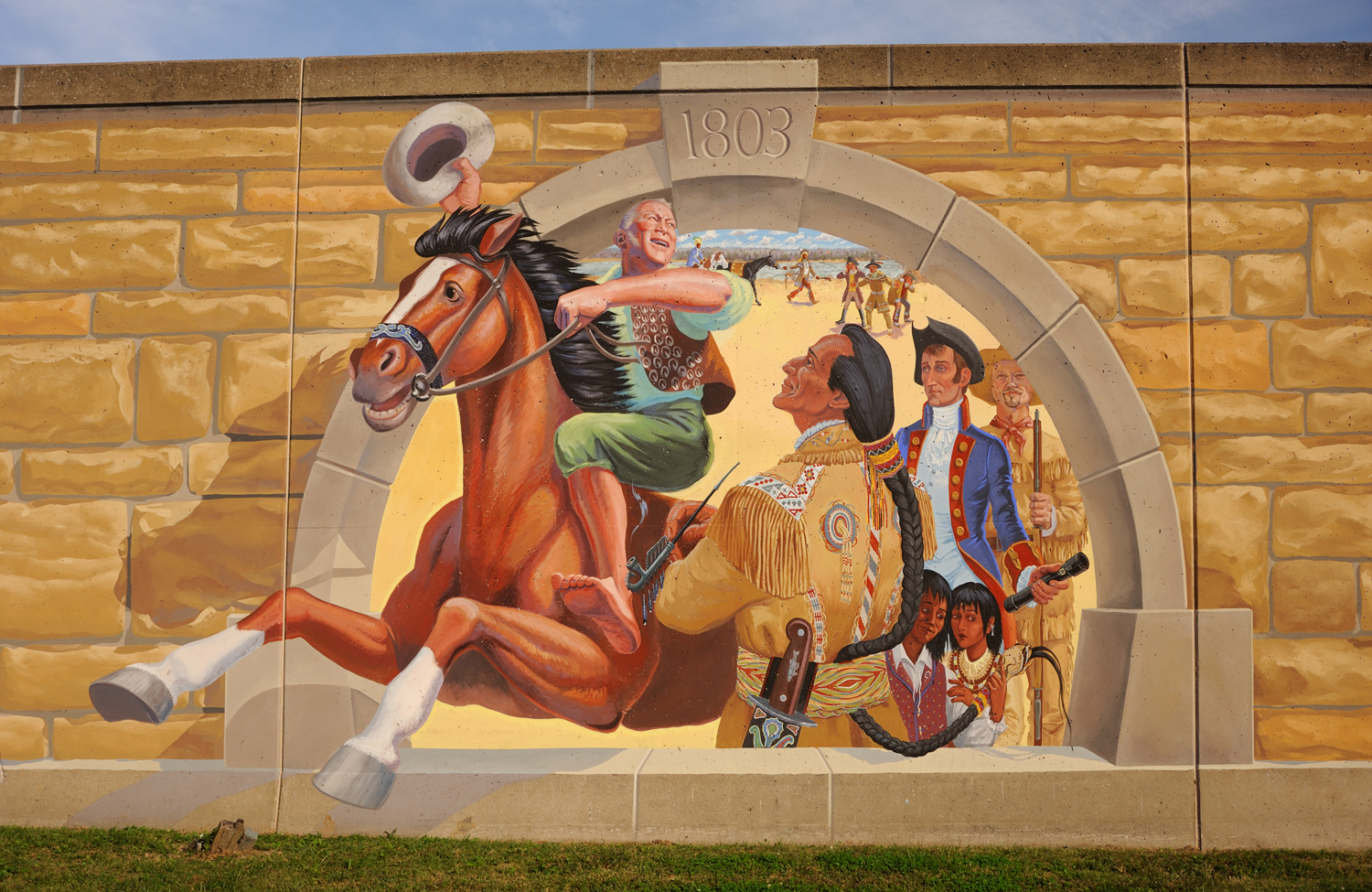 Take the time to read the interpretive signs if you come; it's a great way to understand a little more deeply how important this river is and always has been.
For the sunrise, I headed north to the Trail of Tears State Park.  I had been here once before and knew there might be a sunrise view from an overlook high above the river.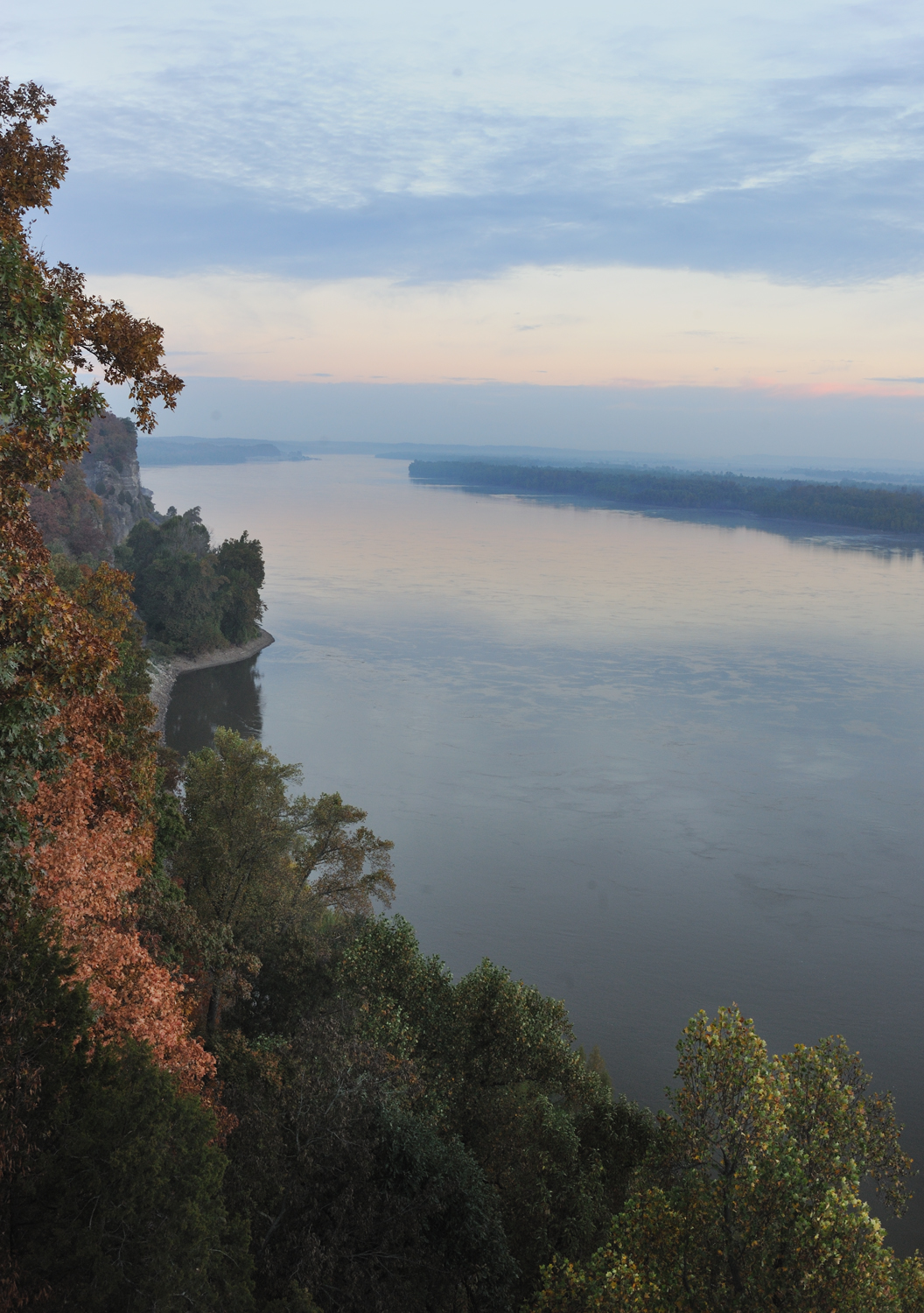 It didn't disappoint.
It's a beautiful park established to commemorate the almost unimaginable suffering endured by many thousands of Native Americans forced from their homelands in the 1830s. Although it's a difficult story to read, I had hoped to learn more about this dark part of our history at the Visitors' Center, but found that budget cuts had reduced the hours of operation drastically.  
I left Cape Girardeau yesterday morning and although my next stop was in Missouri, I decided to travel down the Illinois side. Have you ever noticed how long the state of Illinois is? The last 570 miles of the Mississippi River have created the western border of Illinois. Its neighbor to the north was Wisconsin and to the south is Kentucky. There are many changes in geography, climate, agriculture, accents, foods, and lifestyle – all within the state of Illinois.  The changes, however, seem to come even more quickly as we leave Illinois behind.
The last town on the southernmost tip of Illinois is Cairo (pronounced CARE-OH, like the syrup). I had passed near Cairo a number of times, but never actually been down Main Street. I can't imagine driving through for the first time and not wanting to ask someone, "What happened here?" It honestly looks like a war zone. Most of the buildings are boarded up, falling down, burned out. It obviously was prosperous at one time, but it now looks like a movie set for a disaster film. It might have made for some interesting shots, but it didn't feel like a good idea. The whole place has an energy of hardness and anger. Obviously, that is a surface impression and there must be other, more light-hearted places in Cairo, but that is not the experience of driving through. I made a mental note to ask someone.  
People who grew up in this area known as "The Bootheel" of Missouri, remember Cairo as a thriving city with beautiful homes, great restaurants and well-stocked department stores. It's demise is a complex story of drama, corruption, racial tensions and fear ending in social and economic ruin. It's actually a story that begs to be told, but not in a few sentences by someone who knows very little. It is, however, a very sobering experience to see how quickly and thoroughly such destruction can occur.
It seems as if there is an invisible portal somewhere in this area that you slip through without noticing and suddenly find that you have left the Midwest behind and are now in the South. Locals tell me that once you come down off the hill south of Cape Girardeau, which is actually part of a 150-mile long formation known as Crowley's Ridge, you are in the Mississippi Delta. Everything seems to change right here. The Ohio River meets the Mississippi here, marking the division between the Upper and Lower Mississippi River and more than doubling the amount of water flowing downstream. At Horseshoe Lake, just north of Cairo, I found Bald Cypress trees and at Sikeston, MO, I spotted the first cotton fields of the journey. Speech patterns and accents are decidedly Southern. Gone are the ice cream shops, replaced by hickory smoked bar-b-que.  
Our little raindrop is moving fast now, leading me through all these changes and at the same time, still whispering that nothing really changes at all. The Mississippi is the Mississippi, whether it is a tiny stream through the northern woods of Minnesota or the massive movement of water it has become where I am now. It is all one river.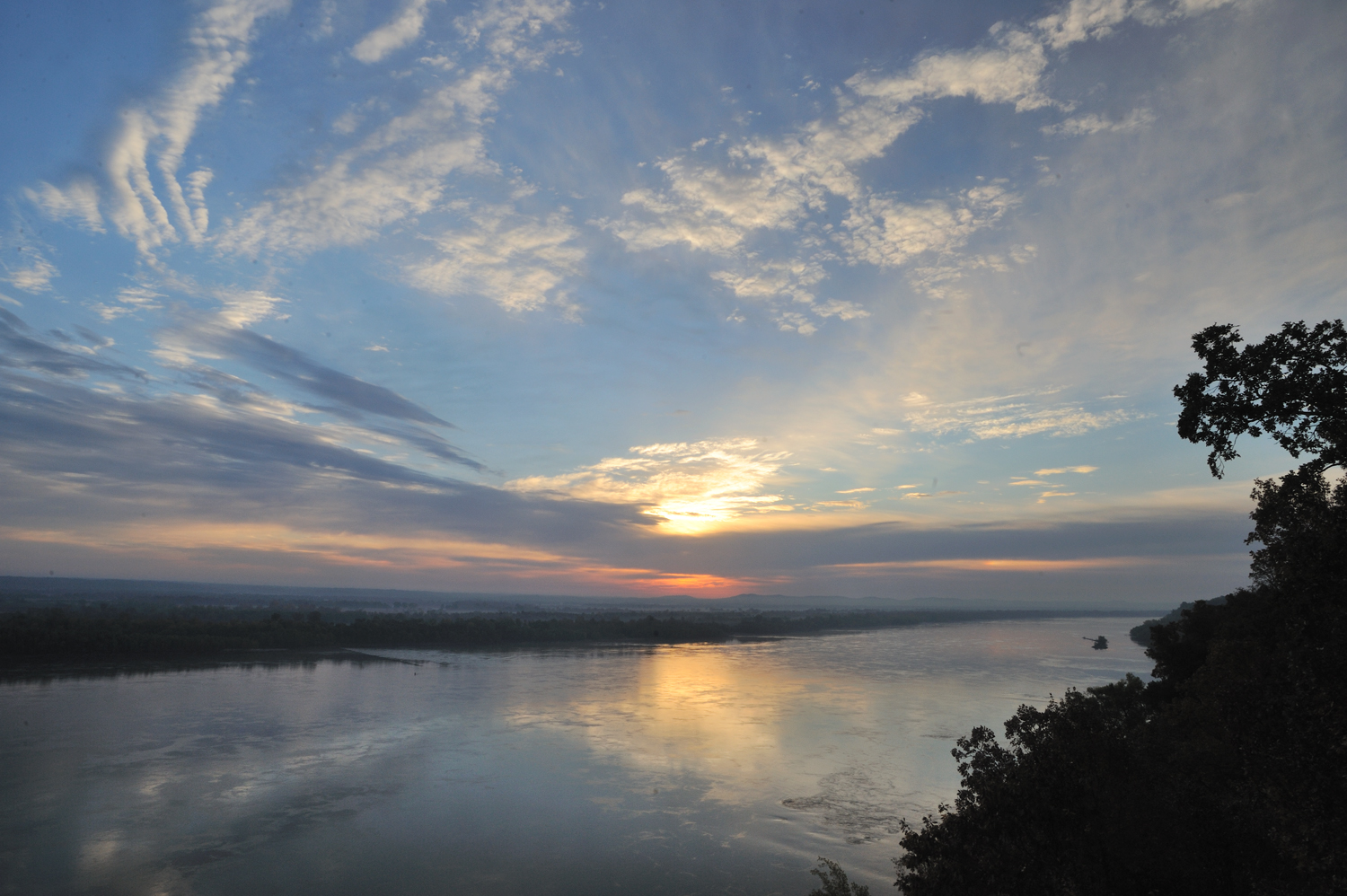 Charleston is coming up next – a Missouri town that feels as completely Southern as its bigger sister in South Carolina!                        See you there!               Gayle