Some days are so full that when I think back to the morning, it's hard to convince myself it was just one day!  That's how it's been!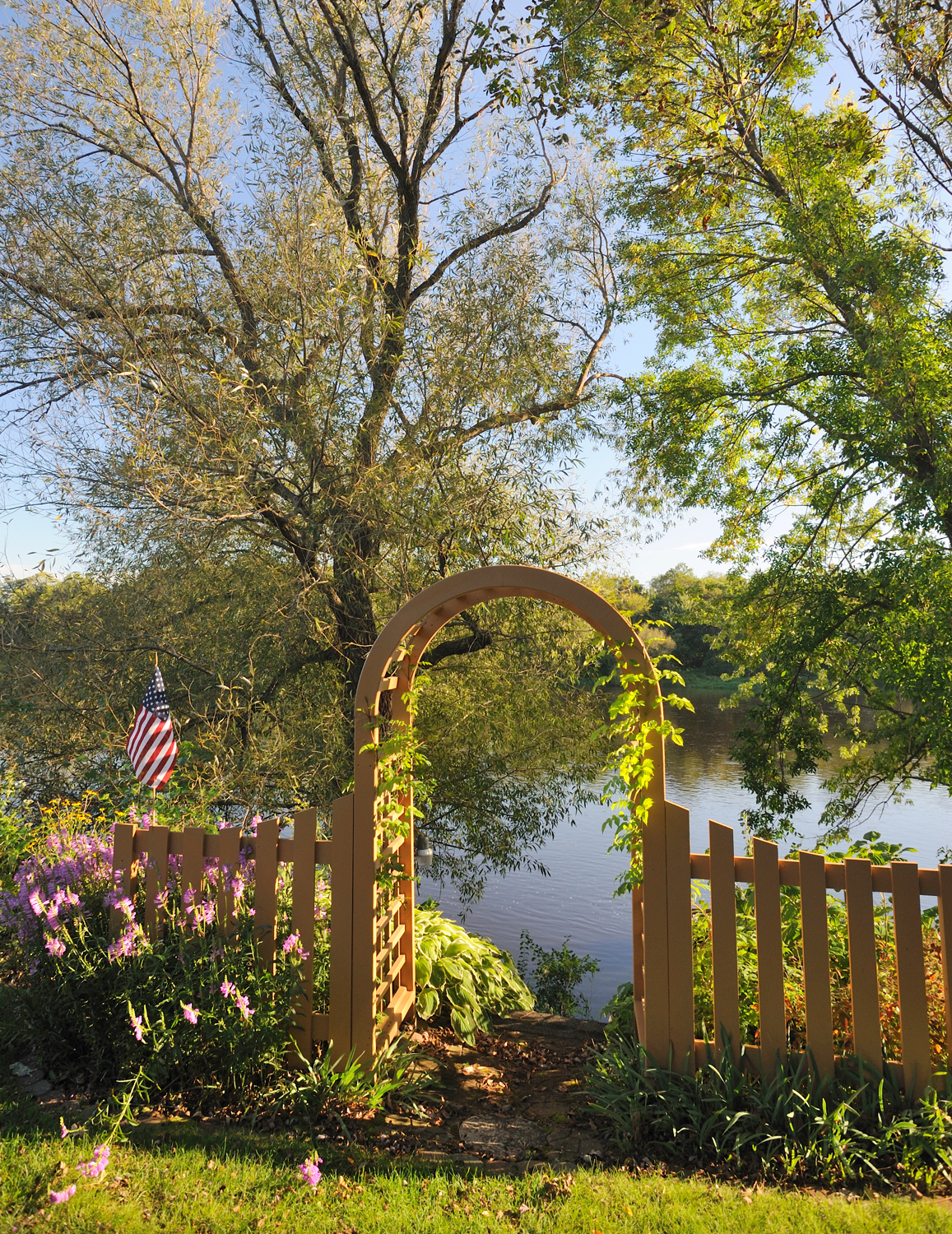 I left the quiet, friendly town of Elk River after two easy, delightful days with my new friends Jim and Pat Rossman. They live in a little piece of heaven right on the river– this is their back yard – and they kindly shared it with me!  Jim is a knowledgeable river historian who brings the past to life with his tales. Spending time with new friends who have the Mississippi in their blood feels more like reconnecting with old friends. I'm sure I will see them again!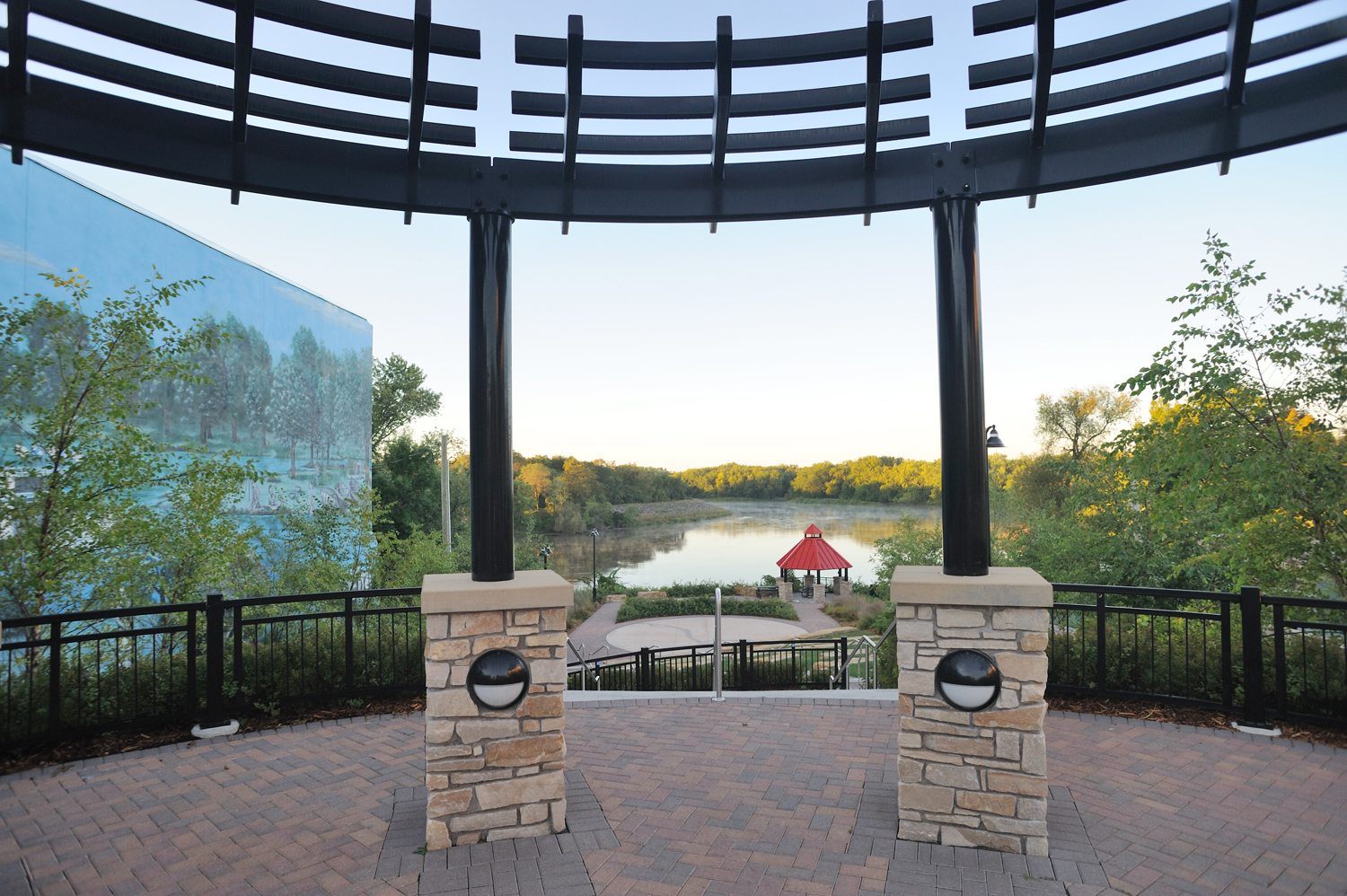 The town of Elk River, like many in this area, celebrates its identity as a river town in a downtown park where people and river come together for picnics and summer concerts.
The river is bigger and stronger now, perhaps 200 yards wide. It's swift moving, still clean and vibrant. It feels like a teenager, no longer a child, confident and maturing.
Our raindrop has now traveled 432 miles downriver from Itasca and brought us to Minneapolis. It's my first visit to the city, I expected to like it, and I do! I'm resting my head at Aloft,  a very trendy, modern, and yet comfortable downtown hotel in the heart of the riverfront district. Last night I walked the block to the Guthrie Theater and saw "The Scottsboro Boys" in its pre-Broadway run. It's the very unfunny story of 9 young black men in Alabama whose lives were destroyed because of a false accusation and conviction, presented by a very talented cast in the comedic style of a minstrel show. The result for me was a confusion of emotions, but admiration for the quality of the production – and the theatre itself is an architectural wonder.
Michael Rainville, who now works for the Minneapolis Convention and Visitors Bureau grew up in this riverfront district when it was "skid row" and filled with deserted buildings. He told me of walking the streets with his French Canadian Grandmother and being accosted by unsavory characters. She would at first smile sweetly and answer politely and ask to be left alone. But, if that didn't work, she didn't hesitate to whack them with the 30-lb purse she always carried! Now there are 35,000 people living downtown in lofts, condos and apartments with shops, restaurants, art galleries, theaters and parks.  An amazing transformation!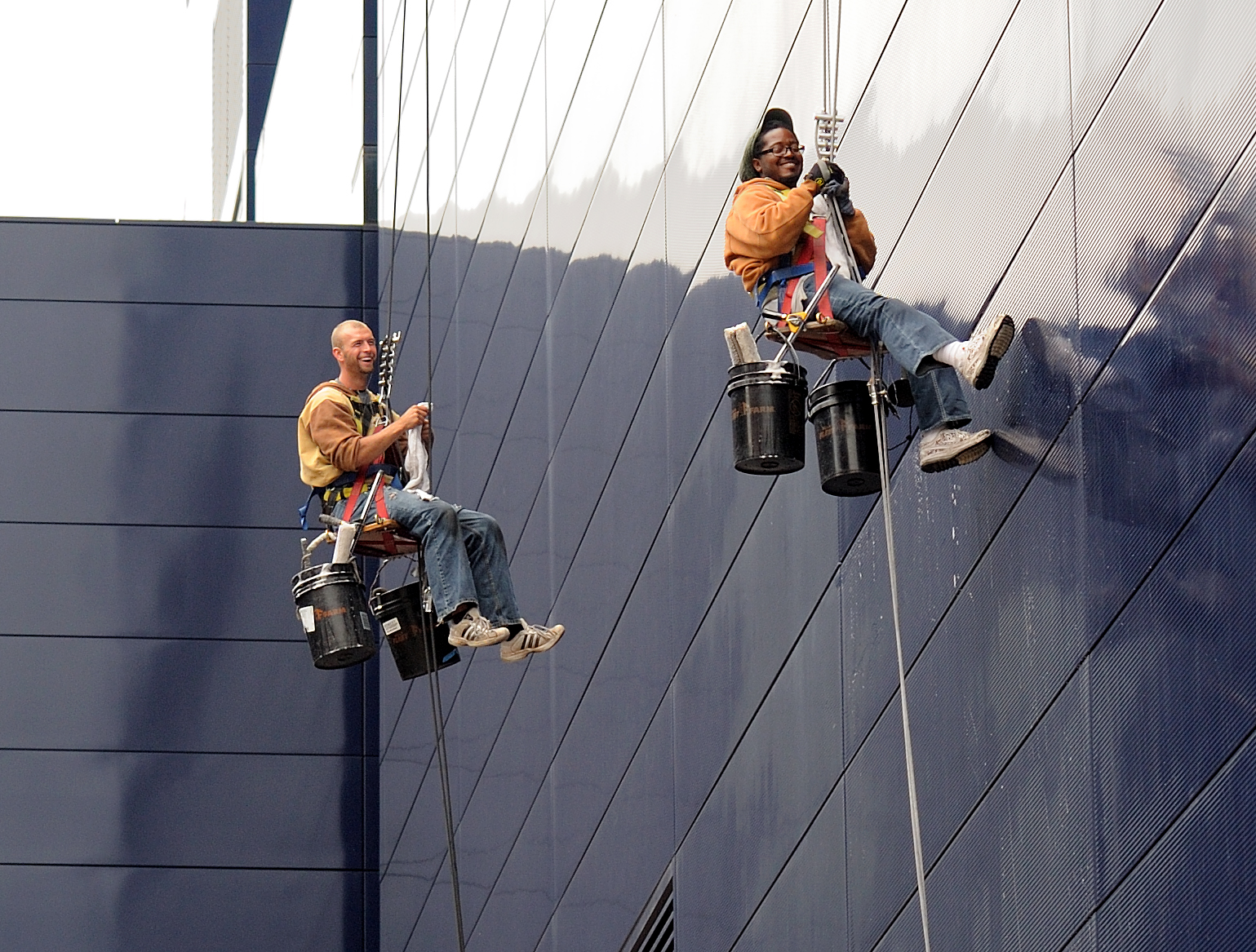 I was told today that Minneapolis was designed so that wherever you live, there is a park within five blocks of your home! It's a very green city, in appearance and lifestyle and drivers are, as a whole, friendly and patient. It's the most bicycle-friendly city in the nation, with over 150 miles of trails and bike lanes on most streets. A bike-sharing program was launched recently that allows riders to grab a bike from a kiosk, swipe a card and go! People are nice – in fact they call it "Minnesota Nice" (even the window washers took time to smile down at me).
So far my impression is that it's a city with all the cultural, arts and entertainment possibilities you could want, without the "big city" edginess and attitude. People I've talked with love living here, at least at this time of year. No one has sugar coated what it's like in the winter, though (just in case you're thinking of moving here). The most common response is some version of "it sucks!" Descriptors like "long, dark, brutal, horrible" make it clear there have to be plenty of other good reasons to live here.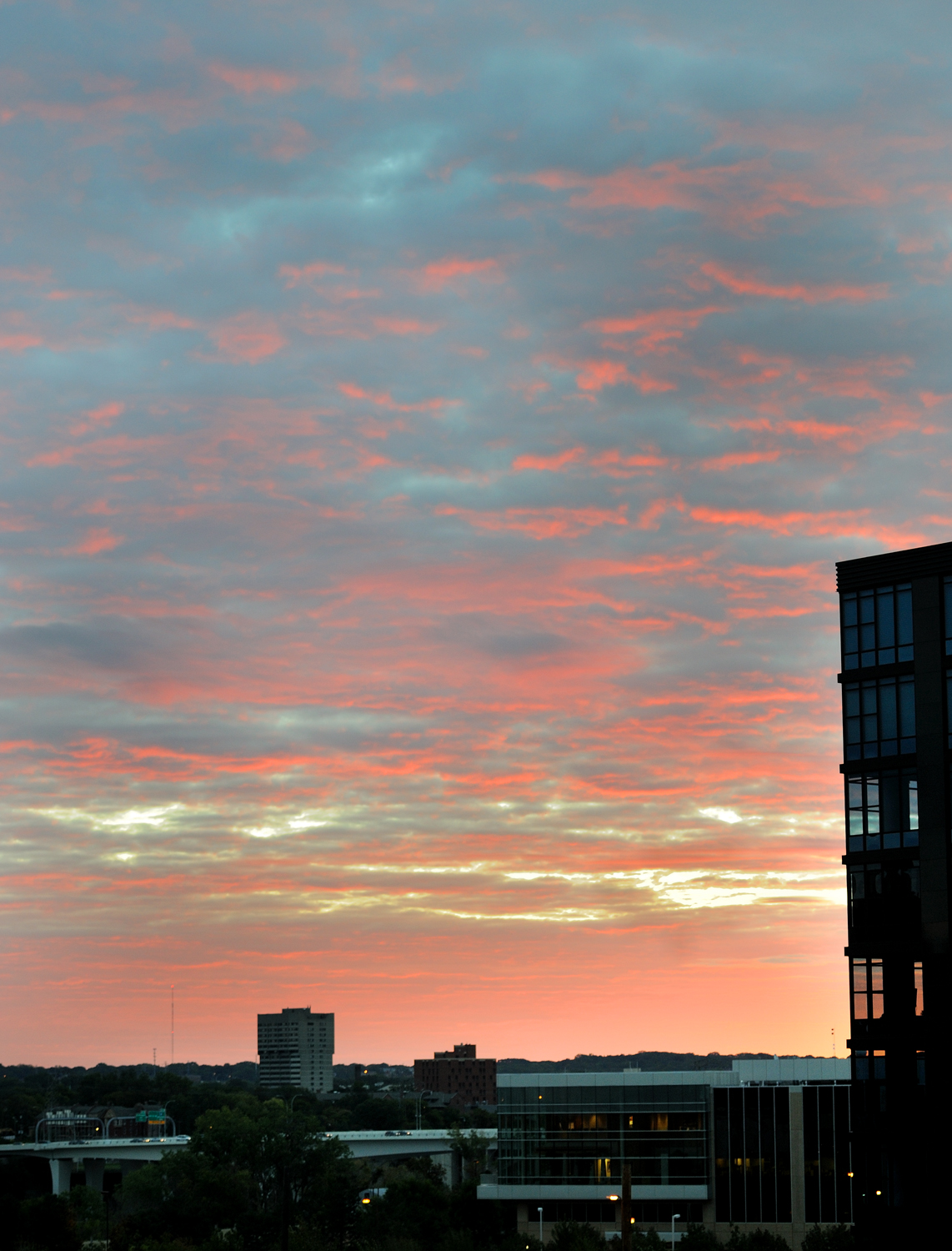 I didn't quite make it outside for the sunrise this morning, but I was kindly granted this view from my hotel window.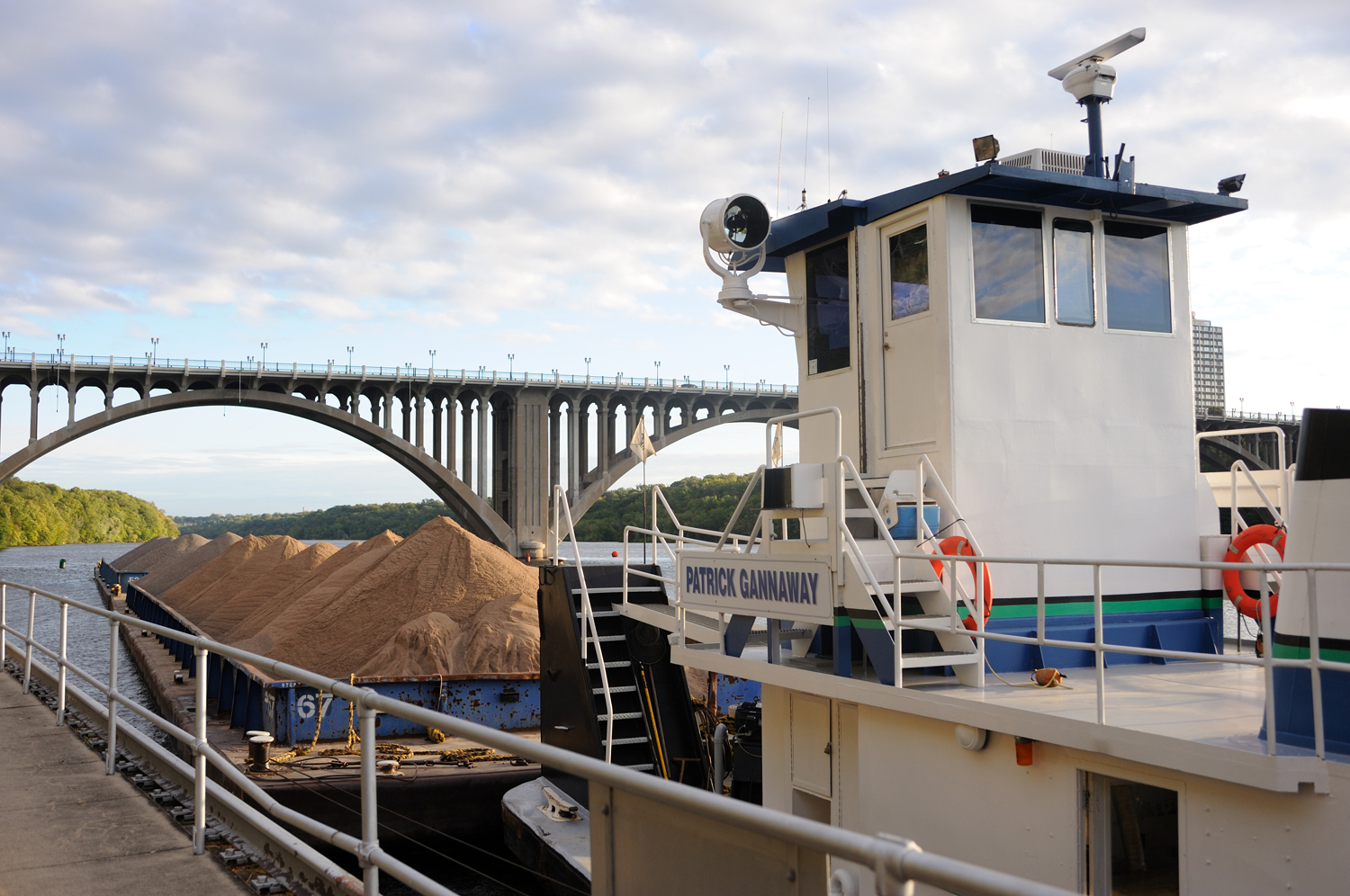 Then, I followed the network of parks along the riverfront to Lock & Dam No. 1 and arrived just in time to see a barge loaded with sand and gravel make its way through the lock. The river elevation drops rapidly here and there were natural waterfalls, so navigation is made possible by 29 of these lock and dam systems between here and St. Louis. By law, every boat from canoe to pleasure craft to enormous barge must be granted access to the river in this way. Basically, a dam creates a drop in the water level, so for a boat to negotiate that drop, it enters a chamber, the gates are closed and the water level in the chamber is dropped (or raised if going upriver). When the water level in the chamber matches the new level of the river, the chamber is opened from the opposite side and off it goes! It all happens in about 30 minutes and I'm told costs less than one dollar per boat because it operates by gravity, not by pumps.
Later in the day, I rode the Minneapolis Queen paddle wheeler and got to experience "locking through" from the water. The Captain of the Queen told me he still marvels at this engineering technology that has been working the same since the 1930s.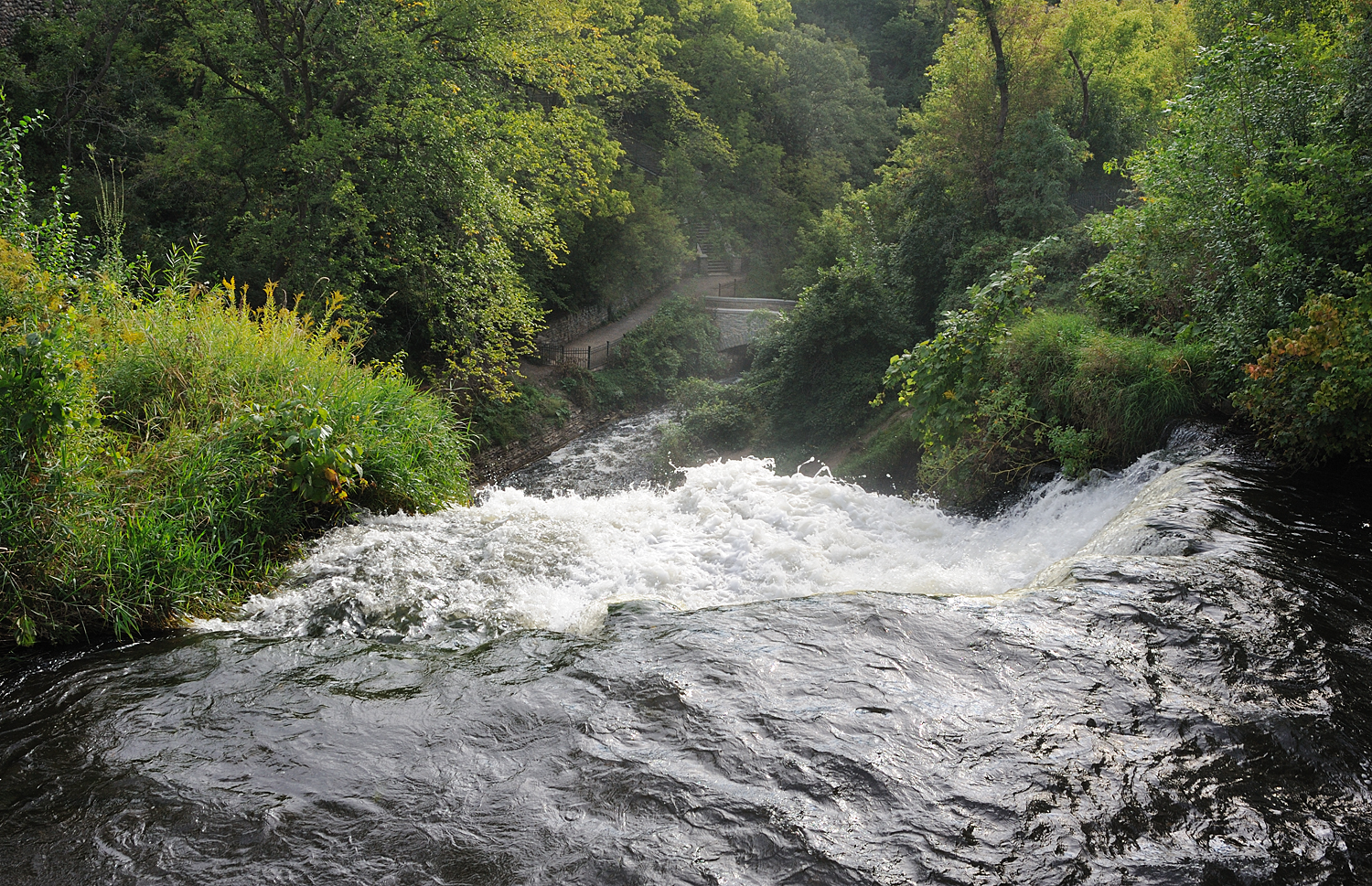 Minnehaha Creek enters the Mississippi near here, but before it does it tumbles 53 feet in a powerful waterfall at Minnehaha Park.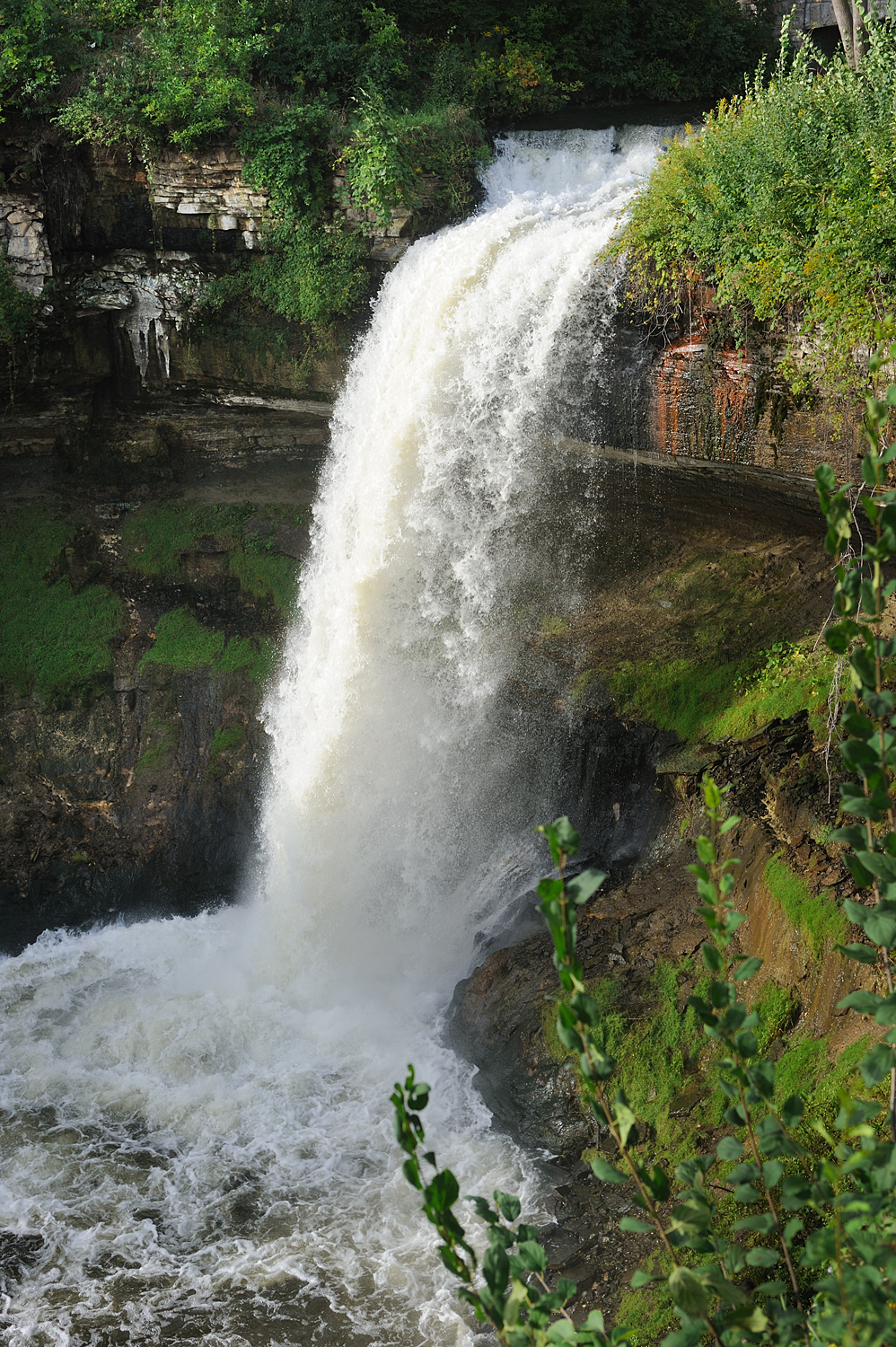 I watched it disappear over the rocks from the top and then stood at the base and listened to its roar and felt its spray. It was easy to feel why this land has been sacred to Native Americans for centuries.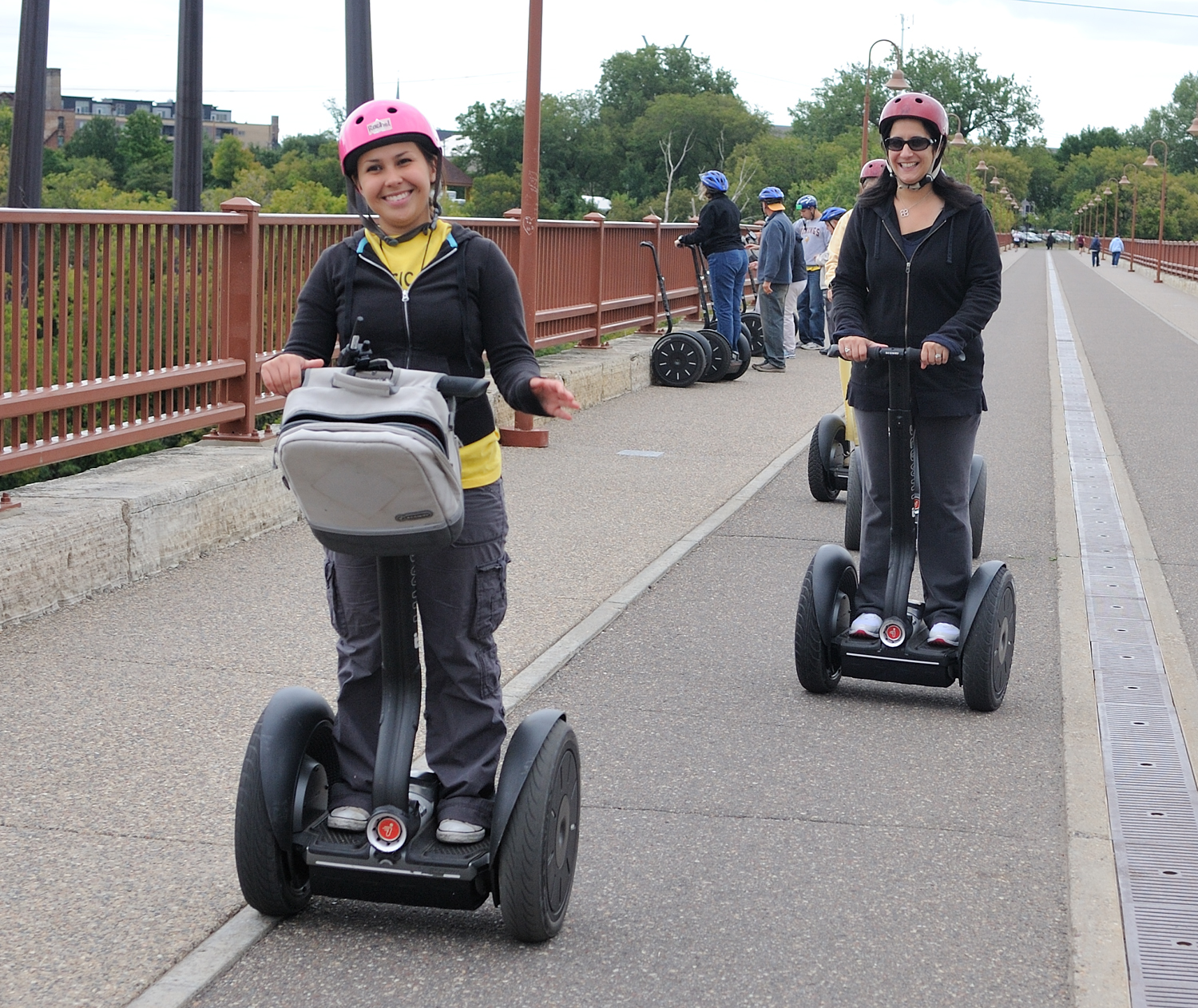 The day was capped off by spending 3 hours as a "human on a stick", on the Segway Magical History Tour.
I've wanted to try riding a Segway since the first time I saw one – and they are fun, easy and very intuitive to ride. The guides were great – knowledgeable about their city and fun. In a 5-mile ride, we crossed the river on the landmark Stone Arch Bridge and learned how the Mississippi has shaped this city, first with the logging industry, then milling and now with its system of parks and commercial transportation. It's a great way to get oriented and way more fun than a bus or trolley tour!
Clearly, it could take weeks to explore what Minneapolis has to offer, but our raindrop is moving on to St. Paul. See you there!  Gayle