Teeheehee!
Like most of us, I've been keeping to a pretty intense schedule of work for what seems a long time now. For the past several days, I've been waking up at my usual 5:00 am and then, without actually deciding to do so, going back to sleep and having some very colorful, interesting dreams.
This morning's made me laugh out loud when I woke up, so thought I'd share…
My husband, Mike, and I and another friend were going to the Circus. At the door, I realized I didn't have my ticket – that it was at home in another purse. After a little discussion, we decided I shouldn't waste the $40 ticket (expensive circus!) – that I would go home and get it and come in late. I left feeling pretty disgruntled with myself!
I couldn't remember where we parked the car and wandered around, getting increasingly frustrated and irritated with myself. 
Then, it was suddenly all OK because I had a bowl of magic curried sweet potatoes and if I held it out in front of me, I could float above the ground and it was great fun. I got lost looking for the car, but I was having a great time flying with my sweet potatoes! 
Then I encountered a friend and ended up going with them to a bar that had some great live jazz. By now, I was sure the Circus was at least half over, so I decided to just stay and listen. Just before I woke up, I was taking my phone into the bathroom where it was quiet so I could call Mike and let him know!    🙂
Now, I've no doubt that someone well-versed in dream interpretation might find something symbolic in all that, but to me, the message is quite clear.
There is wonder, magic and fun in every moment – don't miss out on it by taking myself, my work, my life or my mistakes too seriously!
AND – although she can't guarantee their flying ability, a friend just sent me her recipe for Curried Sweet Potatoes! I've had them and they are delicious – even with both feet on the ground! Wanna give them a go?  Here tis!
2 to 4 sweet potatoes, peeled and cut into one inch chunks
1 medium sweet onion, diced
½ c. chopped red, yellow or orange peppers
1-2 Tbsp olive oil
Salt, pepper to taste
curry powder  1/2 to 1 tsp, to taste
Preheat oven to 375.  In small bowl, mix salt, pepper and curry powder. Toss veggies with olive oil and spices. Line a cookie sheet with foil and arrange veggies in single layer. Roast 30 minutes, turn them over and roast another 20-30 minutes. Enjoy hot or room temp.
Have a magical day, my friends!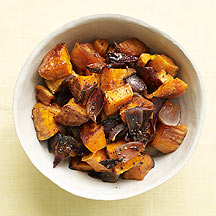 With Love and Laughter,     Gayle