It's the best of all worlds when I can be in my room takin' care of business and STILL get some nice shots right out my window! In Vidalia, LA, I was a guest at Comfort Suites, right on the Riverwalk and heard the familiar sound of a towboat engine.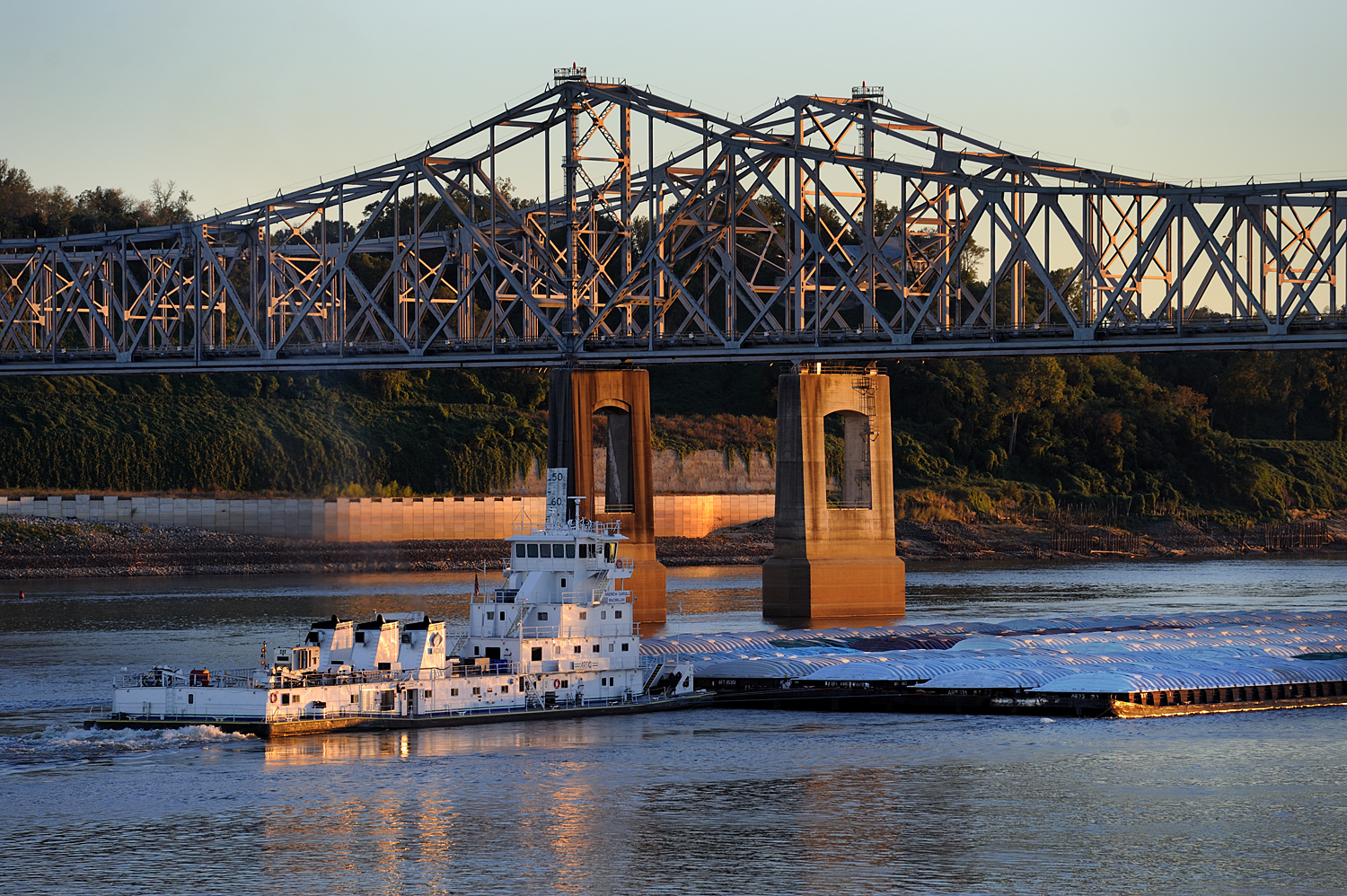 Two seconds later I was snapping away in the beautiful late afternoon light. For the sunrise, I easily walked to the twin cantilevered bridges between Vidalia and Natchez, MS – Sweet!  No driving on rutted roads or trudging through the mud – just a stroll on the paved, lighted walkway!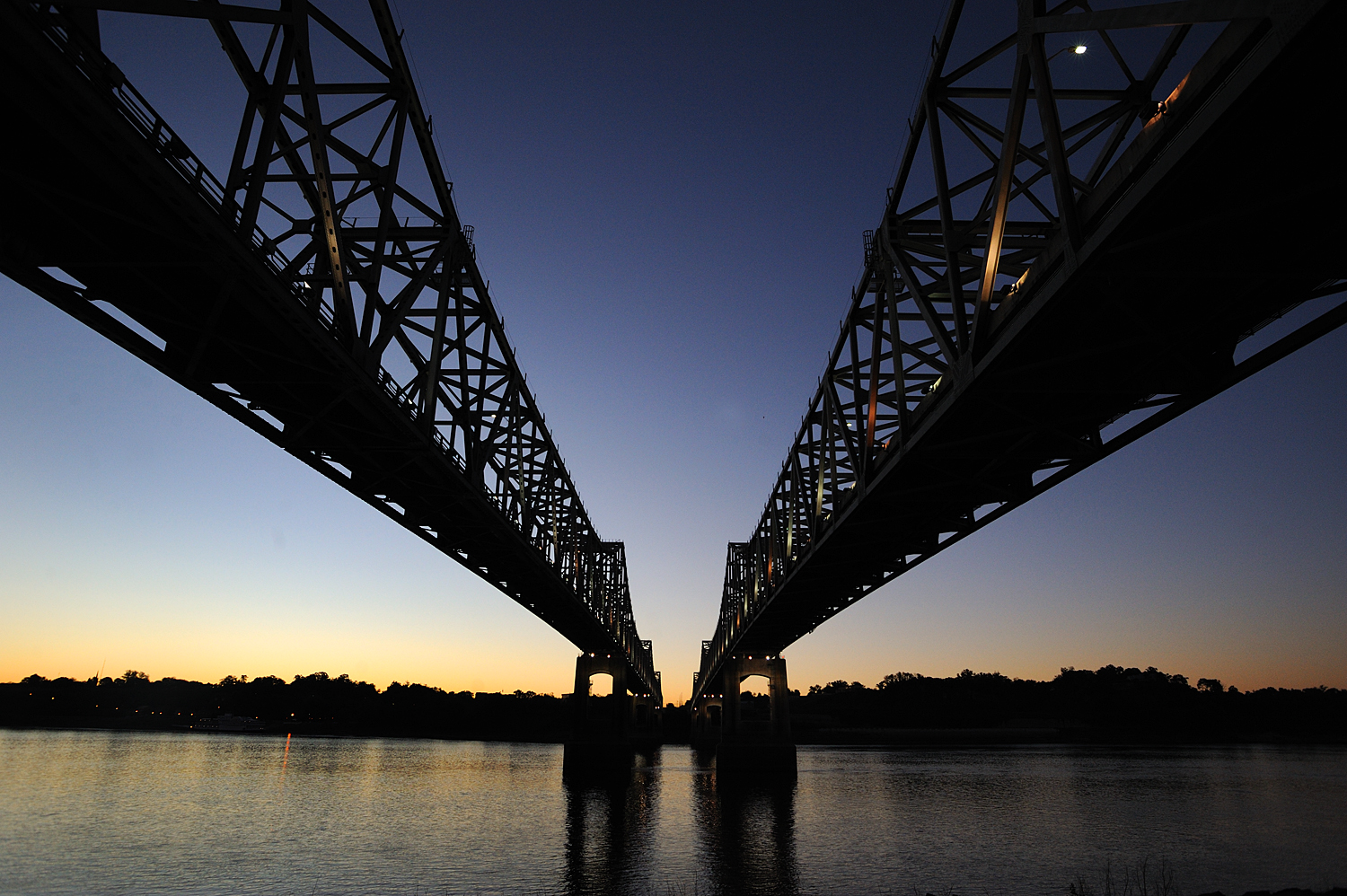 Then I drove out on the levee (truly my favorite places to be in the morning) and caught sight of a family of foxes racing for cover, and deer bounding as if their feet hardly touch the ground. 
There was a small, shallow lake filled with water birds like egrets and cormorants – so I left the car and got in my mud-trudging anyway. They let me get closer than I expected and posed rather elegantly, I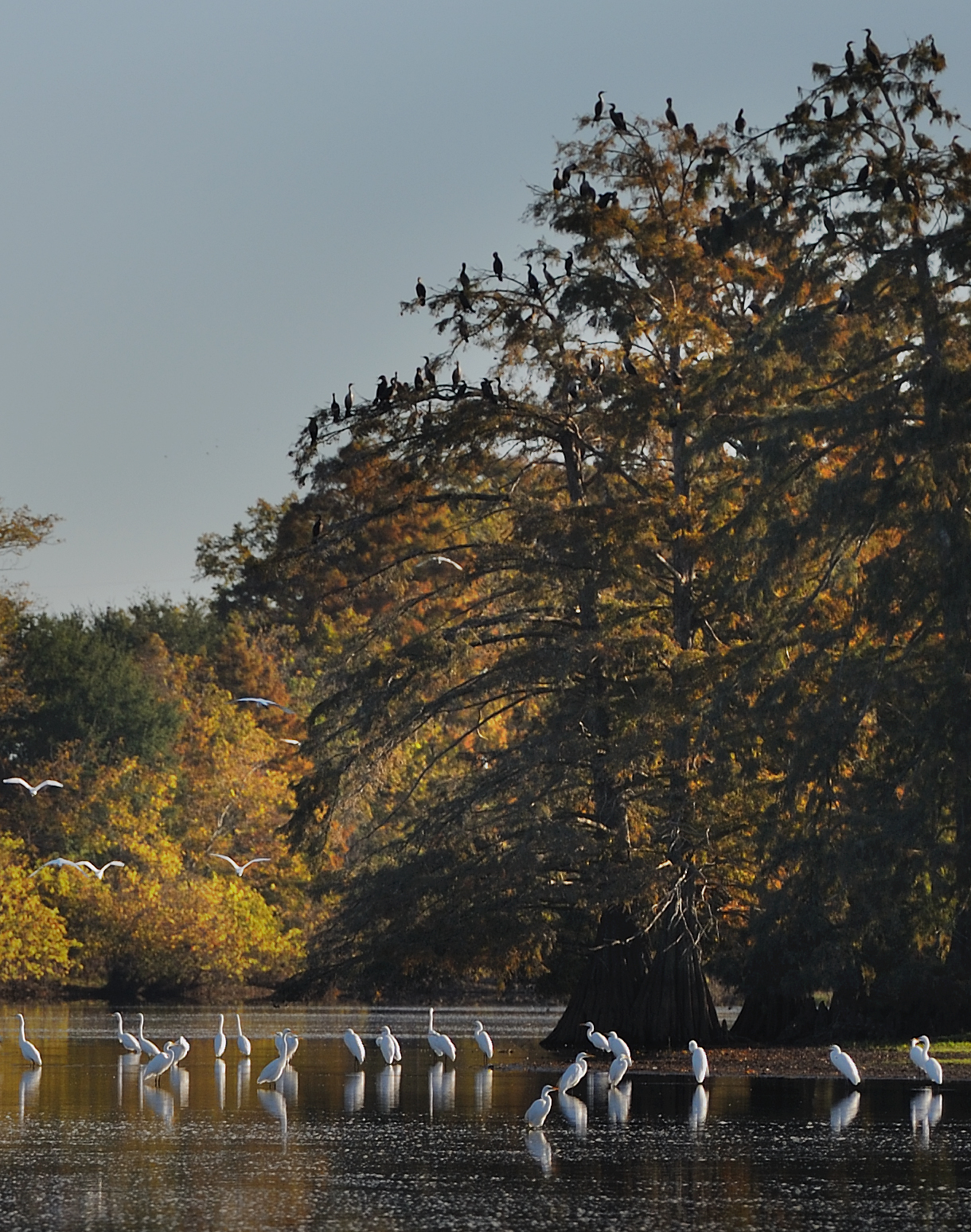 think.
Then, as I drove into town I caught a glimpse of the Fire and Police Station with an Officer out front raising the flag in the warm morning light. I was already past it when it registered and by the time I turned around and went back he had already gone back inside. "Well", thought I, "it can't hurt to ask". 
So I walked in to find 8 or 10 Officers in what looked like their morning meeting. They seemed startled to see me at first , but when I told them what I was doing, they chortled and patted the lucky Officer on the back. He didn't hesitate, but cheerfully came out and lowered and raised the flag again. All in the line of duty, right? Thanks, guys!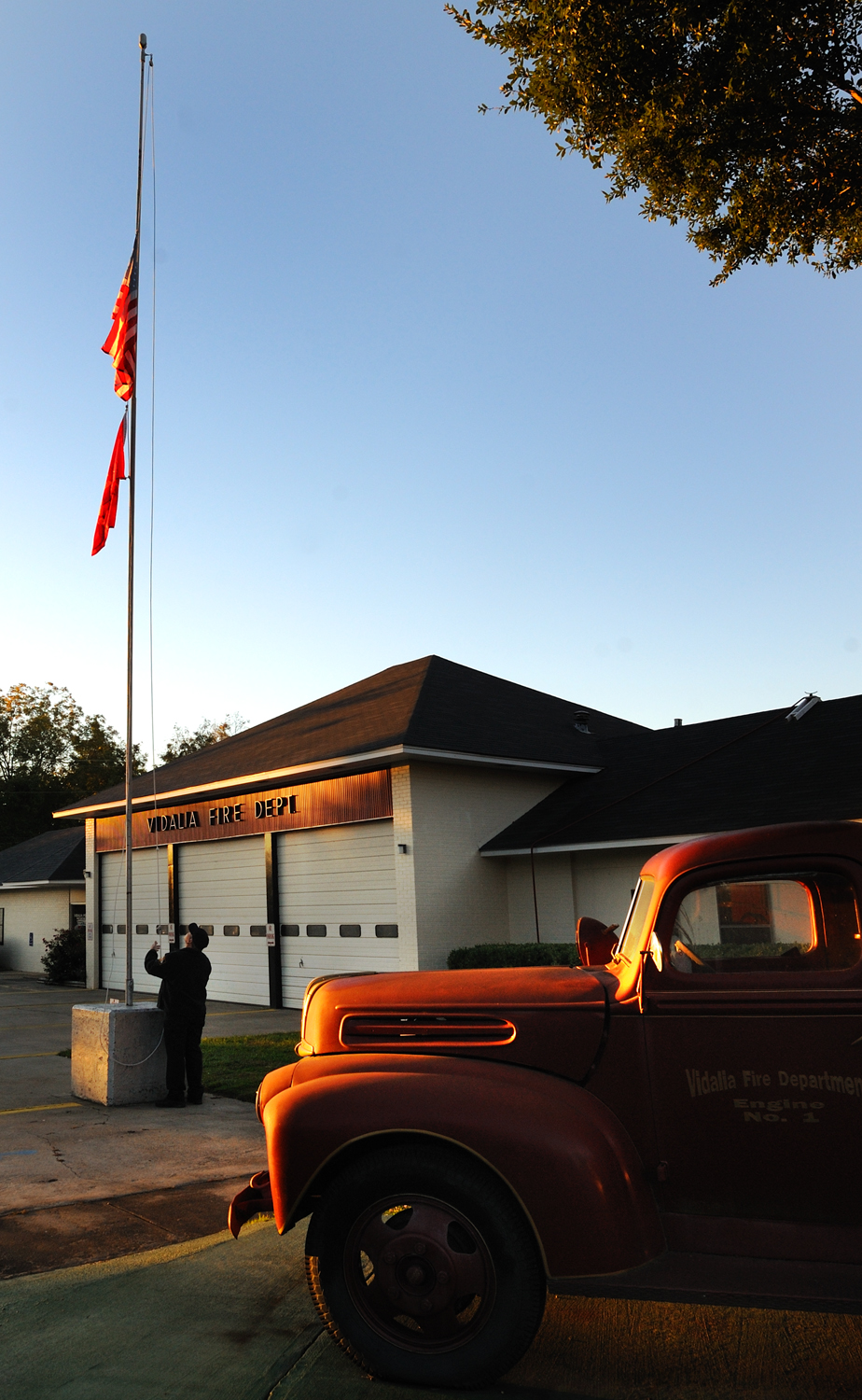 Then I crossed the bridge to Natchez where my new friend, Tommy Polk, led me to Shantybellum, his fun, funky guest house. It's filled with musical instruments and memorabilia and many of Tommy's songwriting awards – and comes with Moon Pies on the bed pillows! 
Tommy brought by his computer and shared some of the songs he has written (and brought me the fresh-picked tangerine on the table from his mother's tree).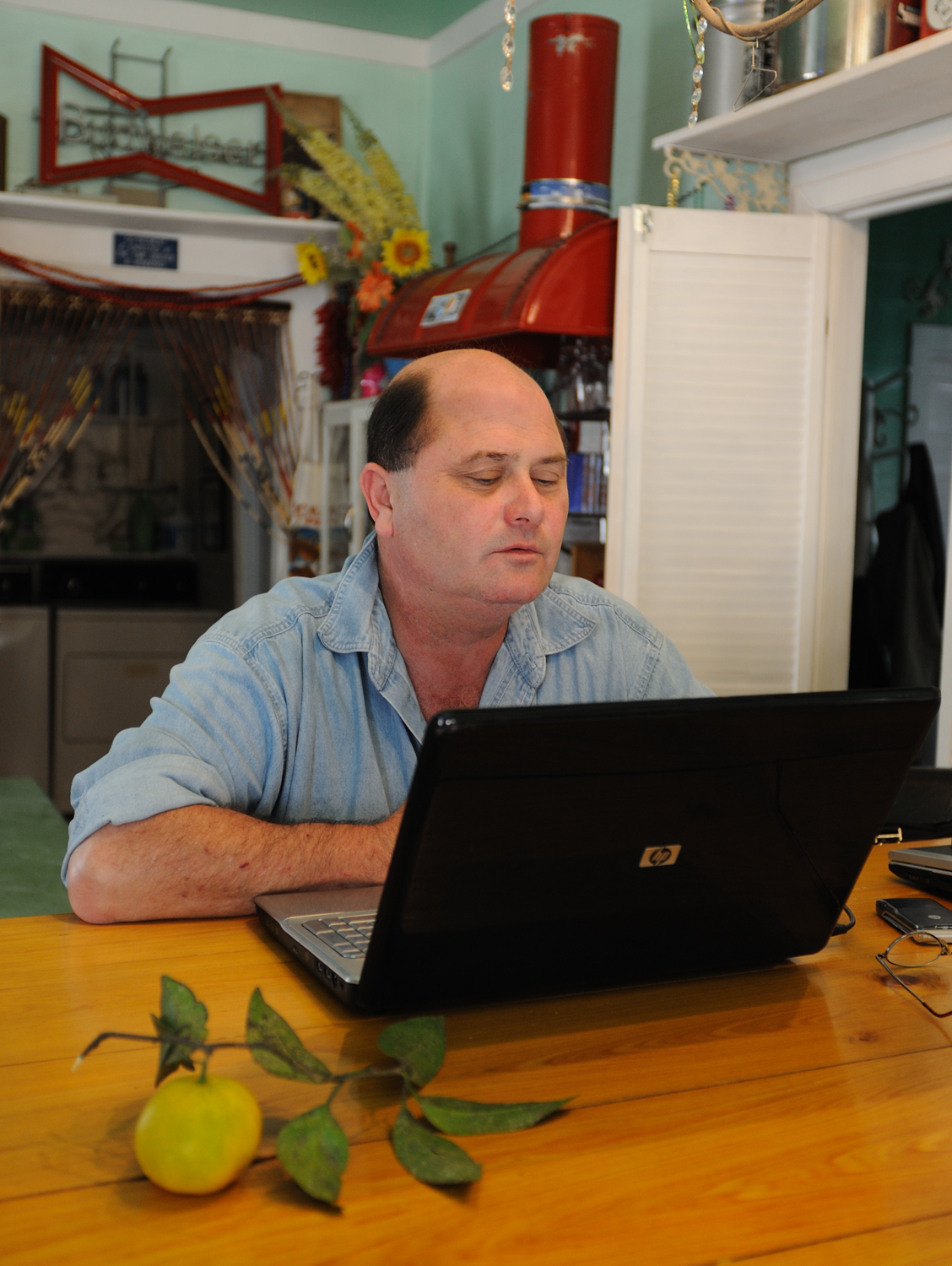 I met lots of "Natcheezians" in two days and they were literally all warm, welcoming and friendly. I was swept in, without hesitation. I met a woman on the street who introduced me to a friend of hers, who then took both of us to see the stunning home of her brother, known as Magnolia Vale. (Natchez is filled with stunning homes with romantic-sounding names.)  I was invited to a cookout at a home on the high bluff above the river and stayed, bouncing from one conversation to the next, until the gorgeous sunset.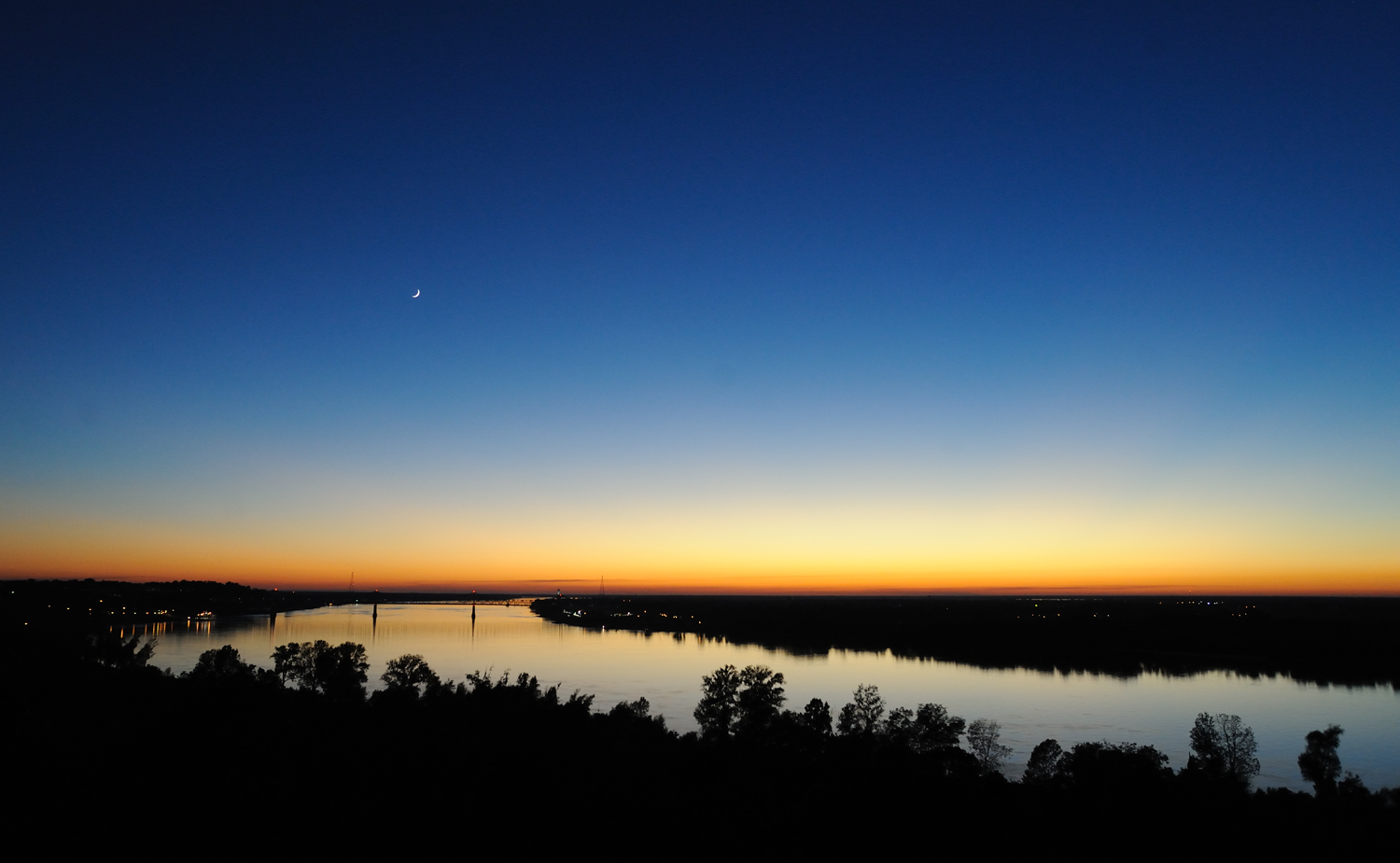 Tommy and his girlfriend, Elodie (who was also delightful to meet) had actually compiled a list of colorful people I might like to meet. The description I was given of "Miss Jones" made her irresistible, so a meeting was arranged. Still beautiful at 84, Miss Jones is the quintessential Southern Lady. She was funny, gracious, warm, and elegant in a very unselfconscious way. Her family's history is intertwined with the history of Natchez for many generations.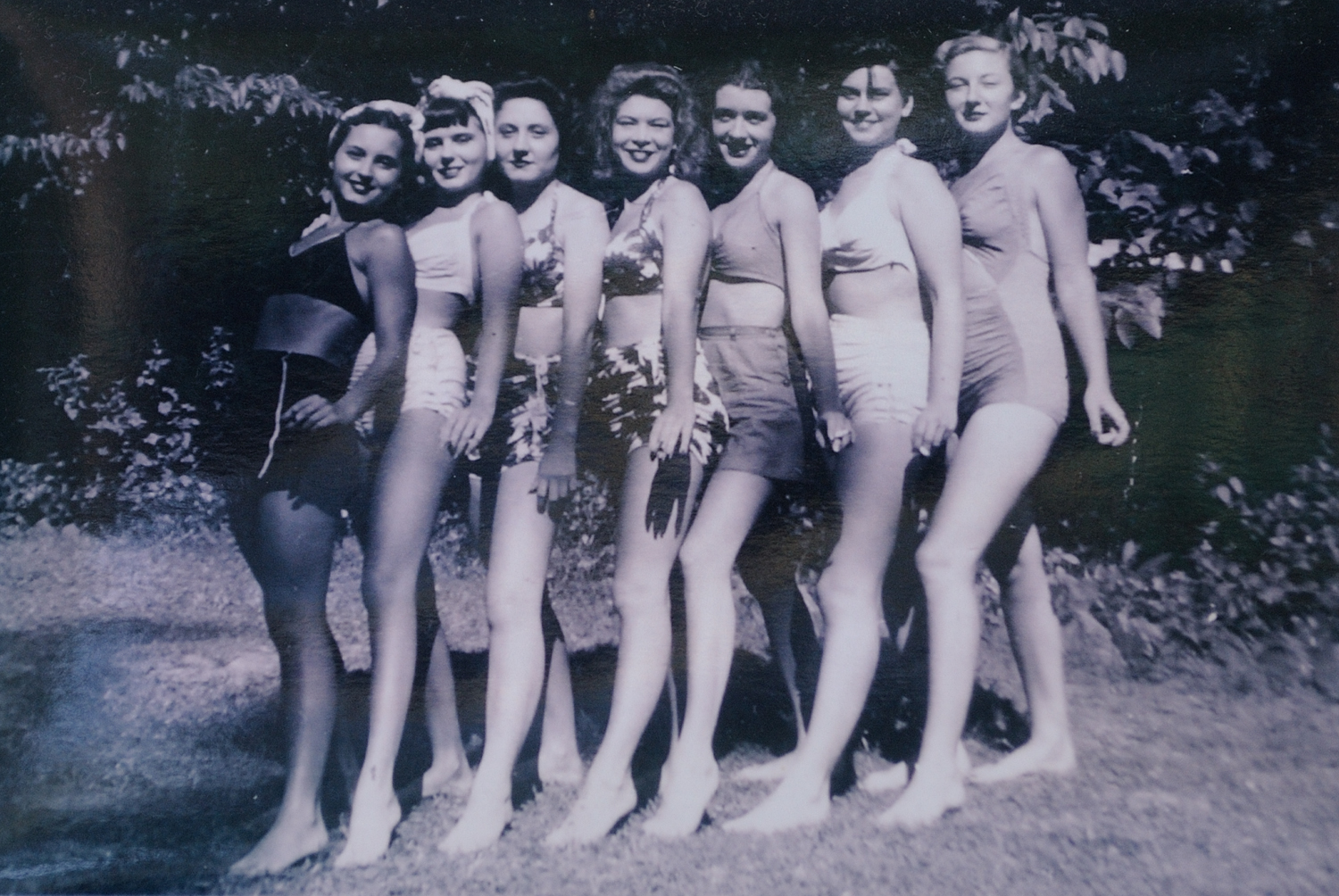 Amid the stories of family, came the story of the Garter Girls. On her refrigerator was this photo taken during WWII, of herself (on the far left) with six girlfriends, posing glamorously in swimsuits. When the first girl married, she was given a garter made by a local woman with the instruction that it should be passed to each of the other girls when their turn came. Each girl wore it, and then passed it to her children and eventually to her grandchildren. The garter, now an antique, is still gracing the legs of descendants of the original Garter Girls. It has become so precious to them now, that Miss Jones kept it in the bank vault when it was in her care.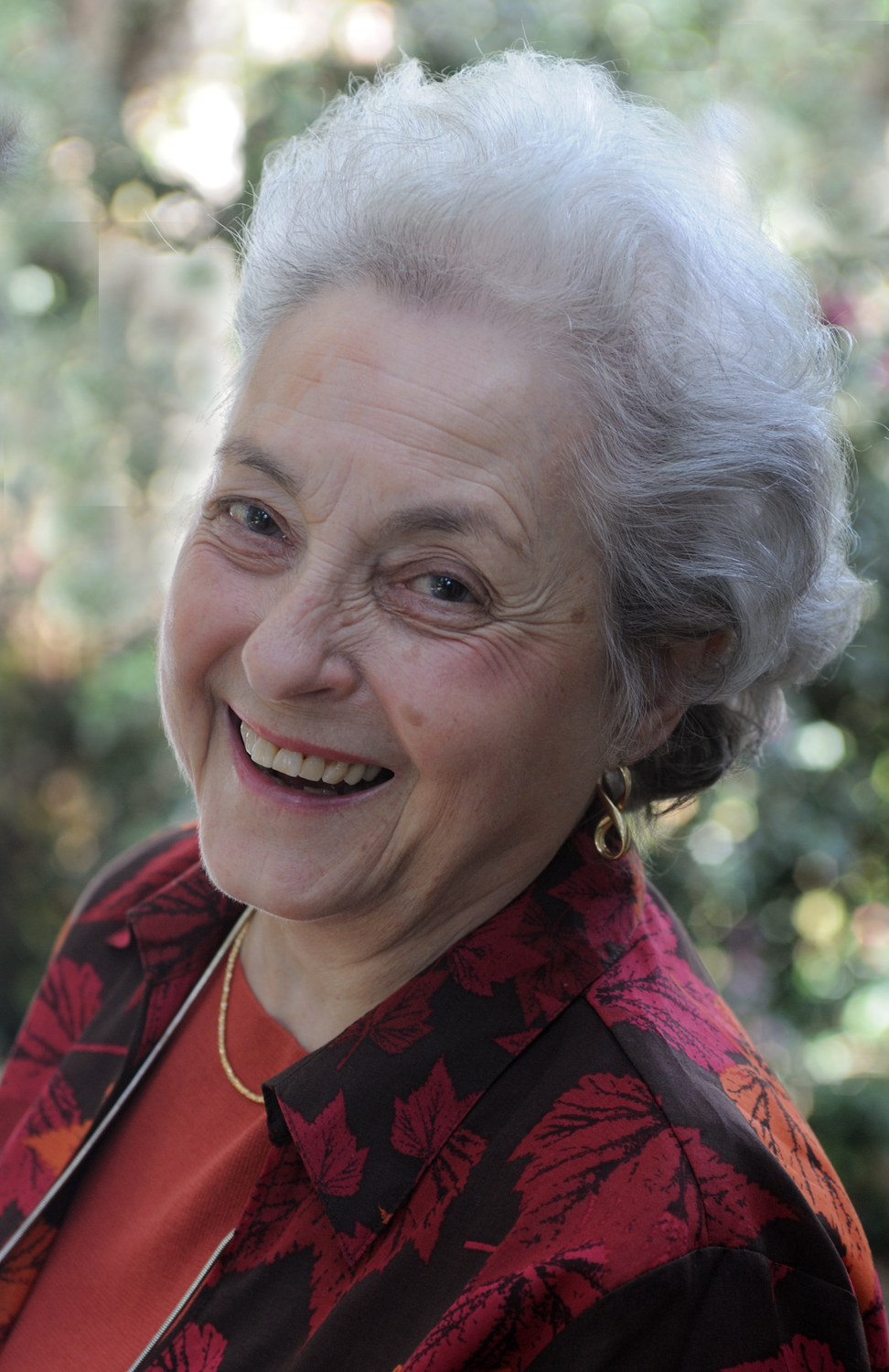 It's a fun picture and a great story of continuity. In most places around the country, families scatter in all directions as children come of age. I have no idea what the home that my grandparents grew up in looked like. It must be stabilizing and nurturing to have roots that deep.
It seems everyone has a story here – and can tell it in a spellbinding way.  Perhaps it grew out of long, warm summer evenings on the porches. "Everyone knows your business" I have heard more than once, and indeed conversations overheard are mostly about who did what, when.  As one person put it, "We don't care what you do, we just want to know about it." No wonder so much literary talent came out of the south – lifetimes are spent telling and listening to stories, in that slow, sweet, Southern drawl . 
I hear the river in their stories, even when it isn't mentioned.  I hear that same ancient, constant voice that speaks below the level of physical hearing and says what words can never capture. I have heard that in the voices of river people since this journey began. It is the same underlying voice, whether the audible voice sounds like a Minnesotan or an Iowan or a Mississippian.  On the surface, there are great differences in culture, accents, foods and stories, but underneath it is all one story. There is actually only one story in all of humankind – the story of discovering our connections with each other – and ultimately our Oneness with all life. That's the secret the river whispers.