I had a few thoughts of what I might want to cover in Memphis. That's what I get for thinking I have anything to say about it! Serendipity had other (and of course better) things in mind. There's a wonderful (I'm told) Mississippi River Museum on Mud Island with an exact scale model of the Lower Mississippi that is 5 blocks long. That was number one on "my list". It's also, of course, the home of Elvis Presley, and since I have never been to Graceland, that was number two. Number three was to sample some of the music Memphis is famous for, probably on Beale Street. All of that is well worth doing if you come, and fortunately you can read about them in plenty of other places, because I didn't do any of that!
Diana Threadgill is the Executive Director of the organization known as the Mississippi River Corridor of Tennessee, helping people to understand and appreciate this priceless natural resource. When she learned of my project, she offered her assistance. Not only was she immensely helpful, but we had a great time doing it all. She even took me to her hairdresser to get my unruly locks trimmed back into shape!
Thanks to the MRCT, I was a guest at the Crowne Plaza in the heart of downtown and was able to get this shot of the city at sunrise.
As Diana showed me "her Memphis", she shared some of the creative ways the organization is bringing people together and helping them focus their love for the Mississippi in ways that will make a difference. I was impressed by the clear vision and passion I heard.
At the riverfront, we visited the powerful sculptures honoring Tom Lee, who in 1925 single-handedly rescued 32 people from the river in his 28' skiff after a steamboat capsized. He made five trips to shore and returned to search for more survivors, disregarding the fact that he could not swim himself!  
Then she took me to a place I would almost certainly never have visited on my own, but found fascinating – the National Ornamental Metal Museum.  It's dedicated to preserving and teaching the skills of beautiful and creative metal working, an art form I admit to knowing zip about.
In the Blacksmith Shop, we found Holly Fisher hard at work. She's a bright, friendly young woman from Iowa who is currently an Artist-In-Residence at the Institute. She showed us the "bracelet for a giant" she is working on and explained some of the techniques involved, and we had a few laughs in the process.
Then I donned my own eye and ear protection and followed her back into the noisy, gritty, fiery workspace. Hammers clanged, machines thumped, music blared, fires roared and Holly smiled as she let her creative spirit play. Meeting people like her and peeking into their worlds is one of my very favorite things about my job!!
Near the end of the afternoon, Diana said, "Oh! You need to meet my friend Joe Royer! I will call him right now!" Before I could say, "Serendipity", I had a call from Joe and we had a date to get out on the Mississippi in a sea kayak the following morning.  I have, so far, been on this river in vessels ranging from the huge towboat to a canoe, but meeting it at its own level in a kayak is another experience entirely.  It's a BIG river and if you want to really feel that, this is the way.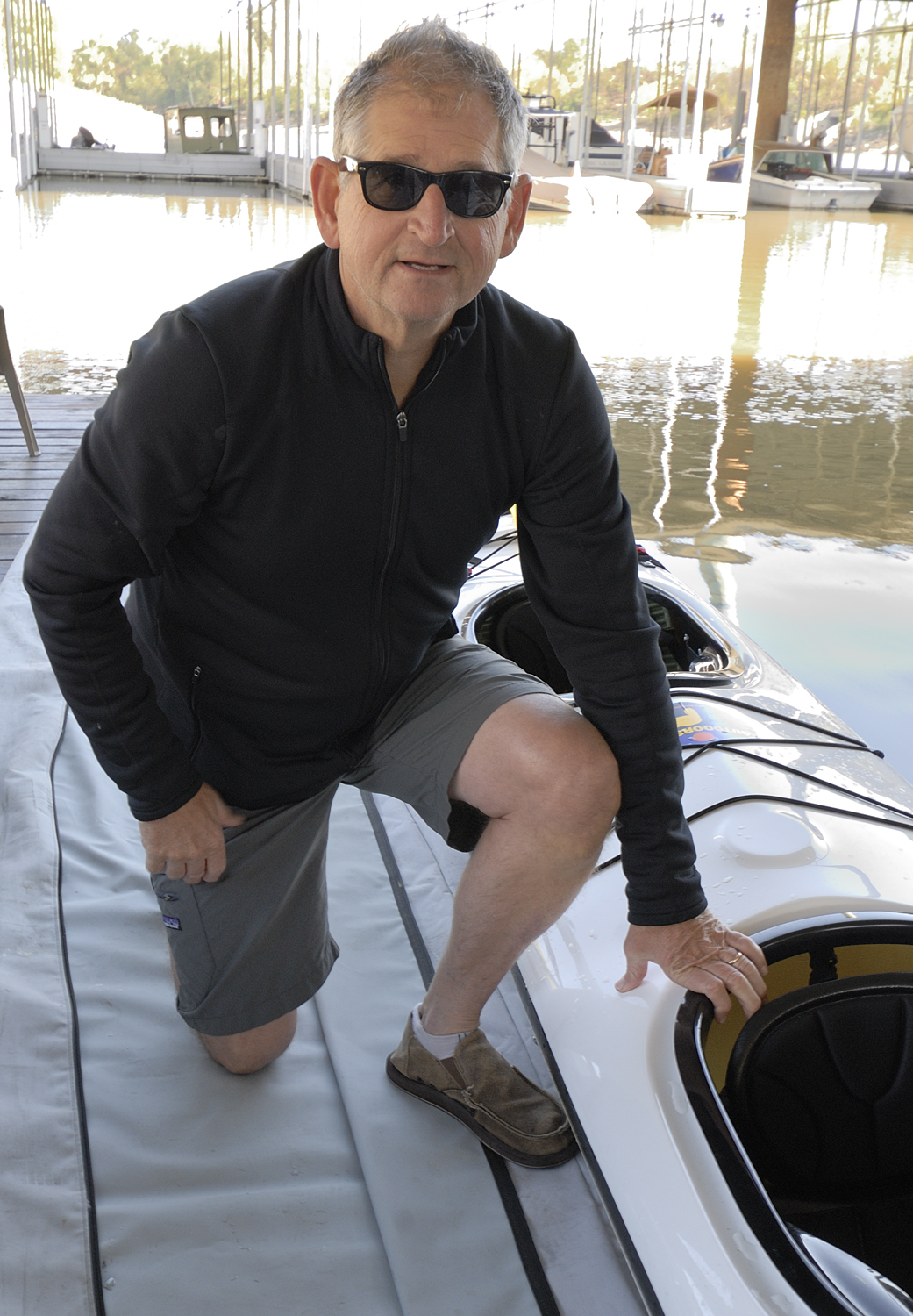 Joe is dedicated to teaching people how to safely recreate on the Mississippi River. "It has a reputation for being dangerous", he said, "but if you respect it and learn the proper skills it is safe and fun."  I did feel safe in the 22' double sea kayak with Joe in the stern, but it would be downright terrifying to try it alone without sufficient training and experience.
When we paddled out of the harbor into the immense open river and I looked across to the opposite shore, roughly ¾ mile away, I thought about our little raindrop and all the changes through which we have followed it. It defies description, but inspires awe – this great river through the heart of our continent. Again, I am filled with gratitude for this opportunity to follow it.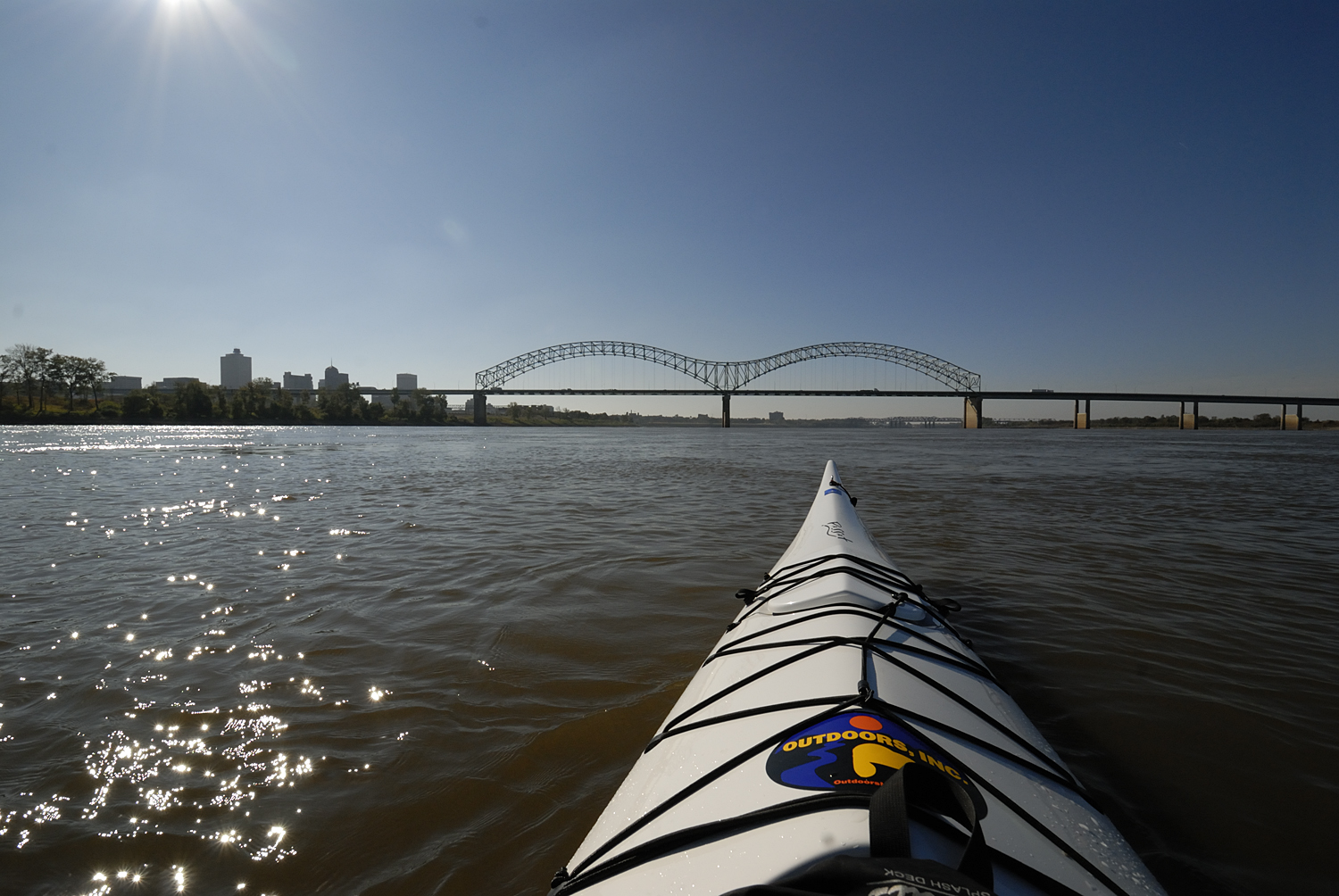 We moved easily through the water, whether going with the current or against it. When a barge appeared, churning up its huge wake, my heart clutched a little, but the effect was really minimal and the sea kayak sliced right through it. It was a serene experience being face to face with the river, at its level, in its midst, feeling its unspeakable power.
Joe has done this many, many times. He kayaks the Mississippi for exercise and fun about 300 days per year. His business, Outdoors, Inc., offers equipment, clothing and instruction for paddling, biking, climbing and other "human-powered" sports.  For 30 years, he has organized a canoe and kayak race on the Mississippi, bringing participants from all over the world. The race is designed to accommodate world-class paddlers as well as providing enough safety and support boats to encourage the less experienced to give it a try. Joe knows what he is doing and he loves this river – he was the absolute perfect person with whom to do this!!  Thank You!!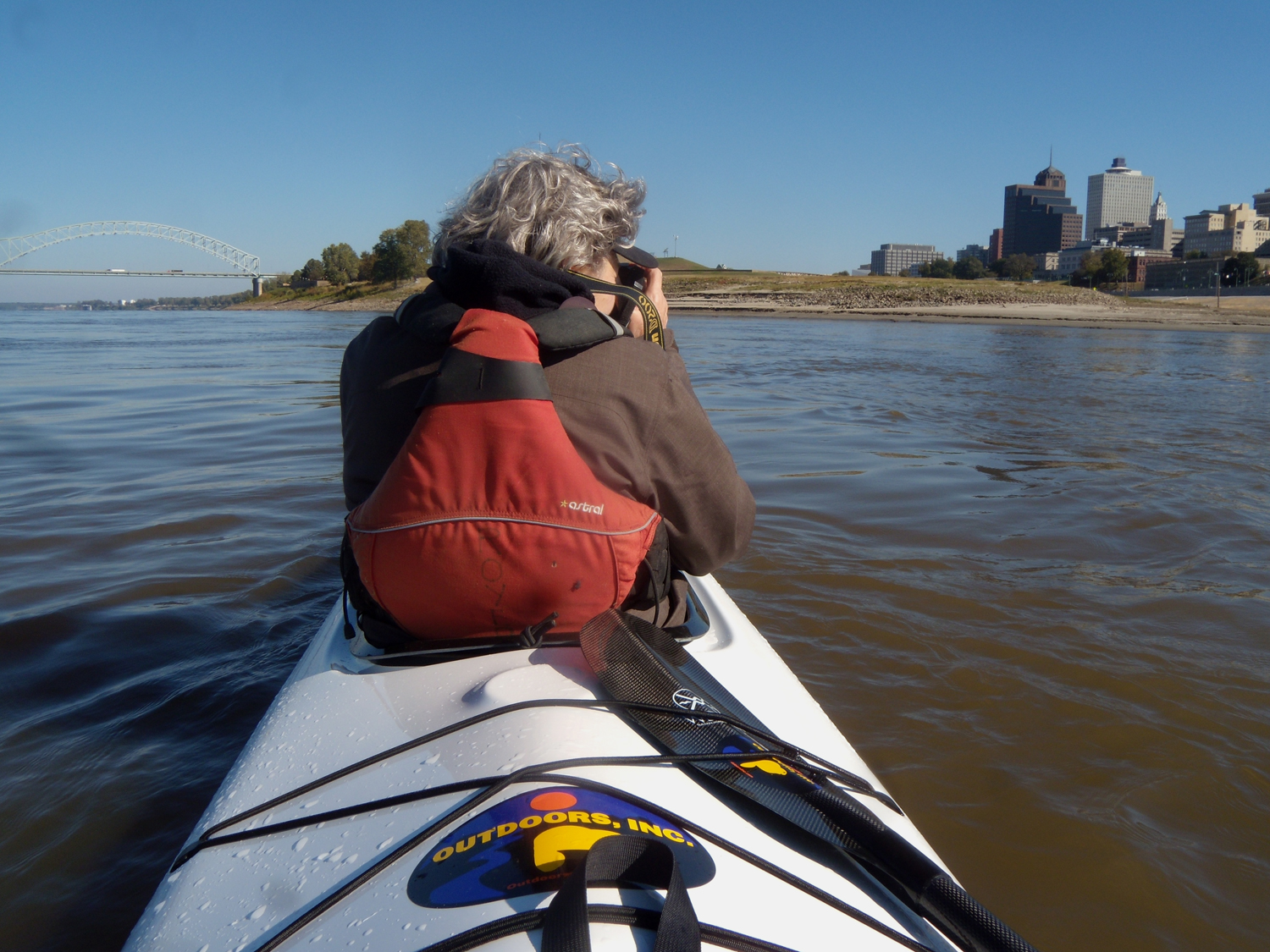 Unbeknownst to me, Joe had his own camera in back and snapped this picture to share with you.
Deeper and deeper into the South…next stop is Clarksdale, Mississippi!  See ya'll there!         Gayle