Sorry for the long quiet spell. Following this little raindrop has been a bit like hanging onto a tiger by the tail. Experiences have been coming at me so fast, it has been impossible to find time to be at the computer. So many interesting, creative, beautiful people have been willing to share their homes, their time, their stories and their hearts with me that the time just evaporates.
For example, there was Tommy Groves in Osceola, Arkansas.  A self-described "river rat", Tommy grew up in a little shotgun house on 6' stilts, in the floodplain on the river side of the levee.  Every year when the water rose, his Daddy would take Tommy and his sister in a boat to the levee to meet the school bus and fetch them again in the afternoon. Only twice did the water actually get into the little house. I asked him why the family was willing to stay there and deal with the mud and the floods. "The Mississippi was our home and our way of life," he said with a gentle smile. "We actually looked forward to the water rising. We were poor and when the water came up that meant the rabbits would be easy to get. There were lots of times we would have gone hungry if it weren't for the rabbits." 
He felt it was a blessing to grow up there, close to nature, to family and to the river he loves. They were a musically talented family and on Sunday afternoons they would gather in the front yard to sing and play for the neighbors who came to listen. "It was the only entertainment we had," he said.  He still plays every Saturday night, but now it is in a theater he owns downtown.
Tommy's Daddy didn't trust banks. After losing $100 when a bank failed during the depression, he refused to take another chance. So, when he planted his land in soybeans at just the right time for several years and made a big profit, he stashed 300 thousand dollars in fruit jars. Eventually Tommy convinced him to put it in CDs and since that was also timed just right, the family prospered.
Tommy became a realtor and now owns 50 rental houses in Osceola. He's also an electrician, a plumber and a carpenter and he was a policeman for a time. Plus, he's a darned good fisherman! He fishes the Mississippi almost every day and has landed a number of 80+ pound catfish. He's careful with those big ones and usually puts them back because, "They feel like my brothers and sisters." Only once did he keep one that size, to give to a hungry family with 10 kids.
Tommy is a soft-spoken gentleman whose eyes show the joy he finds in life. When I asked if he had traveled much, he said, "Only for our senior class trip and to take the family to Branson." He's thankful for the life he has been blessed with and just couldn't see anyplace else he would rather be than right here beside this big river. Thank you, Tommy, for your time and your open-heartedness!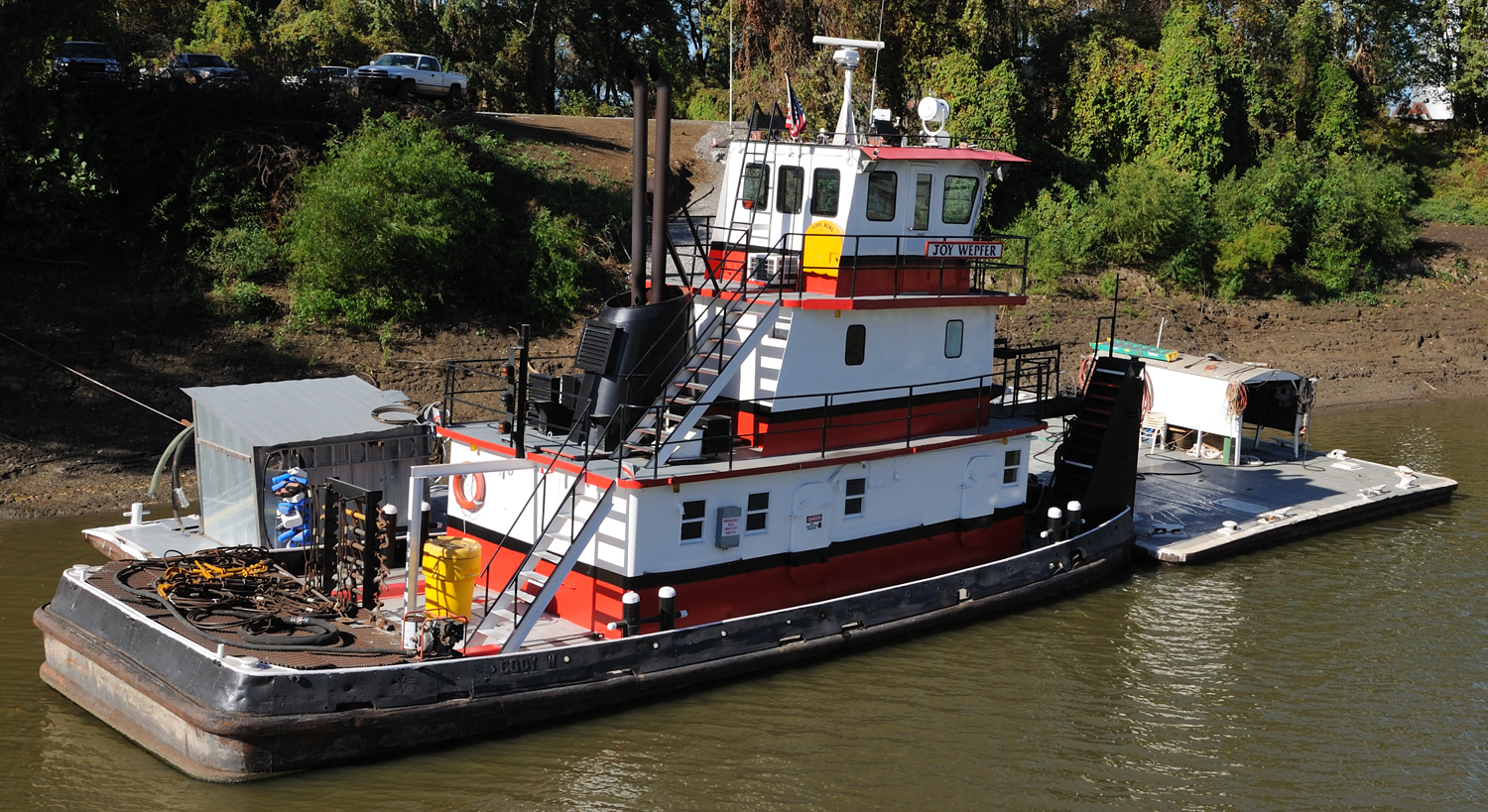 Osceola is also the site of Arkansas' busiest river port, where products like grain and rice are loaded onto barges for shipment downriver. When Eric Golde, of the Osceola Chamber of Commerce asked if I'd like to ride one of the tugboats working the port, I didn't hesitate. These tugs are somewhat like a smaller sibling of The Phyllis, which I rode for 24 hours back upriver.
  The tug we rode, "The Tommy Ross", has a 1,200 hp engine (compared to 6,000 hp of the towboat).  It's made to maneuver the barges around in the port and shuttle them to and from the larger tows. It's another piece of the massive industry that is all but invisible to most of us, shipping millions of tons of products on the river.
  After making our way down a steep, muddy incline of loose rocks, we signed in and were welcomed aboard. Deckhand Eddy Smith gave us earplugs for protection, then showed us the engine room. Up several flights of stairs, Captain Tommy Pinion welcomed us to his domain and then chatted casually as he expertly guided the tug into position, putting its squared-off bow flat against the end of a barge.  The two deckhands attached it, and then walked along the narrow ledge of the barge to the front.
  It's dangerous work that requires strength, balance and agility. As I watched them move with relaxed precision, they reminded me of mountain goats.  It happened to be a beautiful, blue sky morning for my ride, but the tugs run 24 hours a day in all seasons and all weather. I can't imagine walking on those slippery metal surfaces in cold rain or freezing temperatures with the icy river below.
 It all happened very smoothly and within an hour or so, the empty barge was tied into position near the grain elevator and the heavy metal hatch doors were banged open, ready to be filled with rice.
The loaded barge was brought back into the "slack water harbor" and attached to the others awaiting their ride to New Orleans. 
Several Captains have told me it is tricky business driving a boat with a squared-off front and this much power without a barge in front. You must move slowly and carefully or the boat will "want to do a nosedive".  It was easy to see that dynamic as we chugged out to the barges.
It's fascinating to see how this section of the barge-moving industry fits into the larger picture and with luck, I might see what becomes of these products once they reach the mouth of the Mississippi as well.
This drought-parched land finally received a good, soaking rain in the night. You could almost hear the earth slurping it up! I'm sure the farmers are doing a happy dance!
Around this next bend is Memphis…are you ready??  Meet ya there!