Day 80. It's hard to imagine actually, that this journey is nearing the end. It's been a marathon and I am occasionally bone tired, but thankful for every single amazing moment.  It's also abundantly clear that it will not be over until it's over, as they say. As you know, I generally don't plan much, but some awesome invitations and opportunities are arising for these last ten days. Stay tuned!
By the way – one travel tip I failed to mention back on day 60 is that McDonalds all have free WiFi and no one seems to mind if you sit in a corner for a couple of hours, as I am now, and buy one cup of coffee. They just smile and ask, "How you doin', M'am?"
I have now left Mississippi behind and it's Louisiana from here on – and Louisiana is truly its own place. I have traveled this part of the country before, but never in depth enough to actually experience the distinct changes in culture. The accent is very different from what is heard in Mississippi; cotton fields have given way to fields of sugar cane and there are many miles of huge refineries and massive industrial installations.   Dishes like crawfish etoufee and gumbo are standard fare and the coffee is rich and dark and kicks the butt into gear even on the slowest mornings! It's interesting to note – it has always grated a bit to have someone I have no relationship with, like waitresses or clerks call me "honey" or "sweetie". Here, everyone is "baby", "darlin'" or "sweetheart" and it somehow doesn't offend at all – it feels like a hug and makes me smile.
The Great River Road in Louisiana is lined with gracious old plantation homes and in some cases the current owners are the 6th or 7th generation of their family to live there. Again and again I hear people speak of a very deep and strong sense of home. Many people I have met, from a wide range of socio-economic levels, seem to know their lineage well and can quote birthdates and details of the lives of their ancestors, often as far back as the 1700s.
Somehow the past seems very present here, even in the midst of modern development. In St. Francisville, I was invited to stay in two great historic homes. The Cottage Plantation is a series of long, low buildings that were gradually constructed between 1795 and 1879. It is remarkably intact, with many of the original furnishings and outbuildings. It's quiet and secluded, on a long lane away from the road. The architecture of these plantation homes is always graceful and romantic, but what really gives them ambiance is the enormous live oak trees draped with Spanish moss. The massive, sprawling tree trunks and huge branches that often curve back down to the ground with curtains of Spanish moss swaying in the breeze seem timeless and mysterious. Miss Frieda, who checked me in and gave me a tour of Cottage Plantation, said the live oaks near the home were planted in 1810.  Just to think of all they have quietly witnessed in those 200 years makes me want to touch them reverently, which I often do.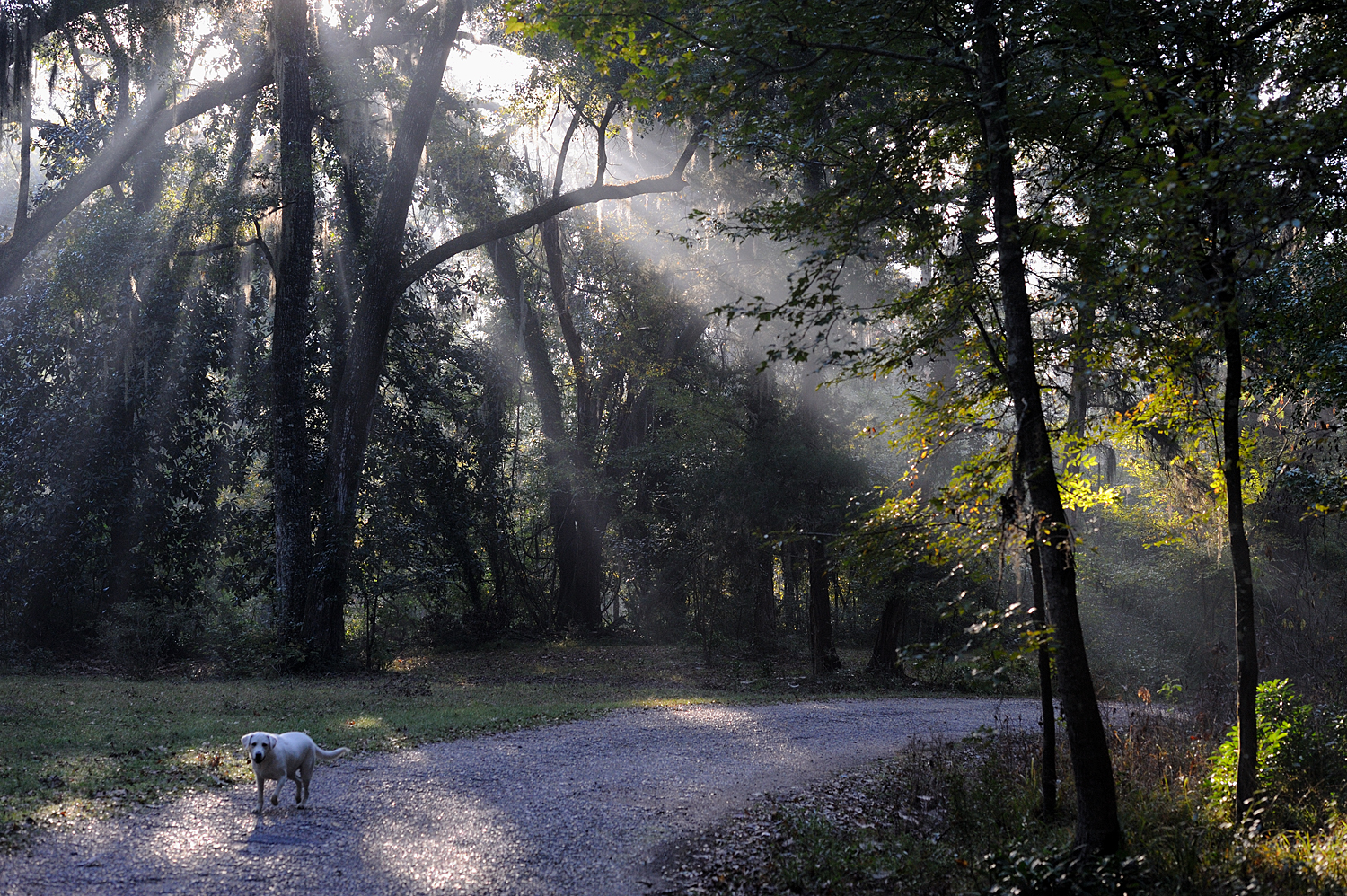 Tara, the resident White Lab, greeted me at my car and was my bud from then on. She was there every time I opened my door and accompanied me on every walk, even if it was just to my car. Although this time of year usually produces many foggy mornings, which I love, there have been virtually none on this trip. So when I peeked out before sunrise to see things shrouded in mist, I was thrilled and threw on my clothes.
Tara was ready and we set off to capture it! By 8:00, our tails were dragging a bit and the fog had mostly burned off, so I headed back, knowing that coffee was being served.
The proprietor delivers a tray with coffee in a beautiful china cup with real cream, sugar and a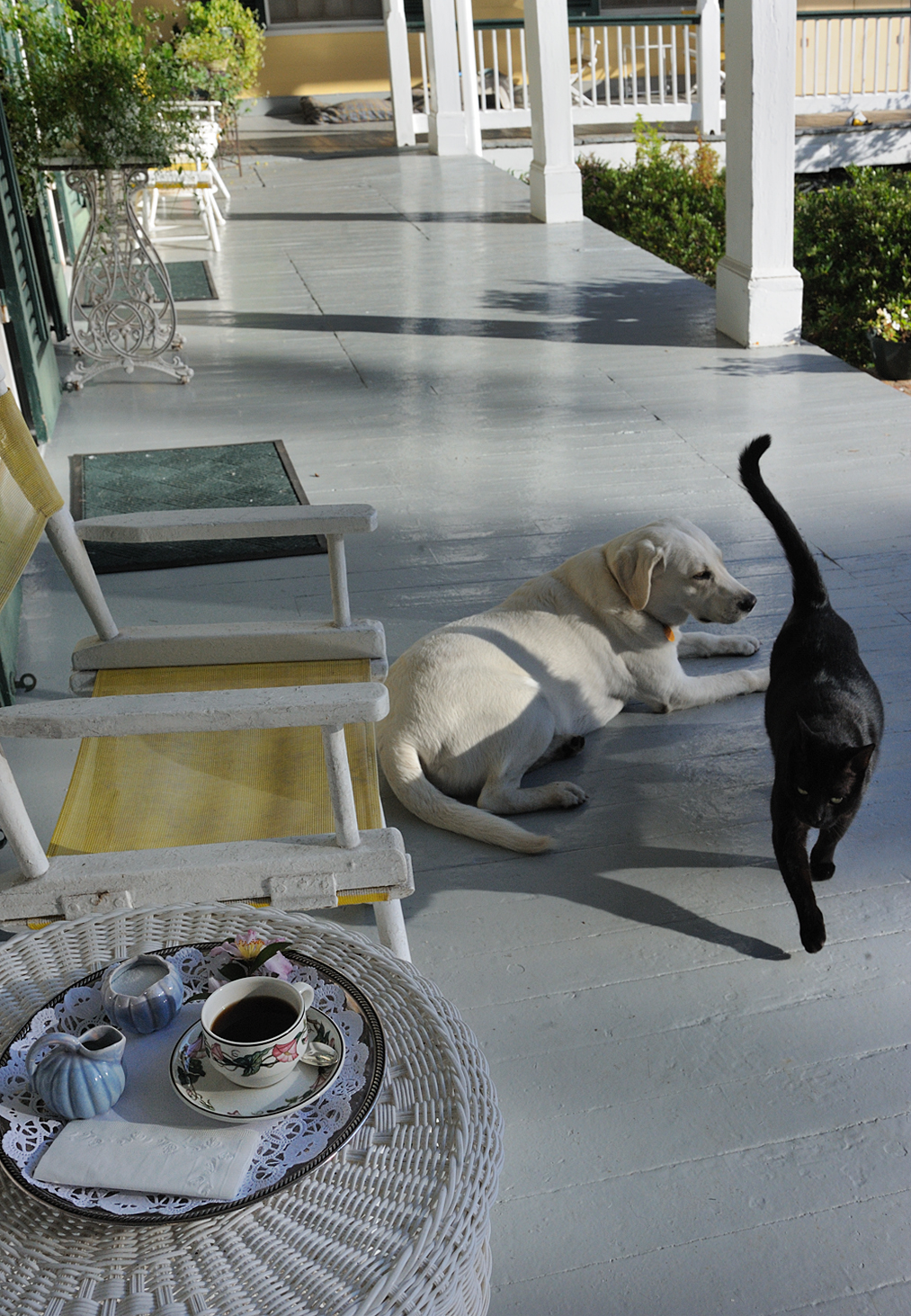 fresh flower to your door at that time. Tara was ready to rest and Sparky, the black cat, came to join us for coffee as well. It was sweet and I felt quite pampered.
My second night in West Feliciana Parish was at the St. Francisville Inn, originally built in 1880 and operated as a popular B&B for 25 years.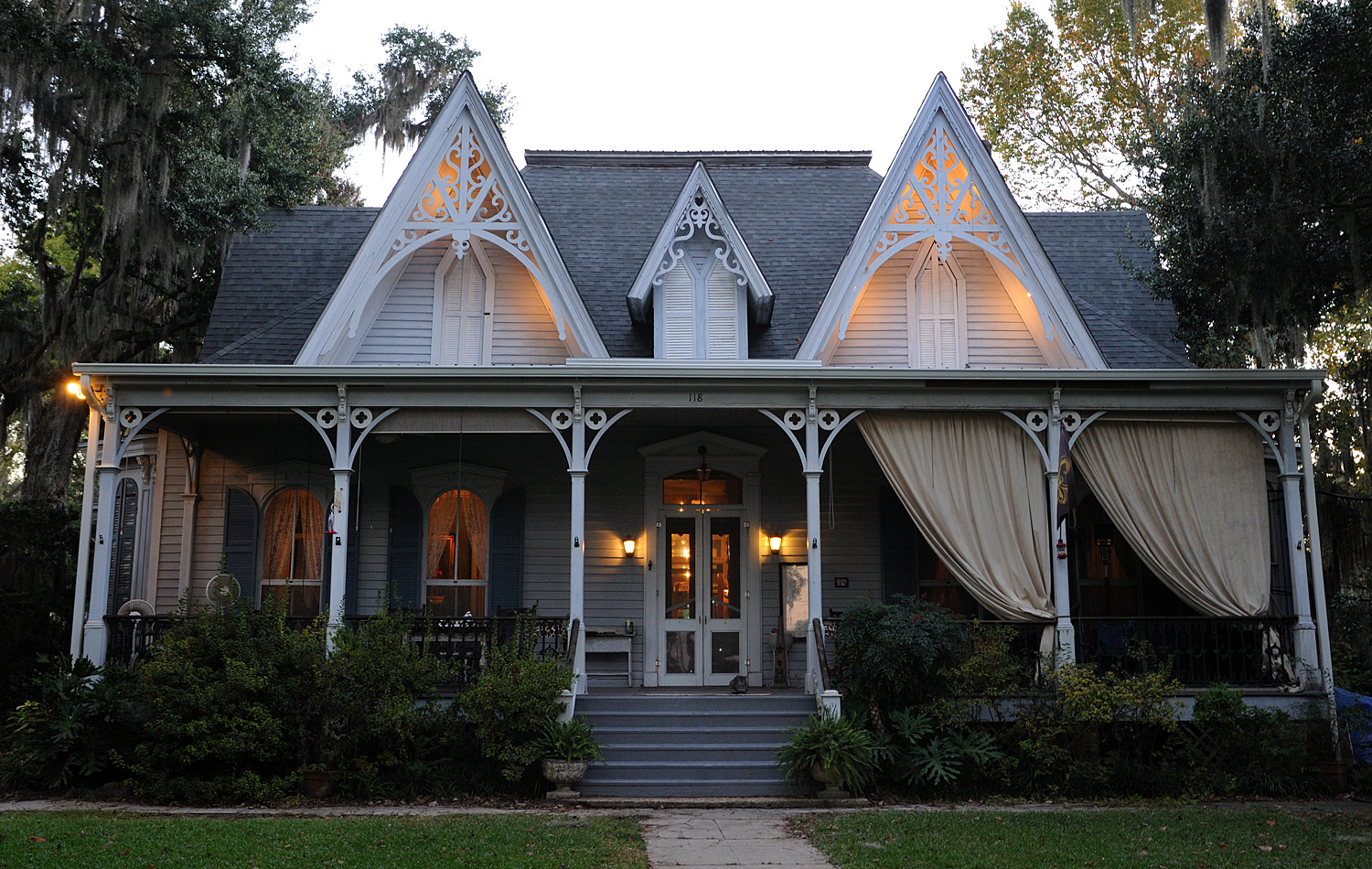 It was quiet and comfortable but the very best thing was the breakfast!  Spinach quiche, crab crepes, fresh pastries, beautiful fruit, eggs, grits, and that killer coffee – YUM!  I was good to go for the day!
Back upriver I remember seeing some very unique handcrafted jewelry made from antique buttons and pieces of vintage glass with the label, "Grandmother's Buttons".  When I learned they were made here in St. Francisville, I decided to visit. It's a great story!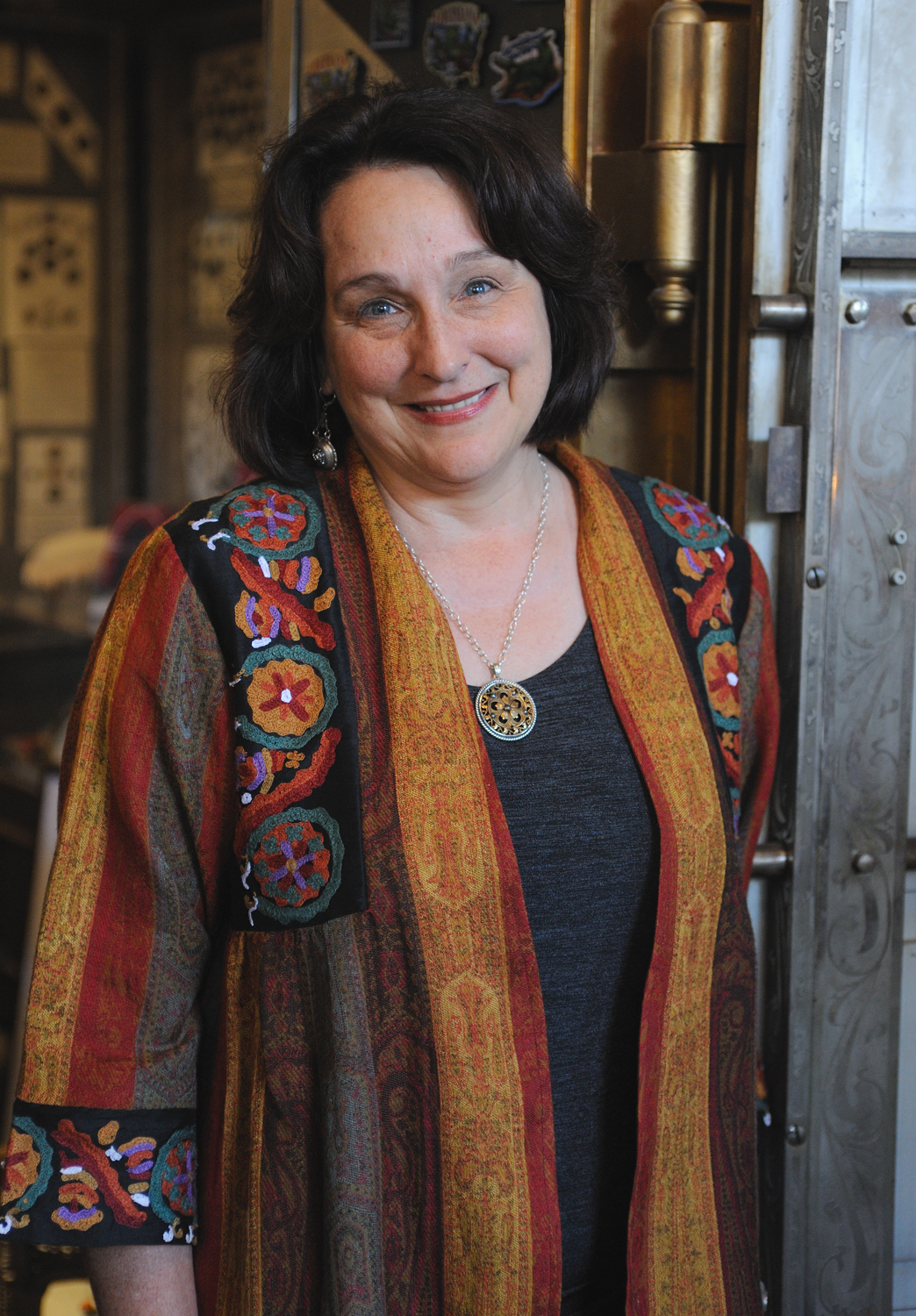 In 1985, Susan Davis paid a visit to her 95-year-old grandmother and together they looked through a collection of 30 boxes of old buttons her grandmother had collected over many years. Susan has always been artistic and when she saw the luscious shapes, colors and textures of the buttons, she imagined them made into jewelry. Her grandmother gave her the collection and Susan began experimenting. Twenty-five years later "Grandmother's Buttons" buys 20,000 antique buttons a year plus vintage glass, pearls and other materials to create one-of-a-kind pieces of jewelry that are sold online and shipped to boutiques all over the U.S., Canada and several other countries. It all happens in a renovated 1905 bank building in downtown St. Francisville.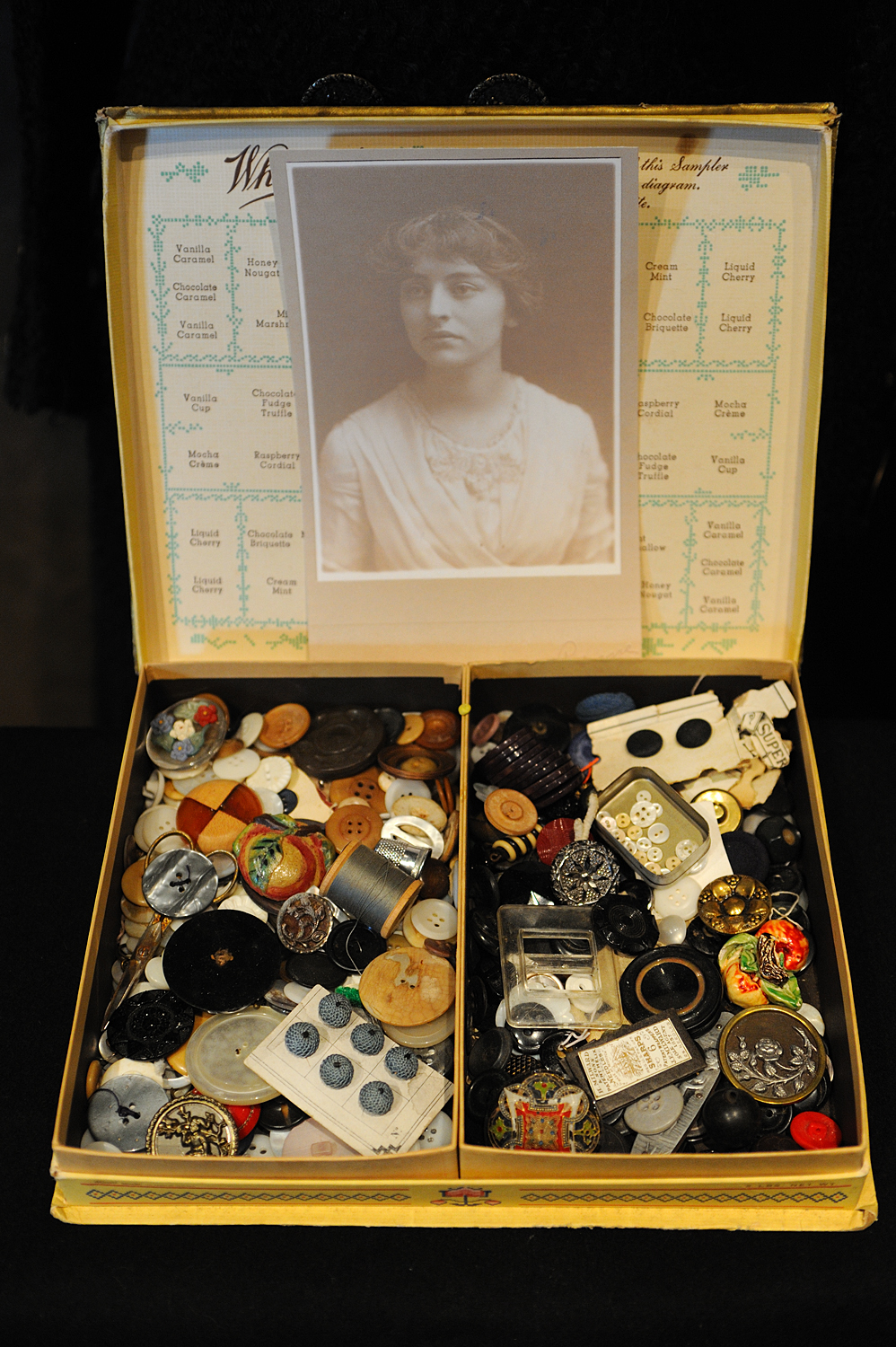 On the ground floor is the store filled with pretties and a button museum which includes Grandmother's actual button box. Upstairs, amid stacks of boxes, piles of fabric, cases of buttons and supplies, several crafters were at work implementing Susan's latest designs. Susan's husband, Donny, was also at work as the business manager. I love the creative energy of the whole enterprise and love seeing something like that be successful – and I especially love imagining how proud Grandmother would be!
The Mississippi River is less accessible as we go south. Towns are either barricaded behind the levee or perched high on a bluff when there is one. There is lots of barge traffic, but hardly any pleasure craft are seen. Gone are the marinas filled with boats for cruising the river. There are fewer parks and riverwalks for sitting beside it and far more industry. The river works very hard here. It has been greatly altered from its natural state, so it's hard to imagine what it was like before humans intervened. Still, its essence is unchanged. If I revisit the analogy used before and see how the river on this 80th day of the journey relates to a human in their 80th year of life, it seems to hold.  At 80, we see unmistakable signs of physical aging on the outside, but inside nothing has ever been changed. No matter how life has changed our appearance, our pace or even our health, who we really are is untouched by such things. Inside, we are exactly the same as when we came into this world. If you look, it's easy to see that we are not our bodies. We are that same timeless, changeless and yet constantly brand new essence as this great river. At our core, we are all the same, whether healthy or sick, old or young. That's what you see when you look at this river or the stars or really look into another's eyes.
Peace,   Gayle