It was raining when my alarm went off at 5:00 this morning. I smiled in sweet surrender and snuggled back down. When I awoke again 45 minutes later, it was no longer raining, was still dark and was (of course) the perfect time for me to get up and out there.  The sky was painterly, with billows of grays and white, which made the greens pop. The Great River Road between Grand Rapids and Palisade stays close to the River with frequent access roads and very little traffic, perfect for a dawdler like me.
It makes my heart sing to see how people love this River and how they respond to hearing about the journey of the raindrop. Early this morning I was stopped for road construction. The flag woman came to the car to explain what was happening, saw the camera on the seat beside me and asked about it. I gave her a postcard with the blog address and told her about the raindrop. She was thrilled and said she would follow it and share it with her nephew who was also a writer – so I gave her a second one for him. It was a great interaction and when the truck came to lead me through the construction site, she told me her name was Joan and that she would pray for my safety the entire way. It was a bright moment in the morning for both of us.
Down the road a few miles I pulled off for a river access road, but mistakenly went up a private road instead. As I turned around, a very unfriendly voice yelled, "Can I help you?!" I couldn't see anyone but I said – no thanks, just turning around – and left. I went across the road to the river access and walked down to the river. A truck pulled in behind me and the unfriendly voice said, "You were on my road – why?" I stood up to my full 5'10", looked him in the eye and said simply, "I was looking for the river access and took the wrong road." He looked back at me levelly for a moment, then all the hardness softened and he said, "Yeah, people do that all the time." So, I explained what I was doing, and the softness became smiles, and for 10 minutes or so he told stories about the history of the area and some things I should not miss seeing. When I gave him a postcard, he said he would put it on his fridge, then asked me the date I would arrive at the Gulf. I told him November 21 and he asked me to write that on the card. When I did, he said he would include me in his prayers every day until I arrived there. It wasn't yet 7:30 a.m. and two people had blessed the journey.  These sorts of things happen all day – at the ice cream shop, the gas station, the Tourist Information Center, the roadside stand where I bought tomatoes, on the hiking trail. The Great River Road is lined with people who love the River, want to share their love of it and be a part of this journey of the raindrop. I am filled with gratitude.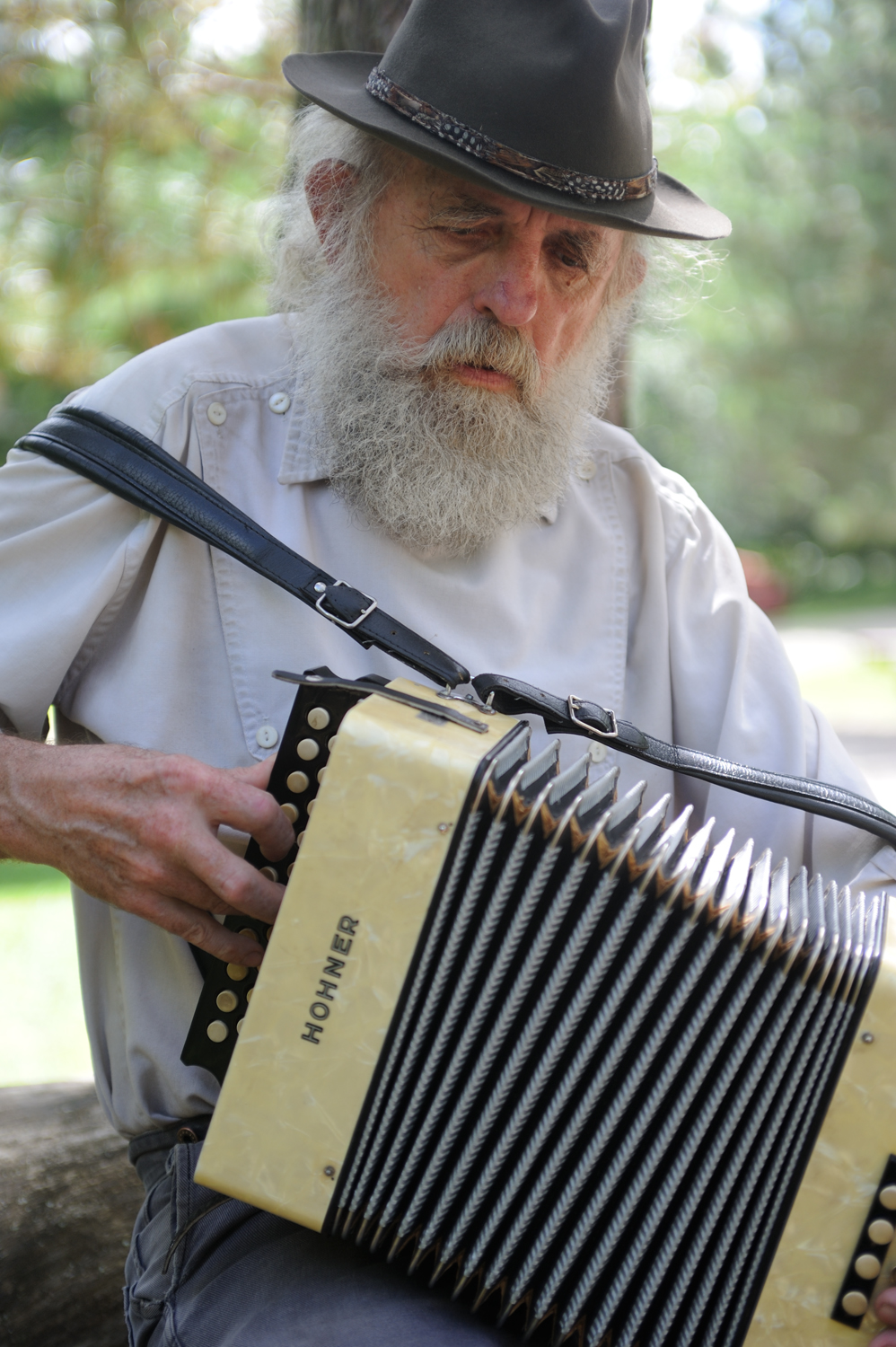 I wandered my way to the Forest History Center at Grand Rapids and followed the sound of some lively music to find this gentleman playing his "squeeze box". He said it was often played at the logging camps of 100 years ago and the loggers all danced with each other. The camp cook, blacksmith and a logger were also at the restored site to interact with visitors. The "wanigan", a floating cook house that was rafted downriver as needed, was moored at the river bank. Films and interactive exhibits told the history of logging in this area and several miles of interpretive trails taught current forest management and restoration.
Our raindrop has traveled about 265 river miles from the headwaters to where I am now, near Palisade, Minnesota  – only 2,083 miles left to the Gulf!  The River actually flows north for bit, makes a big question mark and is now heading south. No longer a tiny wilderness stream, it looks like a river now. There's very little development or agriculture along its banks yet, so it still feels lush, wild and free. It reminds me of some of the Native kids of about 9 years old I saw at the powwow– strong, lithe, confident, athletic and yet still with an innocence, a freshness, bursting with potential, with hints of greatness to come.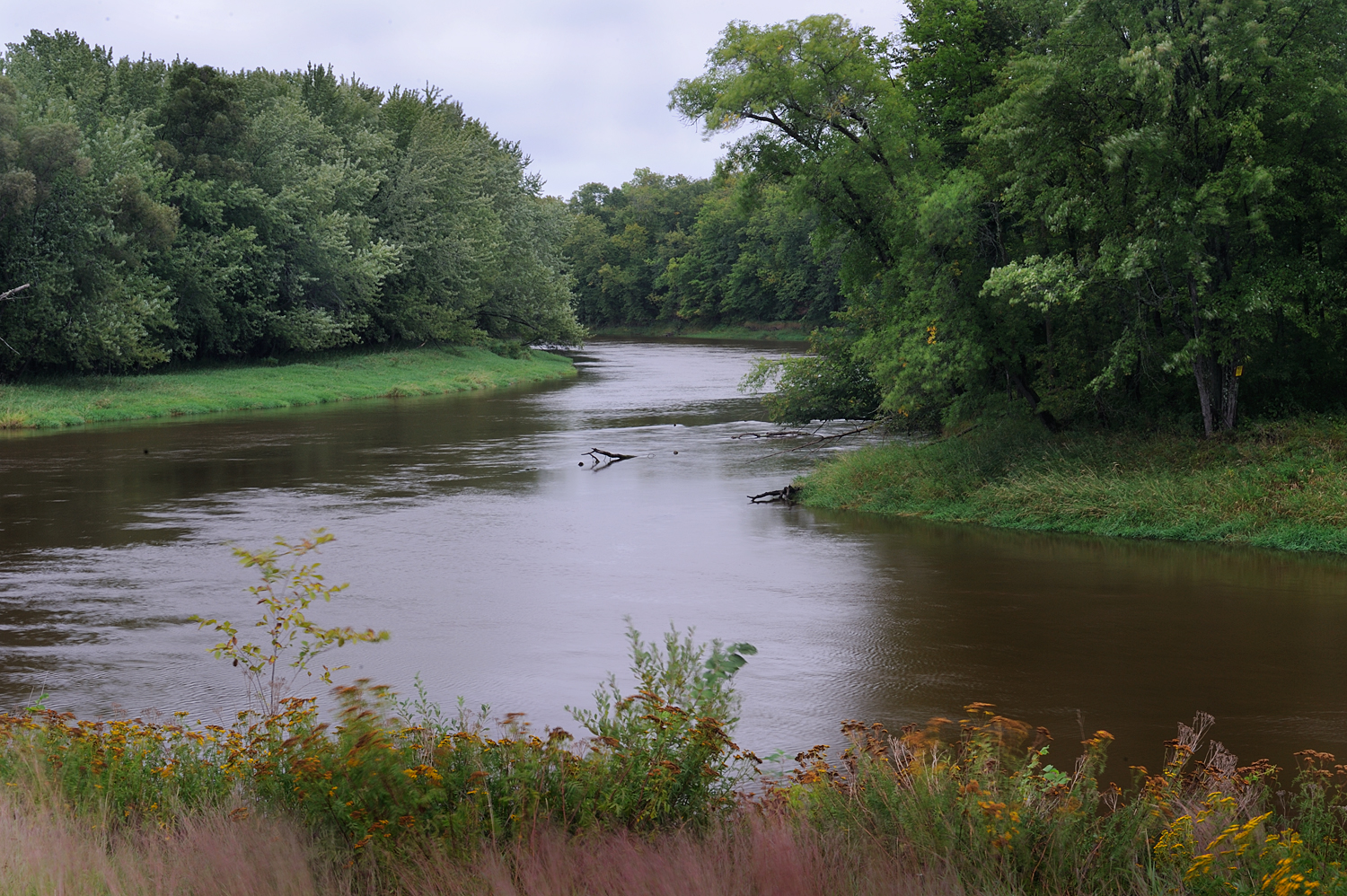 Love,   Gayle