Yesterday I stood on the Laurentian Divide. If you paid more attention that I apparently did in Geography class, you know that a drop of rain falling on the north slope of that ridge will drain to the Hudson Bay and on the south, into the Mississippi and eventually the Gulf. I met the Laurentian once before on this trip, back by Itasca. It curves north from there and then northeast across the state of Minnesota.  Apologies to my geography teachers, but I didn't even know there was a Continental Divide other than the one in the Rockies!
The land here flattens out considerably and farm fields appear for the first time since the headwaters. Enough tributaries have now joined the Mississippi that flooding can be an issue. The first dam on the River was at Grand Rapids – there will be many more. But, Aitkin, MN, has an interesting way of dealing with the threat of floods and it is the only thing like it on the Mississippi. After a horrendous flood in 1950, a solution was devised and a diversion channel was created. It's a passive system that allows water to do what it naturally does, run downhill. When the river level is normal, all water stays in the main channel, but a "low head" dam diverts flood water into the 6 ¼ mile long channel. It's been working without a hitch for more than 50 years now. 
The river is bisected in numerous places near here by islands, made by man, although not intentionally. During the logging era, vast numbers of logs were floated down the river and often some got hung up on boulders or low spots. That would catch more logs, then silt and eventually an island was born!
My current home is a simple cabin on Lake Waukanabo, not far from Palisade. It's the only time during the entire journey I will be in one place more than two nights. It is exquisitely quiet. Although there are other cabins, I am the only guest. The owner has a job in town and a husband in the hospital, so she is seldom here. But her son kindly installed a router before my arrival so I have internet access and she rummaged around and did find a key so I can lock up when I leave. Abby, the resident Golden Retriever goes for walks with me, greets me when I come home and sleeps on my front porch.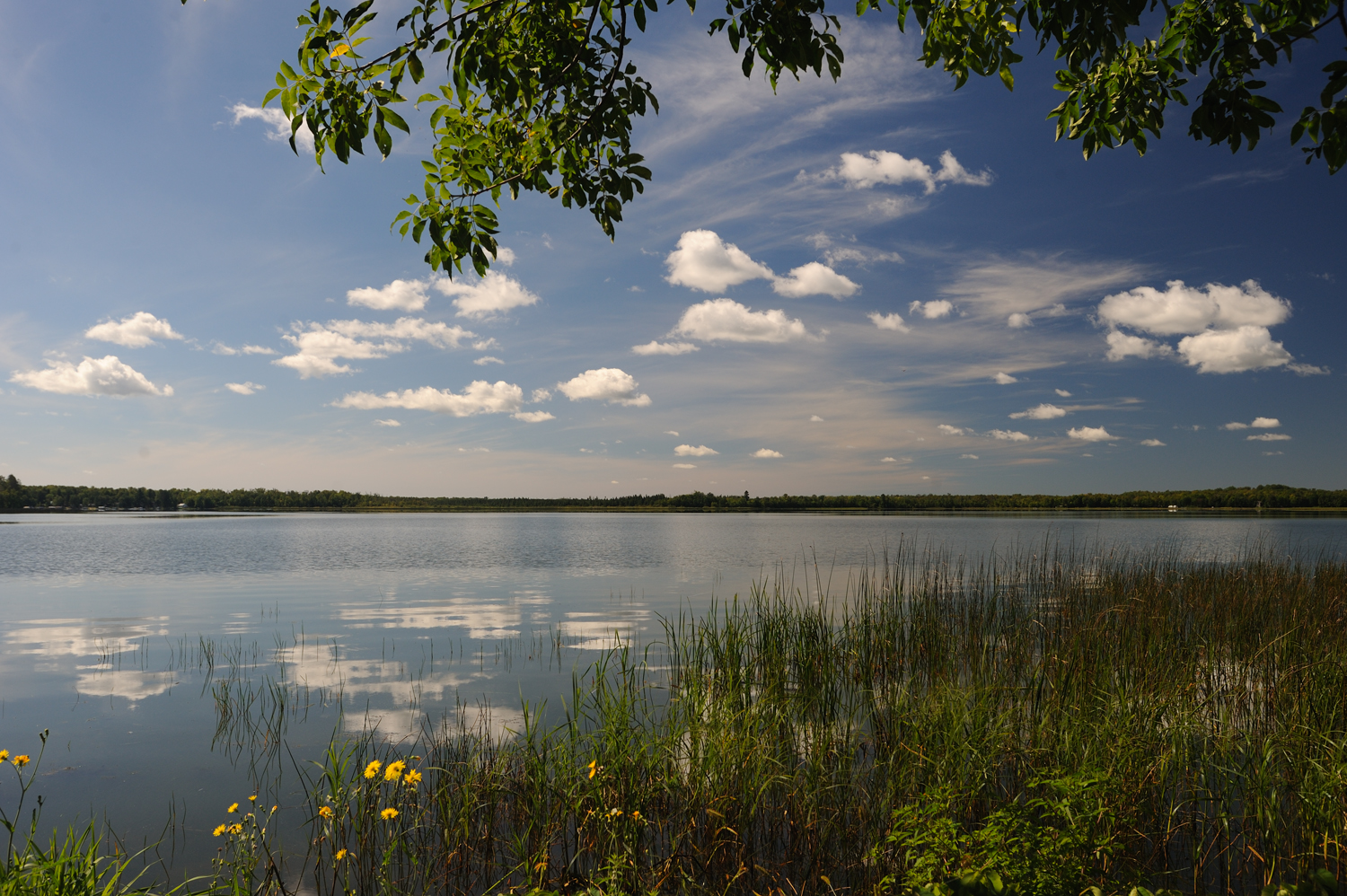 The lake, which has no public access, is my front yard. It's a perfect little respite sandwiched between what has been and will be again, very full days. I stayed home yesterday to catch up on all the correspondence, details, logistics, backing up of images, etc., that are required to keep this journey going. I and my camera were called out to the lake once in the morning when the sky was an eye-popping deep blue and dotted with puffy little marshmallow clouds.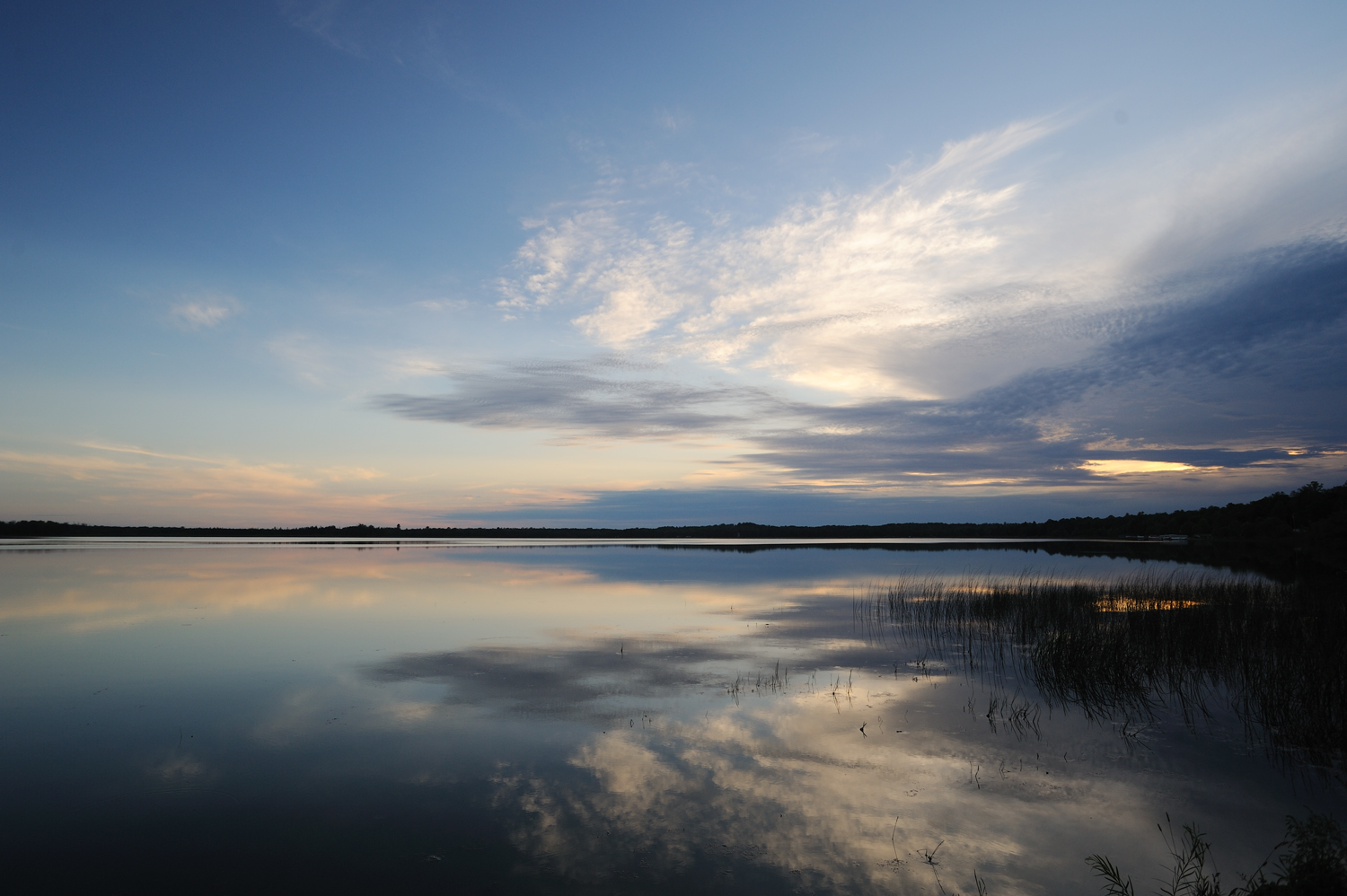 Then again toward evening, my attention was ripped from the computer by the call of a loon and I looked out to see this incredible sky.
This morning on my wanderings, I came across Lisa Aragon visiting her two horses, Tanner and Musta. "They aren't  'rideable', she says, "just big pets". But, clearly, they adore her and her visit is a high point of every day.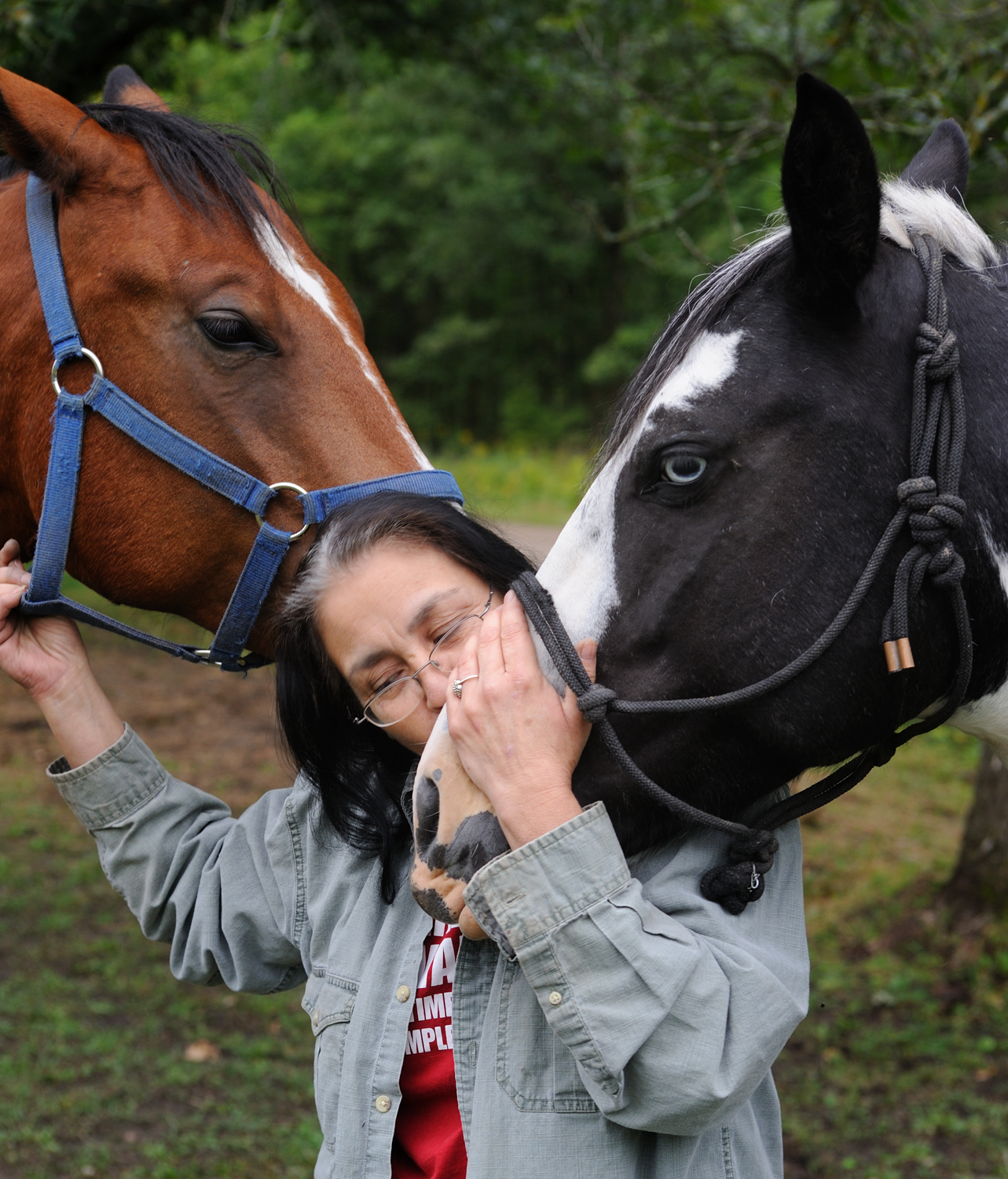 Lisa is Ojibwe and Musta (pronounced moos-ta) is an Ojibwe word meaning "strong-willed one". I joked that I should have named my daughter that – and yes, Mom – I also said that my Mom would say she should have named me that! 
One of my abiding guidelines for travel is that if you see a little espresso shop with a name like The Beanery and its 10:30 on a chilly morning – STOP! And – if they have made a batch of fresh caramel rolls this morning – GO FOR IT! You will walk the calories off later and even if you don't OMG it is worth it! The young woman that made my cappuccino said she had grown up near the headwaters and got goosebumps and shivered when I gave her a postcard and told her about our raindrop.  
As I settled in with my cappuccino and my big, fat, warm, gooey caramel roll, I also settled in to another of the delights of travelling alone – tuning in (ok – technically it's eavesdropping, but it can't be helped!) to the variety of conversations going on around me. There was a very earnest one taking place where I couldn't see the people and only one voice could be heard. I couldn't catch the words but it clearly had something to do with music because it was occasionally punctuated with something like, "boom-cha-boom-boom" and then "thum-thum-boom" and "boom-thum-boom-thum".  At another table, two women were talking about getting together after the first frost touched the apples to make applesauce.  An older gentleman stopped to say something I couldn't hear to a cute young blond, who blushed rosy pink and laughed. After he left, she told her friend he wanted to fix her up with his grandson – "and he's a pretty cute guy too!" Two old guys across the way were talking about the best way to deal with woodchucks in your yard. I just leaned back in my big overstuffed chair, sipped and smiled.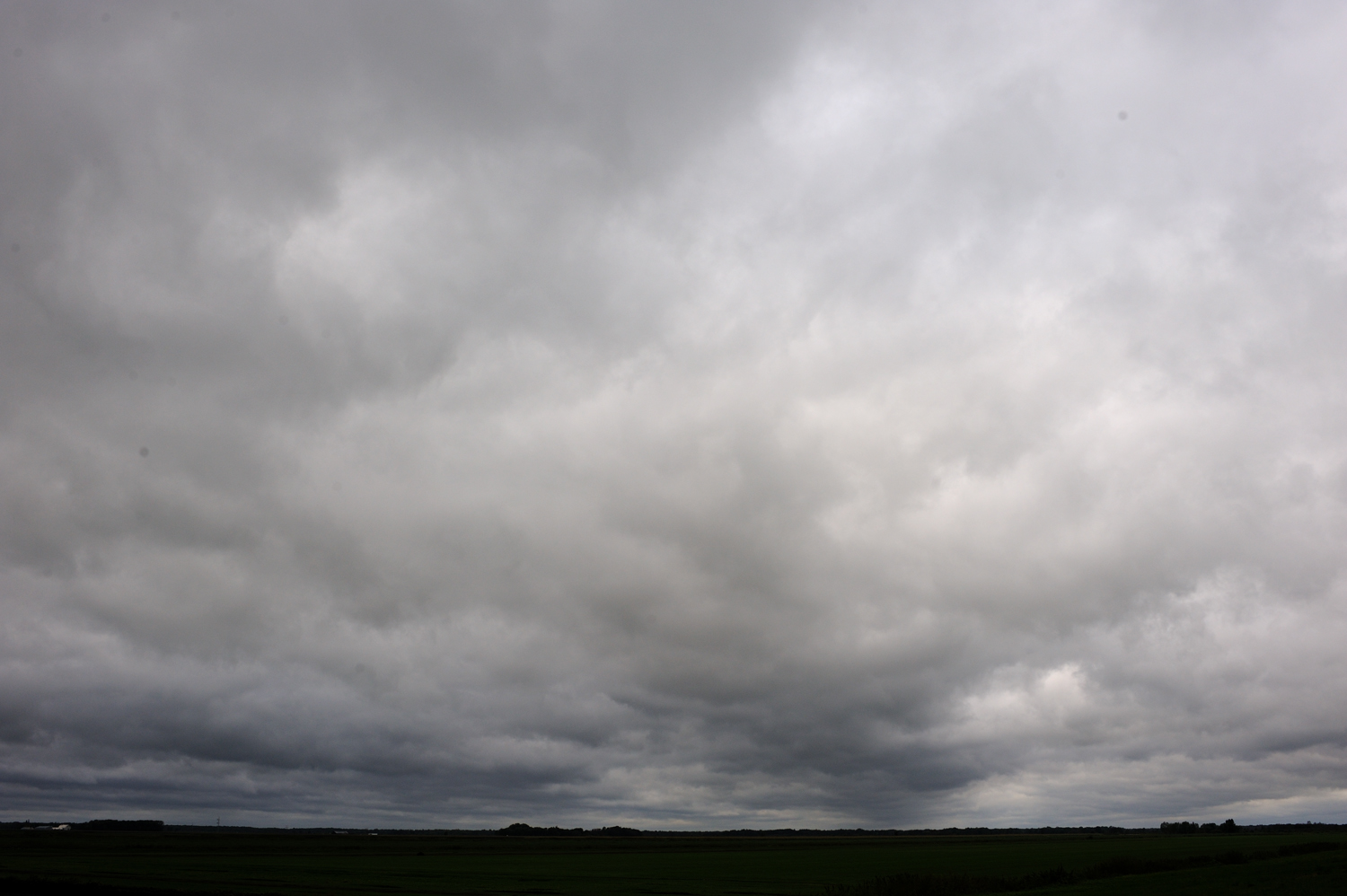 As I headed home, some pretty big, awesome clouds appeared.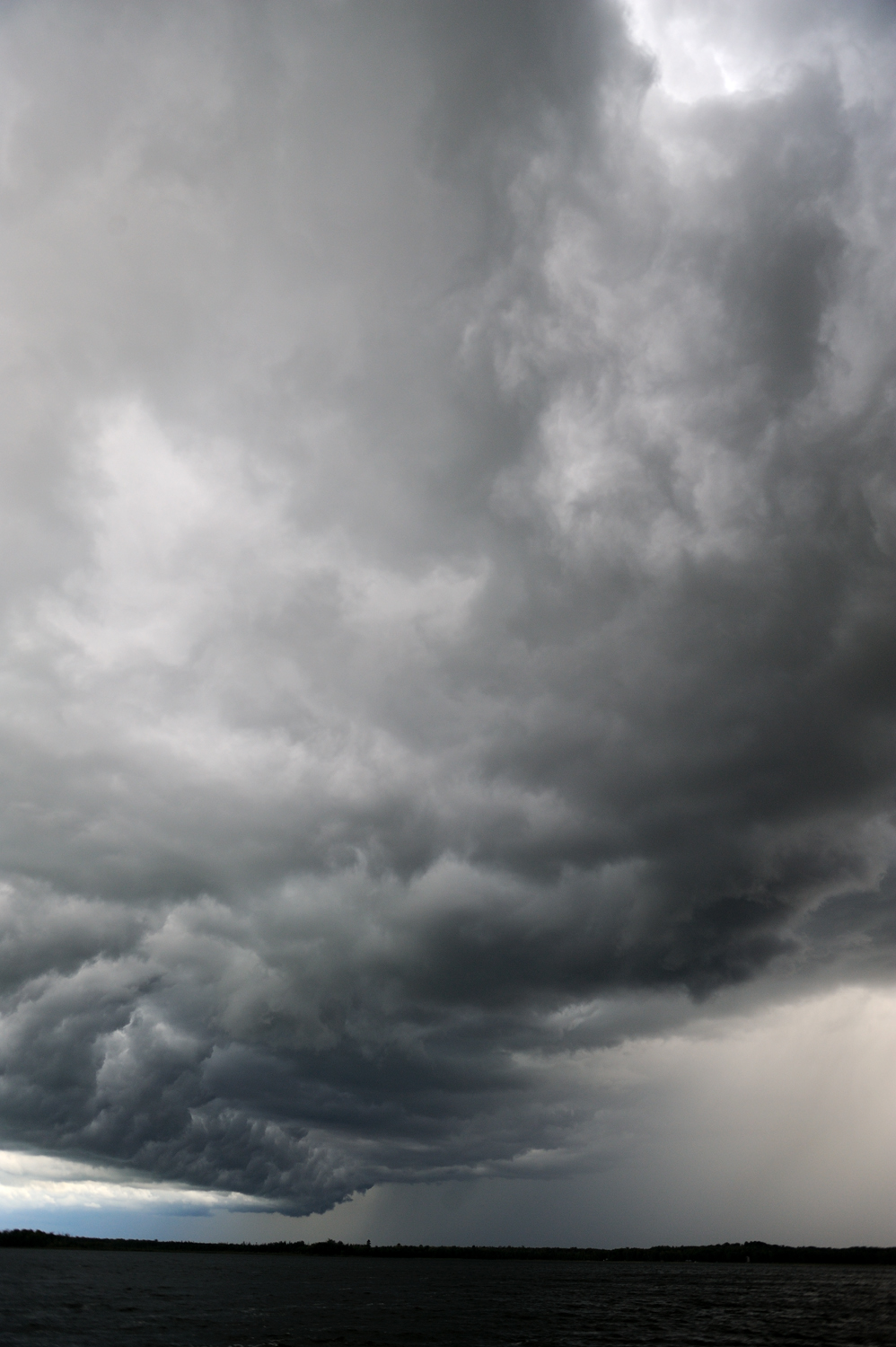 By the time I arrived home, they were even "awesomer"!! 
Five minutes later the lake had vanished from sight and the thunder rolled. I held my digital audio recorder out the door to capture some of it for the slide show to come (yes, Dave – I promise there truly will be a slide show this time!) I'm snuggled in for the night – life is good!           Gayle