Bemidji, Minnesota, is the "first city on the Mississippi". It seems to be filled with fresh-faced, bright-eyed, friendly people. It's a fairly good barometer of a place when the vast majority of its citizens from kids to oldsters look you in the eye, smile and say hello. It's an artsy community of about 13,000 people, with sculpture on the downtown street corners and several columns of exhibits and performances in the small local newspaper. The winters are long and hard here – with temps as low as 60 below (yikes!!!) and less than 8 hours of daylight at times. So, people are out everywhere in this fine weather we are having now on roller blades, bicycles, walking, running, canoeing or just strolling the shore of Lake Bemidji. Giant statues of Paul Bunyan and his sidekick, Babe the Blue Ox have been watching over the lakeshore since 1937, and a huge statue of Chief Bemidji is just down the street a ways.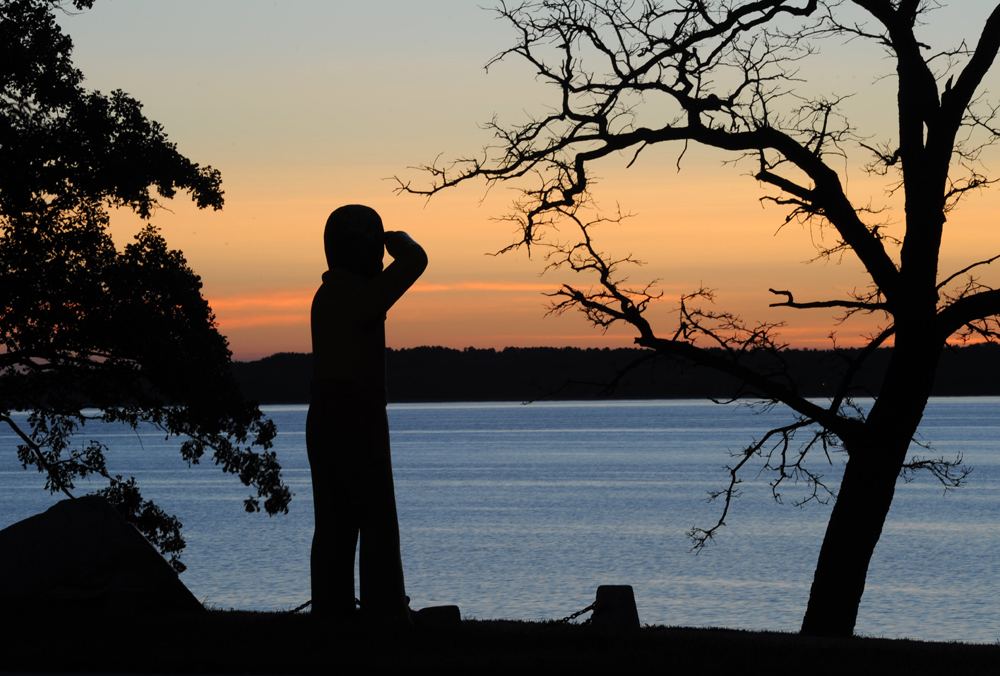 My job in the mornings is just to roust my heiney out of bed and show up for the sunrise. Sometimes there is a sort-of plan where I will go and sometimes that plan is sort of followed, but it's really not up to me. I caught Chief Bemidji watching the sunrise this morning and then wandered some back roads. (Thank you, Mike, for the 3,000th time for my GPS!) I just follow the pretty light or the fog or whatever is drawing me at the moment with no thought of where I am. Then when I want to find my way back, the trusty GPS leads me.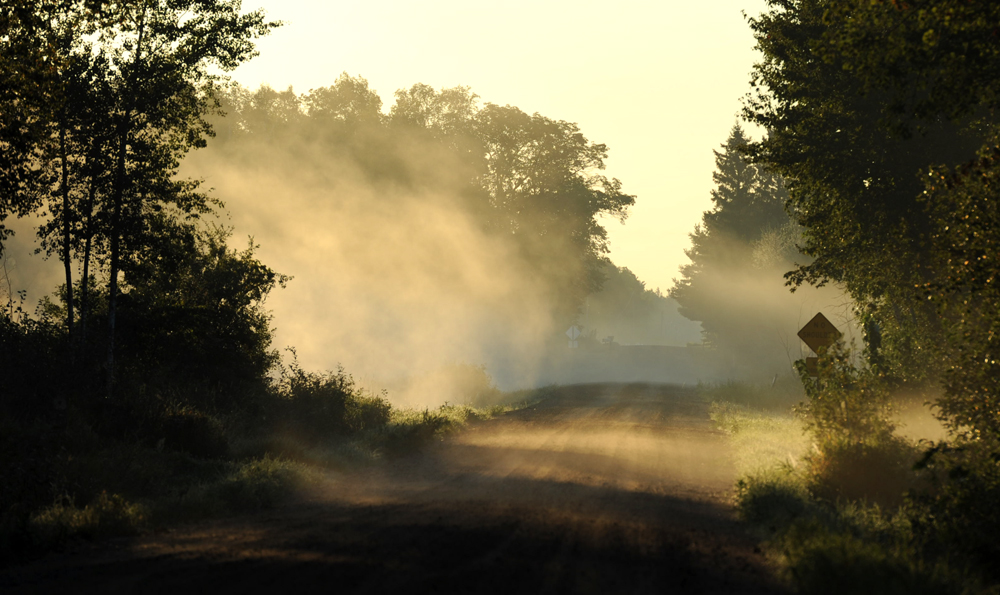 I showed up at the Concordia Language Villages because I was fascinated by what I had read about it. Students from all over the world from elementary to adult come for total immersion learning of a language and culture. There are separate villages designed with authentic architecture, cuisine, even road signs in Arabic, Chinese, Danish, English, Finnish, French, German, Italian, Japanese, Korean, Norwegian, Portuguese, Russian, Spanish and Swedish.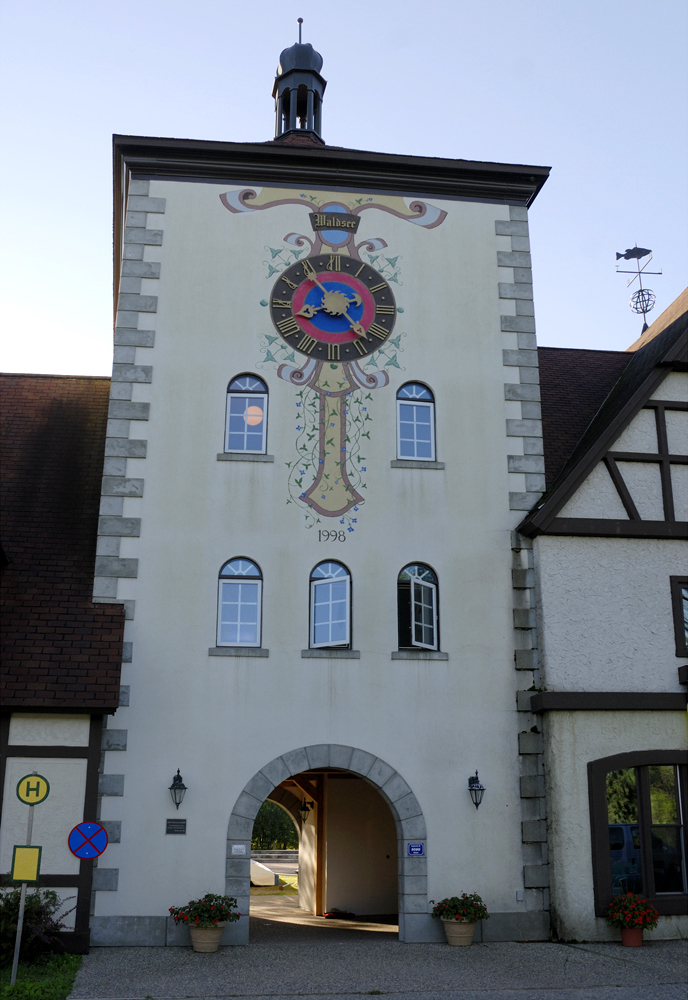 It was still early when I arrived, but the only staff member on duty dropped what he was doing, got a van and took me for a tour. This year is their 50th anniversary. What a wonderful way to learn!
They do know how to make a good cappuccino around here! After that nice little perk-me-up I wandered into the Headwaters Science Center just as staff member, Chris, and volunteer, Amy, were heading down the sidewalk with a huge white cage. They were taking O'Reilly, a Red Tailed Hawk with a damaged wing, to the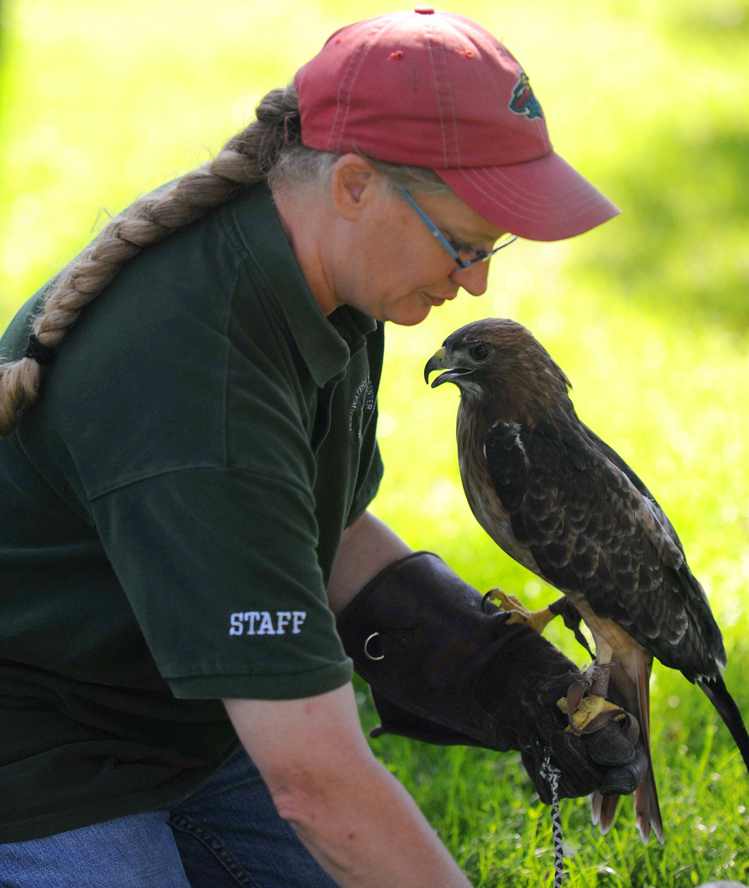 lake for some sunshine and fresh air. So I tagged along and ended up spending an hour or so sitting at a picnic table chatting with them and occasional passers-by while O'Reilly took in the sights and sounds.
Midday when the light is harsh is time to make phone calls, answer emails, scout locations, and read about possibilities in the area. I seldom make appointments ahead of time, but I love to know all the possibilities an area has to offer. There is a big traveling file box of information on the floor of the front seat with files color-coded by state and a folder for each town (aren't you proud, Mom?) – and then I just let Serendipity put me where I need to be.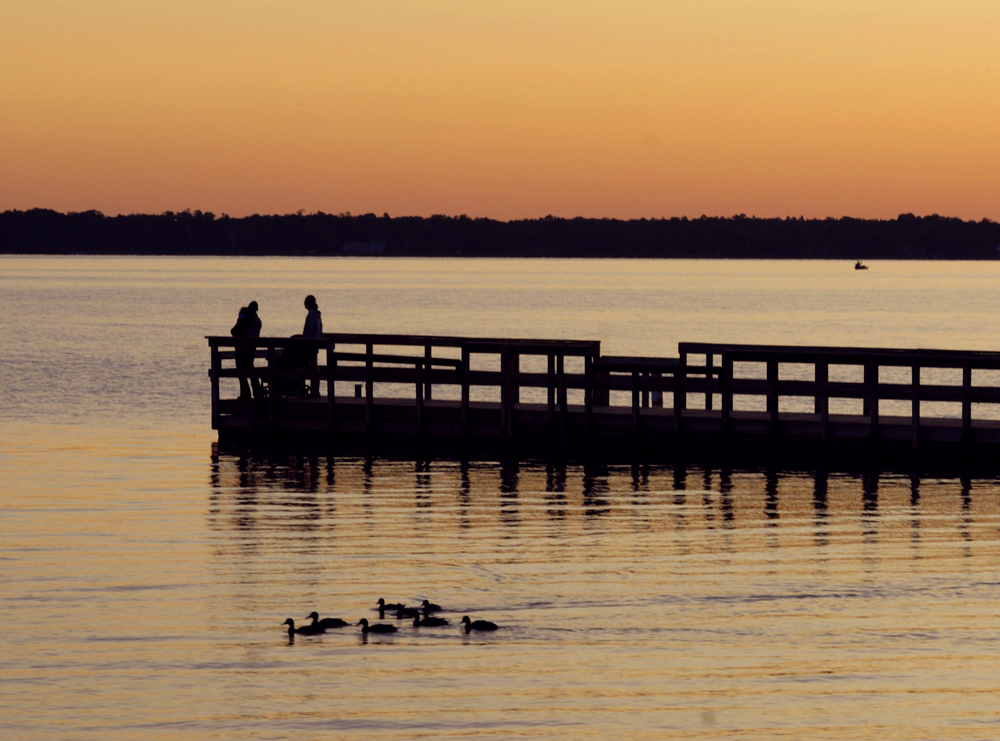 Then as the light softens and warms in the evening, I show up at some beautiful place like Lake Bemidji State Park and see what opportunities present themselves. This time some ducks added the perfect touch to this serene moment. If you look at this part of Minnesota on the map, it looks like a piece of baby swiss cheese – there are lakes everywhere. The Mississippi passes right through some of them, including Lake Bemidji. I'm told that in certain conditions, you can actually see the current as it enters one side and passes out the other.
An understanding of the history and culture of the Ojibwe Indians seems vital to understanding life in this area. I've heard about two powwows coming up soon – so I'll look into that tomorrow and we'll see what our raindrop has in mind!    See you soon!  Gayle